10-26 APRIL 2024 (17D16N ACCOMODATION) ARMENIA GEORGIA
(Yerevan, Hermon, Lake Sevan, Dilijan, Tbilisi, Kutaisi, Mestia)

Cost per pax RM7200(13pax + 1 Yongo guide), RM7400(11pax+1 Yongo guide), RM7600 (6pax without Yongo guide)-based on rate (1 USD = RM4.68) 18th Sept 2023
Final adjustment of the cost is based on the exchange rate at the time of final collection
EXCLUDE BELOW FLIGHT (QATAR AIRWAYS) RM3857 - check on 18Sept23
10 APR 24 WED KUL/EVN 0955 2240
26 APR 24 FRI TBS/KUL 1450 0825(+1)
*PLEASE DO NOT BOOK THE FLIGHT UNTIL ADVISED BY US*

IMPORTANT NOTICE: This is meant to be a "free and easy" budget adventure trip. Participants should be relatively fit, with a good sense of humor, and above all, have the right attitude for close travel with others through possibly some trying times. Most definitely, this is not a trip for prudes, whiners, fuss-pots, and other similarly assorted types! We had a couple of those before and it wasn't pleasant for us or them. Although every effort will be made to stick to the given itinerary, ground conditions may change and cause some disruption and/or deviation from the norm. Otherwise, have fun!
PLEASE DO NOTE THIS TRIP IS A MIX OF TREKKING/HIKING AND SIGHTSEEING.DIFFICULTY LEVEL OF THE TREKKING/HIKING IS EASY TO MODERATE.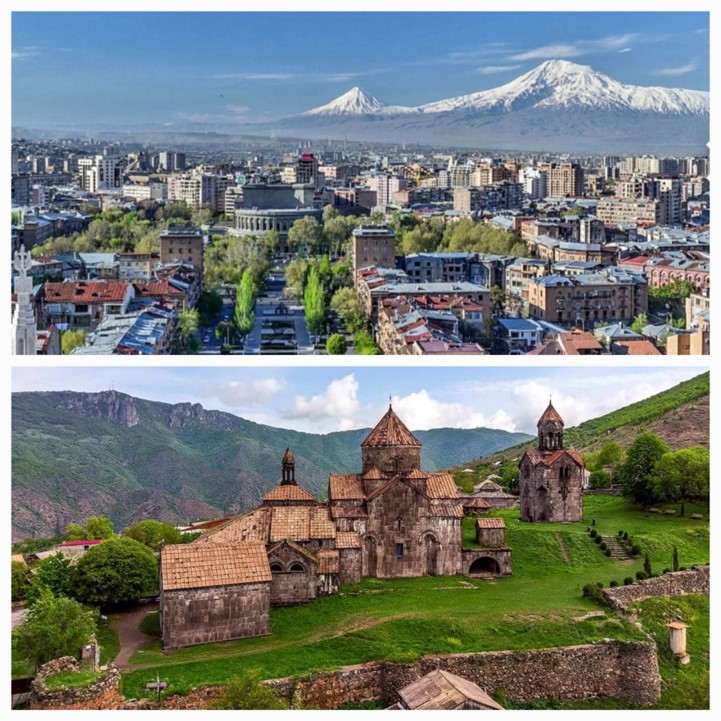 With a recorded history of 3600 years, Armenia is one of the world's oldest civilization. Today's Armenia retain lots of its old world charm amidst the road to modernity. Thankfully its nature remains lovely and pristine. Shall we?In Greek mythology, Georgia was home of the Golden Fleece. Today a more spirited fame is wine, and with samples found dating 6000 years, it is apt to be called the "Cradle of Wine". Whatever, we will enjoy Georgia's mountains, dances, good food and of course great wine…and brandy!
DAY 1 KLIA to YEREVAN. Meet in KLIA 0630 for 0955 flight to Yerevan via Qatar Airways, transit in Doha. ETA Yerevan on same day at 2120 Transfer to hotel for rest. Overnight Yerevan (B)
DAY 2 YEREVAN. The trip begins with the city tour of Yerevan, bustling capital with a history of 2700 years. The warm smiles of its inhabitants give a unique charm to this eternal city, ancient and so young at the same time. After lunch, we head to Geghard Monastery, partly carved from pure rock. Garni pagan temple is the only standing Graeco-Roman colonnaded building in the Caucasus. In the evening, feel the pulse of Yerevan night life before a good night's sleep. Overnight Yerevan (B)
DAY 3 YEREVAN-HERMON/JERMUK.We head 120km south of Yerevan. Our first stop will be Areni Wine Market, where we will have a chance to taste one of the Armenian famous'wine. We continue to nearby Noravank Monastery through a deep narrow canyon surrounded by red rocks. We drive about 43km to Hermon Village with a lunch stop enroute. Rest of afternoon will be a free and easy day for own explorations of Hermon Village, and last but not least, enjoying hot soaks in the natural thermal hot springs in Jermuk. Overnight Hermon Village/Jermuk (B)
DAY 4-HERMON-LAKE SEVAN.We have a moderate 10km hike to the medieval fortress of King Smbat (Smbataberd)1950 above sea level, and Tsaghats Kar Monastery at 2080 above sea level. After all that hiking, we warm our muscle at the thermal waters of Hermon again before check-out and lunch. In the afternoon, a relaxing 128km drive will bring us to Lake Sevan, one of the highest freshwater lake in Armenia. Enroute, visit some old caravanserais, where you almost feel time has stood still.Arriving mid-afternoon, we will have time to stroll its scenic shores.Overnight Lake Sevan (B)