24 Oct - 4 Nov 2024 (12 days) Autumn/Winter Juizhaigou (EXCLUDED AIR FARE)
Rm5480 (per pax group of 14), Rm5380 (15 pax and above)
(Note : Based on Remimbi Yuan 1 = RM0.60. We will make final adjustment on the cost based on the Yuan exchange rate in JulyAug 2024)
Update 6 Oct 2023 - Autumn is the super peak season for Jiuzhaigou and therefore we will go slightly late Autumn and beginning of winter. Please register asap to secure the flight seat. Since Air Asia stop fly in to Lanzhou, we will use other China airlines fly in Lanzhou and out Chengdu now. Flight schedule yet out and shall update later. Please register and confirm your seat by email rachelheng123@gmail.com or whatsapp Rachel 012-3520868.
IMPORTANT NOTICE: This is meant to be a "free and easy" adventure trip. Participants should be relatively fit, with a good sense of humor, and above all, have the right attitude for close travel with others through possibly some trying times. Most definitely, this is not a trip for prudes, whiners, fuss-pots, and other similarly assorted types! We had a couple of those before and it wasn't pleasant for us or them. Although every effort will be made to stick to the given itinerary, ground conditions may change and cause some disruption and/or deviation from the norm. Otherwise, have fun.

Jiuzhaigou stunning View
Juizhaigou, translated Nine Stockade Valley, is one of the top China destinations, especially in the super peak months of October. We also visit the equally popular Huanglong. We enter from the north, traveling along good roads that passes beautiful Tibetan villages and rolling hills. We overnight in Tibetan town/village of Xiahe, Langmusi and Ruoergai. We spend a full day in Juizhaiguo when gates open till gate closes, using the inner walking trails, away from the expected huge crowds. We "tapau" our lunch and spend as much time as possible, seeing as much as possible.
Day 1 KLIA : Assemble in KLIA by morning 24 OCT 2023 THU. We will take flight CZ366 at 0850AM. Reached Guangzhou 1255PM. Then take CZ3385 fly in Lanzhou at 1425PM. Reached Lanzhou 1715PM (Tentatively Flight schedule).. Check in Hotel. O/N Lanzhou.
Day 2 Lanzhou: Day tour in Lanzhou. Overnight (ON) Lanzhou.
Day 3 Lanzhou/Xiahe (260km 5hrs) We start the day early to enjoy the scenic drive to Xiahe on part of the Qinghai Plateau. This less-frequented route is dotted with quaint and pretty Muslim Hui and Tibetan farms and villages. The rolling high altitude grasslands with flocks of yaks and sheeps are especially pretty. We will visit Labrang Tibetan Monastery that is reputed to be more Tibetan than Tibet itself. We'll have adequate time just walking around and taking in the atmosphere.ON Xiahe.
Day 4 Xiahe/Langmusi (230km 5hrs): On the drive to Langmusi, we visit the Milariba Buddhist Pavilion at Hezuo County. Langmusi is in the border of Gansu/Sichuan province. There are two tibetan monasteries, one is called Sezhi monastery in Sichuan Province and another one is called Geerdeng Monastery in Gansu Province. Local simply call them Sichuan Monastery and Gansu Monastery. Both are majestic temples with red walls and golden roofs built on the high slopes, overlooking hundreds of white-painted monks' houses. ON Langmusi.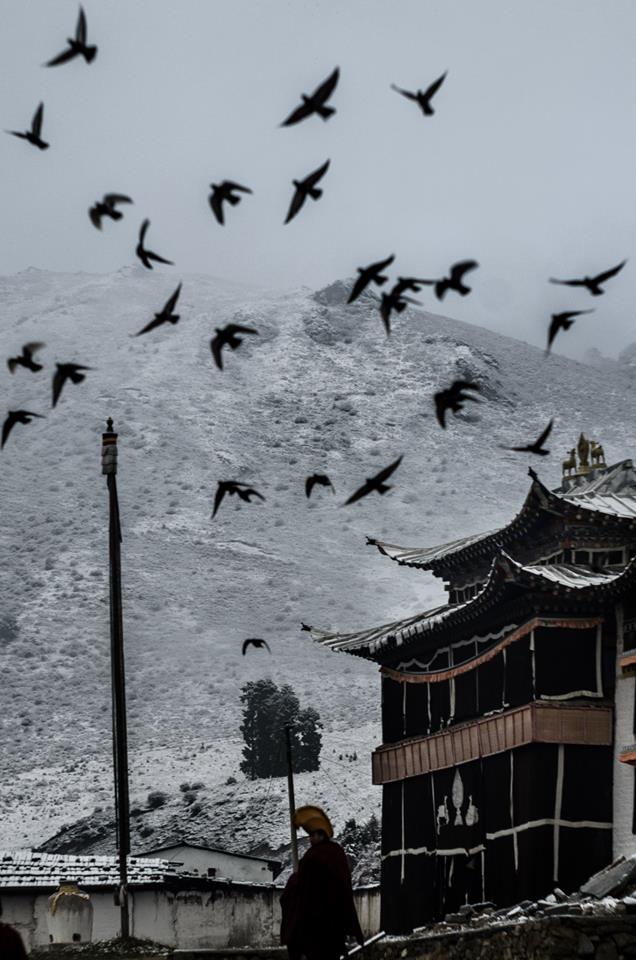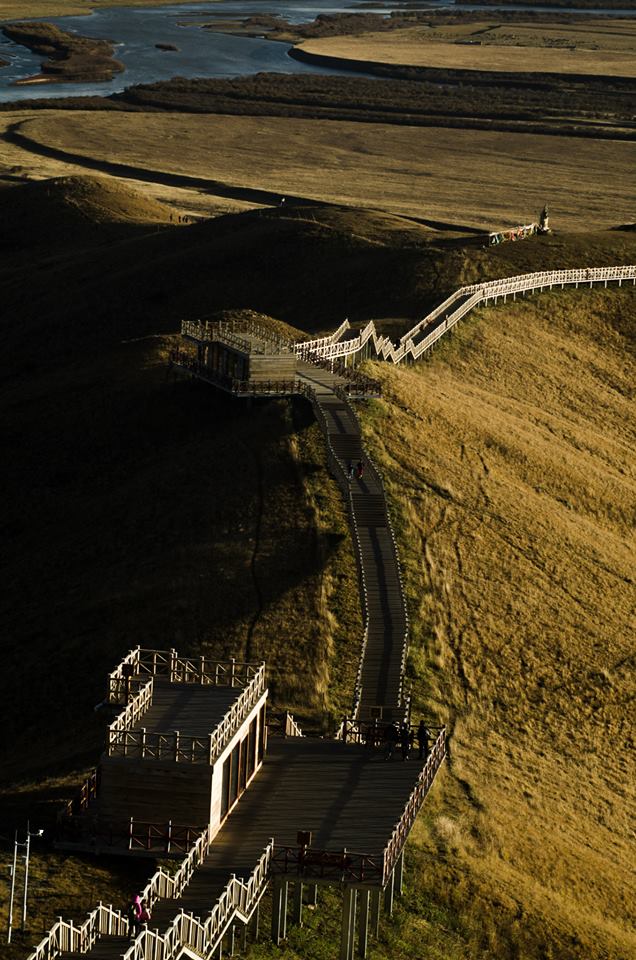 Langmusi (Photo by Kit Chan)
Day 5 Langmusi: We have a full day visiting the two Tibetan monasteries, and wander about the pretty villages. There are numerous trekking possibilities and we have the services of local Tibetans to take the group around this very untouristic area of Gansu. O/N Langmusi.
Day 6 Langmusi/Ruoergai (160km 6hr) : After breakfast, we drive to visit the First Bend of the Yellow River. The 80 km road from Langmusi to this First Bend is in poor condition and takes about 3 hrs of hard driving. From here it is another 4 hrs to Zoige. ON Zoige (Ruoergai).
Day 7 Ruoergai/Jiuzhaigou (206km 6hr+): We will all the way to Jiuzhaigou. ON Jiuzhaigou (Zhachang town)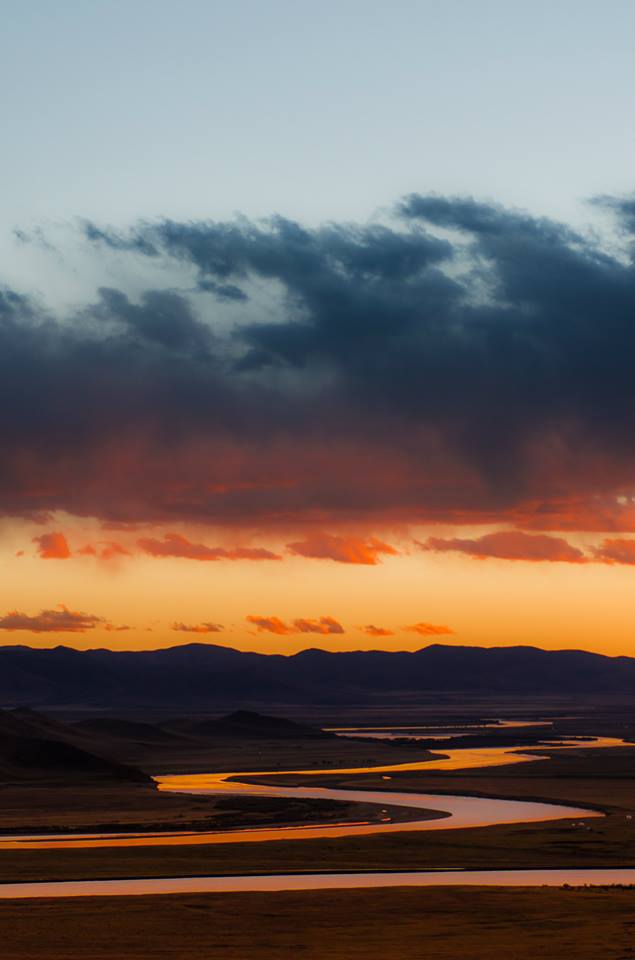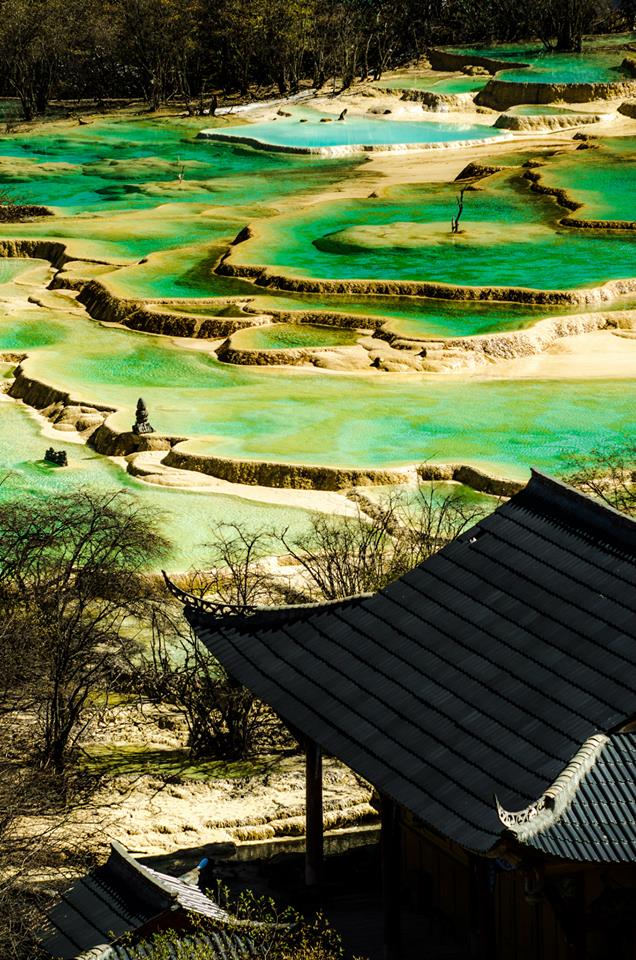 1st Bend of Huanghe river & Huanglong (photo by Kit Chan)
Day 8 Jiuzhaigou : We have a full day to explore and appreciate one of China's most beautiful national parks. We visit the numerous lakes. The park is a huge area of gorgeous alpine valley studded with dazzling turquoise lakes and surrounded by snowy peaks. Shuttle bus services take visitors around but many choose to walk/trek along the walkways and paths running alongside the rivers. There are basically two routes covering Juizhaigou and we will do certain selective scenic spot. ON Juizhaigou.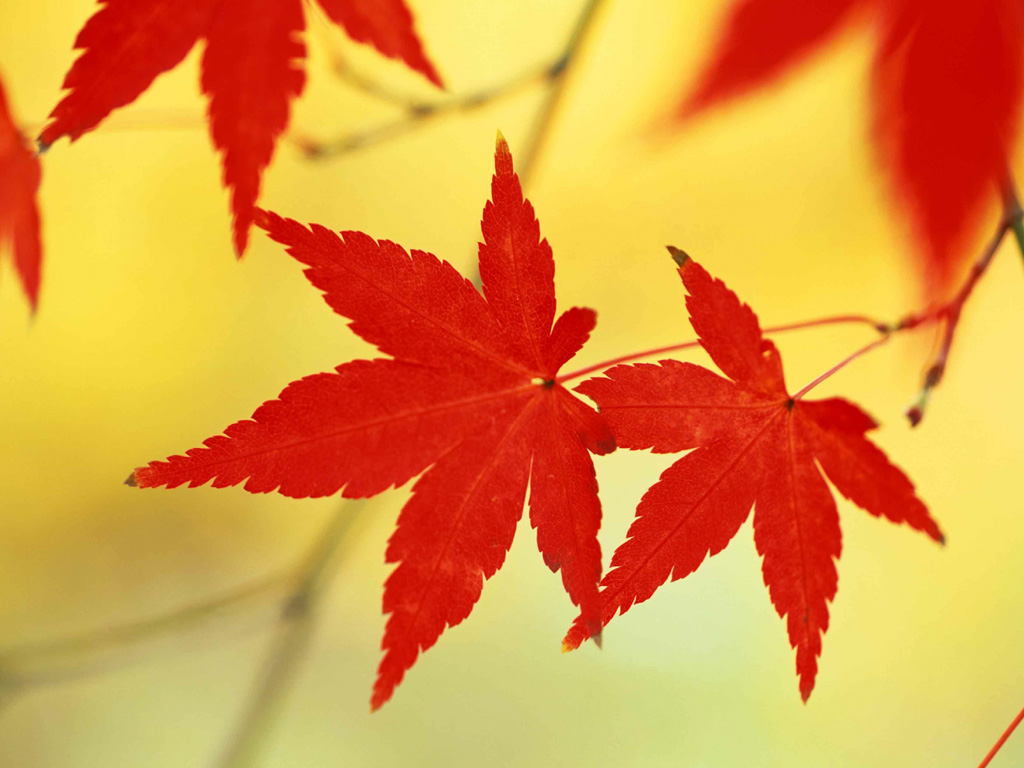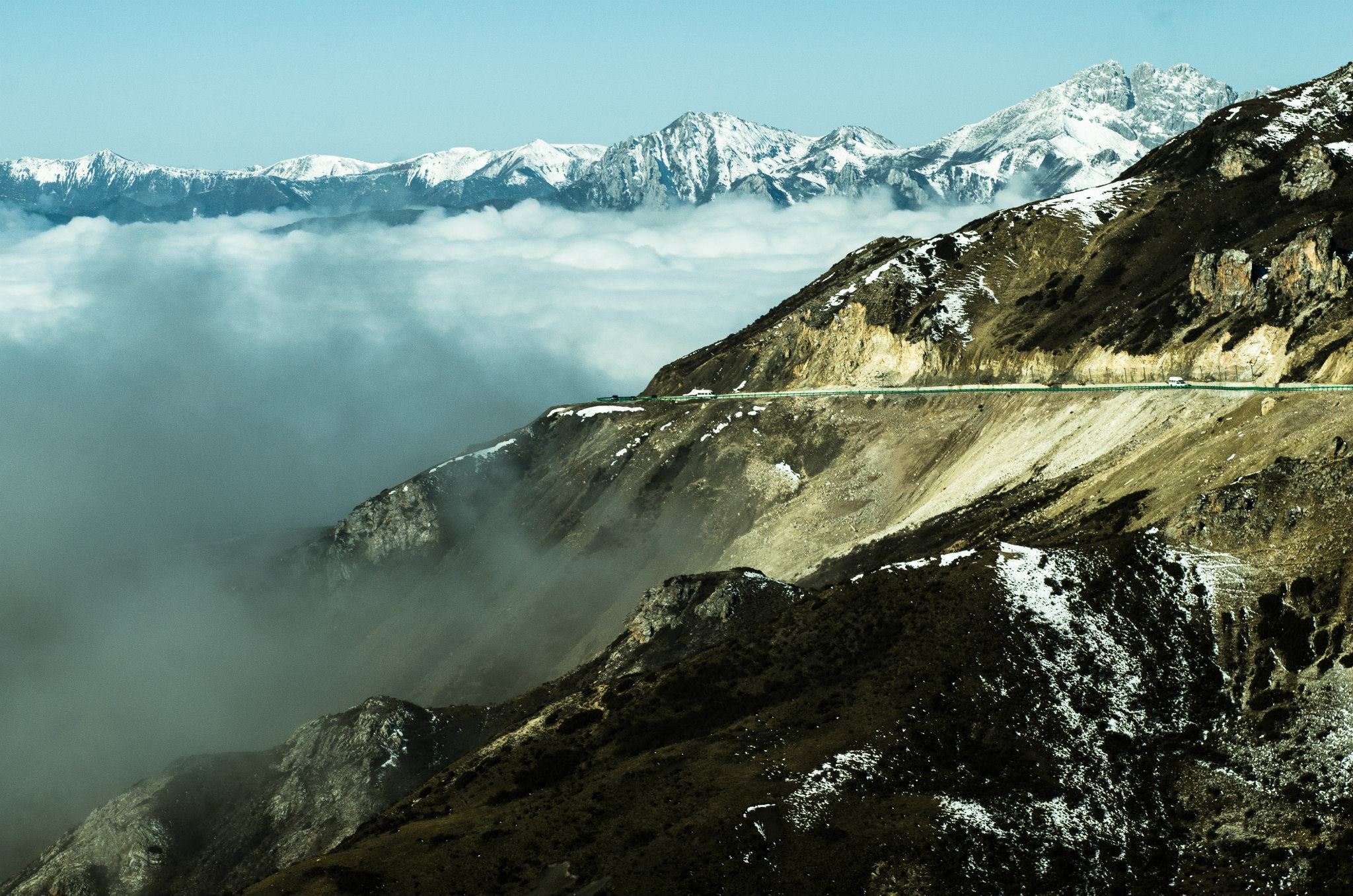 Way to Langmusi/ Jiuzhaigou

Day 9 Huanglong(100km 3hr): We bus 3hr to Huanglong, translated Yellow Dragon, another beautiful park studded with waterfalls and travertine ponds of blue, yellow, white and green. The top temple is 7.5 km from the entrance and has the most beautiful pools. Cable cars are available for visitors to get quickly to the top. Then drive to Songpan. ON Songpan.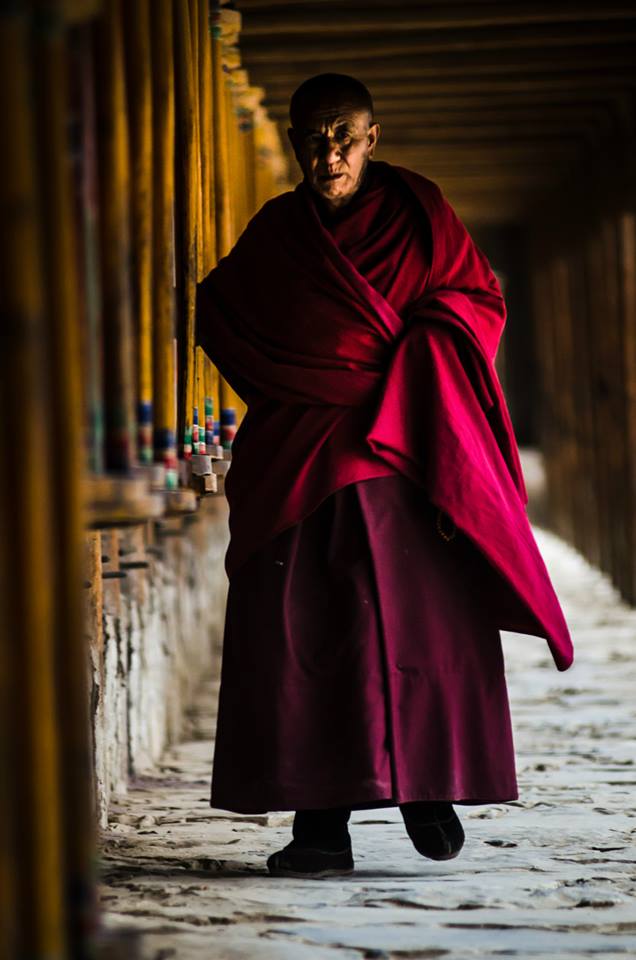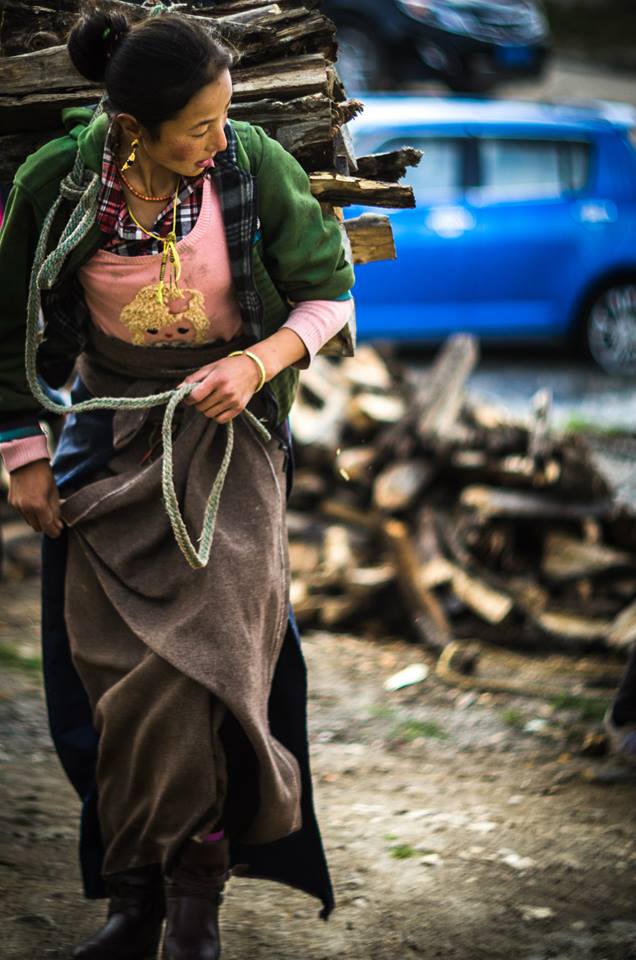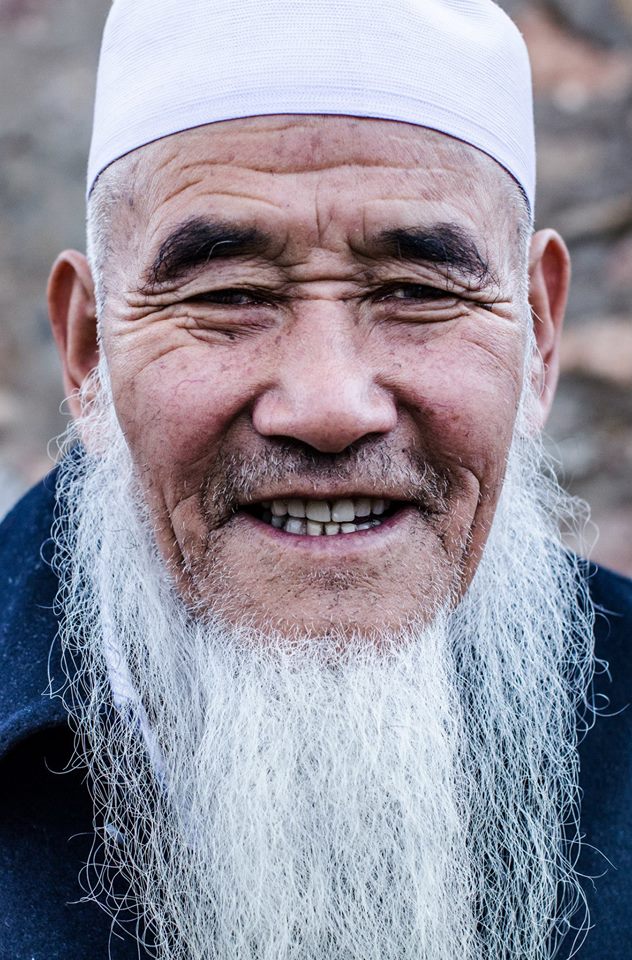 Tibetan/Hui People along the journey (photo by Kit Chan)
Day 10 Songpan/Bipenggou Valley : Morning free & easy hang around the Ancient Songpan town and take a walk in the city. Afternoon drive to Bipenggou Valley. O/N Bipenggou Valley.
Day 10 Back Chengdu : Morning walk around Bipenggou Valley, afternoon drive back to Chengdu (225km 3hr15m). O/N Chengdu.
Day 11 Chengdu : We will visit Giant Panda Breeding Research Center, which has been created and imitates the pandas' natural habitat in order that they can have the best possible environment for rearing and breeding.; Also will visit Wuhou Temple, built in memory of Zhugeliang, Prime minister of the Shushan State during the three kingdoms period in the 3rd century (220-280). Places can be visit like Wide Narrow alley & Chun Xi road. ON Chengdu.
Day 12 Chengdu Fly Home : Take morning flight CZ3414 at 0835AM to Guangzhou (Reached 1100AM). Then take CZ365 at 1635PM fly back to KL. Reached KL2050PM (4Nov2024)
TERMS AND CONDITIONS
Cost cover accommodation, transport, breakfast except Langmusi, Songpan & Jiuzhaigou.
Accommodations will be in budget to mid-range hotels/guesthouse..
Not covered are flight ticket KL-Lanzhou-Chengdu (appx RM3200), airport taxes (RM300), visa fees (Rm110), meals (Rm50 x 10 days = Rm500) and entrance fees (approximately Rm650). Note that entrance fees are HIGH in China, some which are mentioned in the itinerary above.
Note we do not collect up front compulsory tips nor do we bring our groups for

"compulsory" shopping stops.

Members will decide the tips based on their satisfaction of the guide services.
Cost is subject to change depending on fluctuations in exchange rates and/or airfares.
Non-refundable deposit of

Rm1500

will be payable to confirm your place.
Email rachelheng123@gmail.com or yongo123@gmail.com
Phone Rachel 012-352 0868
Phone Lee Min: 016-220 9033 or 603-40316225
Address No 19 Lrg Air Bersih Tiga, Air Panas, 53200 Kuala Lumpur