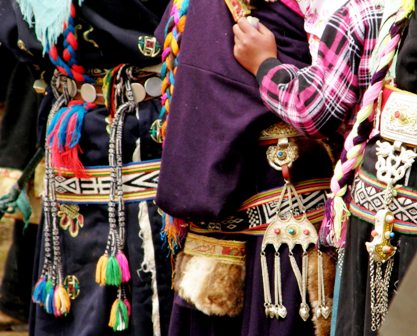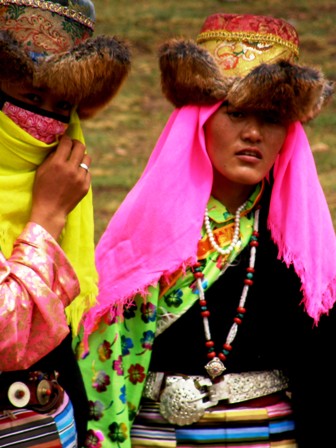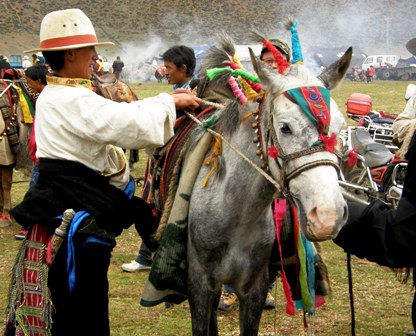 Passed by interesting local festival
Day 6 Gyantse-Shigatse: On the way to Shigates have a mountain village family visit for a glimpse of everyday Tibetan life. Drive to Shigates to visit Palcho monastery, this monastery famous that its remarkable feature accommondates the three sects of Tibetan Buddhism in one monastery coexisting in peace with each other. The Palcho Monastery is in coexistence of the three sects namely, the Sakya, the Kagyu and the Gelug. ON Shigatse.
Day 7 Shigatse-Tingri: Drive to Tingri. Visit Sakya monastery on the way. ON Tingri.
Day 8 Tingri-Mt Everest Base Camp-Tingri: After hours of driving we arrive at the highest monastery of the world, the Rongbuk monastery. Upon arrival, go to Mt. Everest Base Camp (5200m). You can appreciate the highest mountain in the world- Mt.Everest (8848m). Back to Tingri. ON Tingri.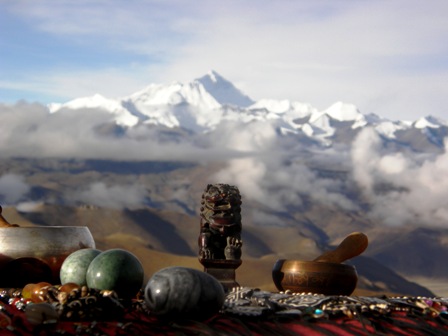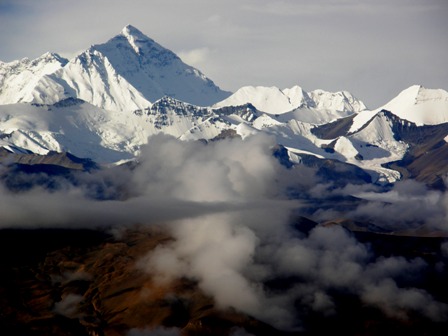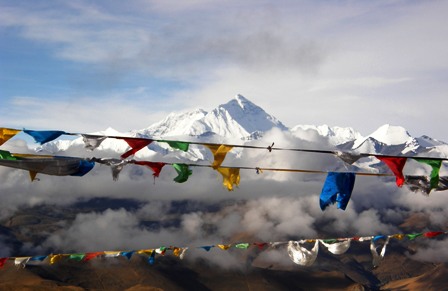 Fortunate to view difference clear angle of Mt Everest
Day 9 Tingri -Shigatse: Drive to Shigates to visit Pachen Lama's seat palace, the great Tashilumpo monastery, a very big and complex monastery in Tibet. Back to Shigatse. ON Shigatse.
Day 10 Shigatse via Lhasa: This morning will leave to Shigatse which journey will take about 8-9 hrs. Drive back to Lhasa. ON Lhasa.
Day 11 Namtso Lake-Lhasa: . We will go further to the " heaven lake"-Namtso lake, the highest lake in the world! It will take about 5 hrs (320km) to get there. This scene is one of the most dramatic in Tibet and will give you a sense of the space that stretches out to the north. Namtso Lake in the Tibet Autonomous Region was selected as one of the five most beautiful lakes in China by Chinese National Geography magazine on 2005. Namtso Lake's touching beauty should not be missed by any traveler who visits Tibet. Its purity and solemnness are symbols of Qinghai-Tibet Platean. In Tibetan, Namtso means 'Heavenly Lake " . The water here is a storybook crystal-clear blue. Clear skies join the surface of the lake in the distance, creating an integrated, scenic vista. Besides the beautiful scenery in Namtso, it is also a famous sacred Buddhist place. We will back to Lhasa. ON Lhasa.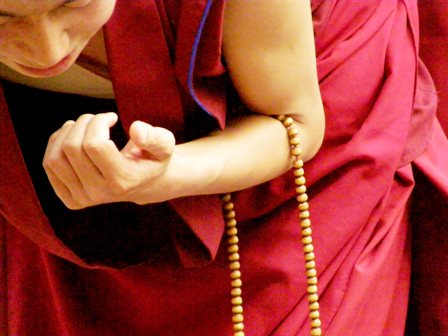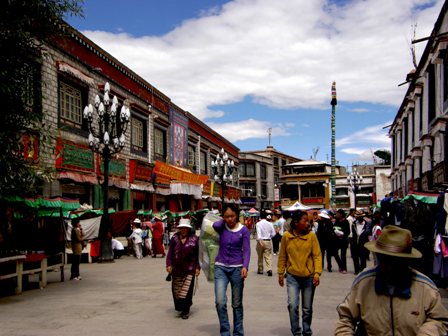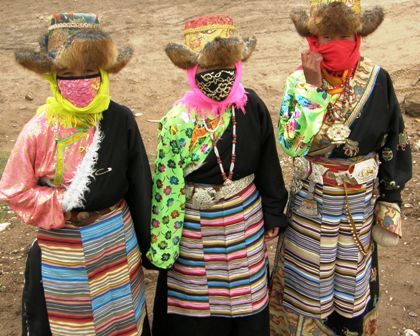 Debating Monk/Street/Ladies

Day 12 Lhasa-Train: Morning 0900AM will leave to Railway station take train Z918 to Xining. Enjoy the scenic scenery along the way to Lhasa. ON soft/hard sleeper Train. (Important note - Train ticket bookings is only available 5 DAYS BEFORE TRAVEL for Groups and Individuals alike. During peak travel period, it's a big problem buying the most comfortable soft-sleeper places. During slow months of May, July and September, chances are best. In the event, our Agent is not able to secure soft-sleepers, they will purchase hard-sleepers. The cost difference will be returned either in cash or credited to account back in Malaysia).
Day 13 Flight Xining-Chengdu: Arrive Xining in the morning 0913AM. Local guide will meet the group and take group to Xining visit Kumbun Monastery. After that will bring to airport for flight to Chengdu at 1915pm by MU2237 XNN-CTU, arriving Chengdu 2100pm. ON Chengdu.
Day 14 Chengdu-Fly Home : Free & Easy and final shopping in Chengdu. After that we will heading to airport take afternoon flight D7321 at 1455PM arriving KL at 1935PM.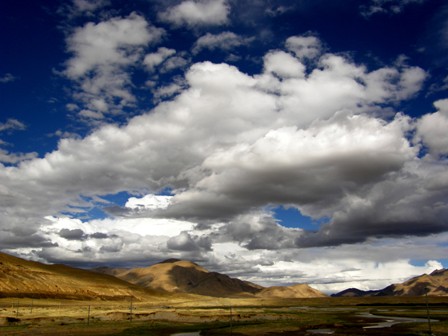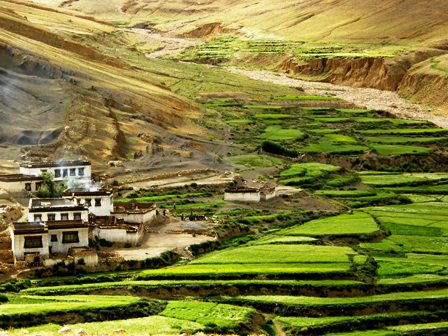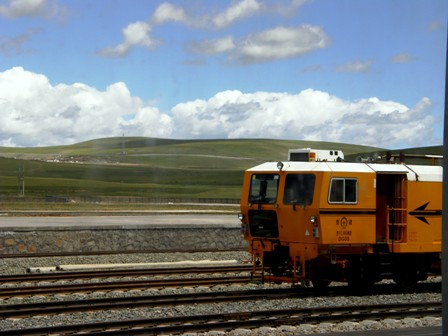 Stunning View along the journey/Qinghai Train