17 Mar - 8 Apr 2018 (23-days) Chile Argentina Patagonia & Iguazu Brazil (includes Valparaiso, Ushuaia, Bariloche, Buenos Aires & Rio de Janeiro)

Based on USD1=Rm4.20 in Nov17 Cost Rm9,300 (12 pax group) Rm8,900 (16 pax MAX GROUP SIZE)
We will make final adjustment on the cost based on the USD exchange rate in Aug 2017.

NOTE INTERNATIONAL AIR FARE IS NOT INCLUDED IN THE TRIP COST. INDIVIDUAL ALL IN FARE IS ABOUT RM7300-7500.
NOTE THAT COST OF SIX (6) DOMESTIC FLIGHT TICKETS IS ALSO NOT INCLUDED, ABOUT RM5000.
CHECKED GROUP FARE MID OCT 2017 WHICH ARE HIGHER THAN INDIVIDUAL ONLINE FARE.

Update 1 Nov 2017 Cost above excludes domestic flight pool of Rm5000. There are 6 domestic flights and members top up if higher OR receives fare difference if lower. Please be prepared to settle the KLM flight tickets if we decide to go with Individual Online Fare instead of Group fare which is payable 30 days before departure. Please be aware that accommodation, transport and meals in Chile Argentina & Brazil are very expenisive, Please bear this in mind, if you are planning to do this trip. Note inflation especially in Argentina is very high. Note the estimate for entrance fees below. Members top up any difference.
IMPORTANT NOTICE: This is meant to be a "free and easy" adventure trip. Participants should be relatively fit, with a good sense of humor, and above all, have the right attitude for close travel with others through possibly some trying times. Most definitely, this is not a trip for prudes, whiners, fuss-pots, and other similarly assorted types! We had a couple of those before and it wasn't pleasant for us or them. Although every effort will be made to stick to the given itinerary, ground conditions may change and cause some disruption and/or deviation from the norm. Otherwise, have fun.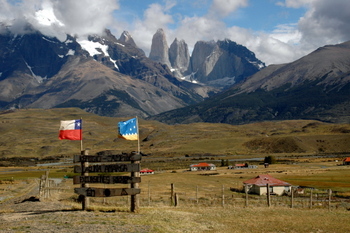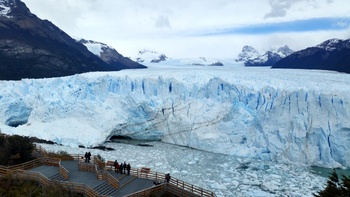 Torres del Pain borders Chile n Argentina / Perito Moreno Glacier width 5km length 30km

This will be a small group backpack trip using 7 domestic flights, local buses and airport taxis. We stay in good clean guesthouse. It is essential that members travel light as some of the domestic flights have 15 kilos check in baggage limit. Participants must be able to manage their own luggage and light medium trolleys are acceptable. Like most Yongo trips, you pay for your own meals. We have included most of the main entrance fees on this trip. Tours/entrance not mentioned below will be payable by members. You also pay within-the-town taxis and other activities not specifed below.
DAY 1 KLIA to Amsterdam. Gather by 830PM SAT 17 MAR 2018 for KLM flight KL810 to Amsterdam departing 1150PM. .
DAY 2 Amsterdam Transit. Arrive after 12:40hr flight in Amsterdam at 555AM. Transit 15hr in Amsterdam before KL701 to Santiago departing 2055PM. (Note there are other flight options on KLM or we may opt for British Airways).
Day 3 Santiago. Lands in Santiago Airport at 1105AM and taxi to Hotel. Free day for a good rest and wander about Santiago, the very European capital of Chile. You can opt for two separate walking Tours-for-Tips tours at 10AM (Santiago Offbeat) and 3PM (Santiago Highlights). Group stays in a centrally-located hotel with good Metro access. Overnight (ON) Santiago.
Day 4 Valparaiso Day Trip. It is 2 hours by convenient public bus to Valparaiso, a UNESCO listed port city, known for its steep old, still-in-use funiculars and colourful hill houses. We have time to wander about on our own. We join a walking Tours-for-Tips tour at 3PM (Valparaiso Highlights) starting from the main square in Plaza Satomayor. We return to Santiago for our 2nd night stay. ON Santiago.
Day 5 Fly Puerto Natales. We fly 3.5hr to Punta Arenas, the first of our six domestic flights. From Punta Arenas, we bus 3hr to Puerto Natales, arriving early afternoon. Free rest of day to wander this small pretty coastal town. ON Puerto Natales.
Day 6 Torres Del Paine National Park. A full day tour of Chile's Patagonia region, known for its soaring mountains, high glaciers and golden pampas (grasslands). View the iconic three granite towers which gives the park its name (Tower Del Paine). Tour includes s ahort trek some trekking time to a glacier lake. Back to Puerto Natales for a second night. ON Puerto Natales. (Tour cost CLP35,000 and Park entrance fees CLP21,000 is covered. Other entrances not covered).
Day 7 El Calafate. We take the morning bus 5hr to El Calafate, located in Argentina Patagonia. El Calafate is the gateway to Los Glaciares National Park, home to the massive Perito Morenoo Glacier. We arrive early afternoon for a relaxing day in El Calafate. ON El Calafate.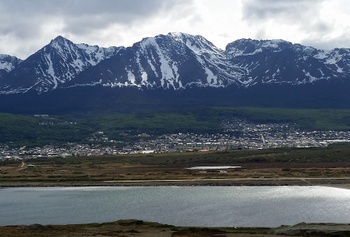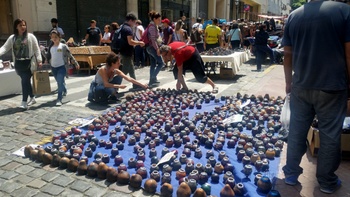 World's End - Ushaia / Buenos Aires Weekend Flea Market

Day 8 Perito Moreno Glacier is 80km 90min from El Calafate. The tour buses starts at 930AM and picks up passengers at 3PM. Group will have a full day at the Park and pack lunch is suggested. There are wooden walkways to the many viewing spots. Optional boat trips to get nearer to the Glacier are available at ARS500 Rm125. We return to El Calafate arriving by 5PM. We bus 215km 3hr to El Chalten at 6PM. ON El Chalten. (Return Bus fare to Perito Moreno is covered. NP Entrance ARS500 is also covered).
Day 9 El Chalten is a village within the Los Glaciares National Park and gateway to trails surrounding the peaks of Cerre Torre and Mount Fitz Roy. A popular trek leads to the Lguna de los Tres viewpoint. We return to El Calafate on the 6pm bus. ON El Calafate.
Day 10 Fly Ushuaia. Early morning rest in El Calafate. Our flight to Ushuaia takes off at noon, flight time 1.5hr. (By comparison, El Calafatre-Ushuaia 880km is 16hr travel in the bus). Ushuaia is the jumping off holiday town for Antartica Cruises and also known as the 'End of the World'. Time permitting, members can opt for the Canoero Beagle Island Penguin Colony boat tour starting at 430pm 5hr duration. (morning departure 930am). ON Ushuaia. (Cost of this Tour in Oct 2017 was ARS1500 Rm375 at own expense).
Day 11 Terra del Fuego National Park means 'Land of Fire', is within the ecoregion of Patagonic Forest and Andean Mountains. We bus into the National Park and walk to the many scenic viewing points. We return to Ushuaia by early afternoon to spend some time wandering about the resort town of Ushuaia. ON Ushuaia. (Return bus transport into the Park ARS400 and entrance fees ARS210 is covered).
Day 12 Fly Bariloche.We have a free morning in Ushuaia. Flight to Bariloche takes off at 3PM landing 7PM. Bariloche, one of the most popular holiday destination for locals, is surrounded by soaring peaks, which ring the town. It is known for its Swiss alpine-style architecture and its chocolate. Group spend the evenings in the streets filled with shops and restaurants. ON Bariloche.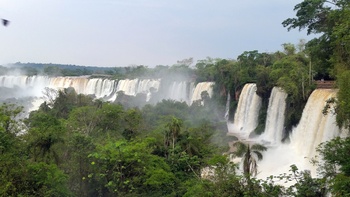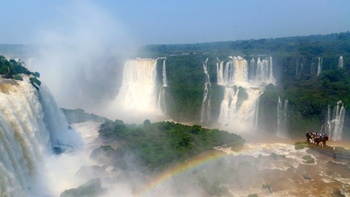 Iguazu Falls Argentina / Iguazu Falls Brazil
Day 13 Bariloche full day.. We use the convenient local buses to cover the Circuita Chica (small circuit) with its many sightseeing stops. These include Llao Llao, Lake Nahuel Huapi, Cerro Compaderio and Lagos Gutirrez. ON Bariloche. (Local Bus tickets covered. Chairlift Cerro Compaderio ARS180 is covered)
Day 14 Fly Buenos Aires on the morning flight. This cosmopolitan capital of Argentina feels more European than Latin America. We stay in centrally located part with many surrounding restaurants and shops. Buenos Aires means 'Good Air or Fair Winds" named by the city founders for its good weather. ON Buenos Aires.
Day 15 La Boca & Caminito is a photogenic area with narrow alley flanked by brightly painted zinc shacks that evoke the district's early immigrant days. La Bombonera is the home stadium of Boca Juniors football team. Maradona played his first football here. Tango dances are performed on the street sides cafes at no charge for visitors but tips are appreciated. At noon, we bus to Cemeterio la Recoleta which includes the final resting place of Eva "EvIta" Peron. ON Buenos Aires.
Day 16 San Telmo Market & Dorrego Flea Market. San Telmo is most active on Sunday while nearby Dorrego Flea Market opens daily. At night, group can opt for an expensive dinnner and tango shows. ON Buenos Aires.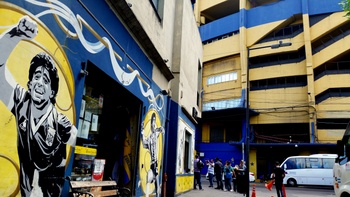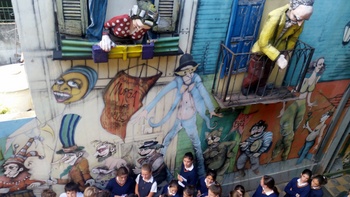 La Boca Stadium (Maradona) / Caminito colourful murals n houses
Day 17 Fly Puerto Iguazu Argentina in the morning at 615AM landing at 810PM. The entrance fo Iguazu National Park Argentina is 20 min from the airport. We use taxis to get there and store our baggage at lockers located at the entrance. We visit the Iguazu Falls until 4PM, when we travel by local bus to Puerto Iguazu, our overnight stay. ON Puerto Iguazu. (Iguazu Park entrance ARS500, baggage lockers and all transport cost is covered).
Day 18 Fox Iguazu Brazil. We cross the border into Brazil to get to the entrance of Iguazu National Park Brazil. There are baggage lockers at the entrance. We visit the Park until late afternoon. We also visit the nearby Parque das Aves Bird Park which has a good size aviary of humming birds, which are only found in South America. The Fox Iguazu Airport is 15 min away and our fiight to Rio de Janiero takes off at 740PM landing at 935PM. Overnight Rio de Janiero. (Iguazu Park Entrance BRL68, Bird Park entrance BRL40, baggage lockers and transfers is covered).
Day 19 Selaron Steips & Christ the Redeemer. We have a relaxing morning walking the nearby Copacabana beach, the most famous and popular beach in Rio. In the afternoon we bus to Corcovado and train up to see the 30 meter stature of Christ the Redeemer. Designed by French sculptor and built by Brazilian Engineer, the statue was built from 1922 till 1931. We then proceed to the Lapa Arches (disused Portuguese water aquaduct) and Escadari Selaron (Selaron Steps). In the evening, the Lapa area is popular place for locals hangouts and street food. ON Rio de Janeiro. (Local Bus Metro tickets for 3 days in Rio covered. Entrance n train up Christ the Redeemer BRL50 is covered).
Day 20 Favela Tour & Ipanema/Copacabana Beach. We have a half day conducted tour of a hill Favela (slum), to understand a little, of the culture and people in Rio. In the afternoon we bus to top end of Ipanema beach and walk to Pedra do Arpoador (means harpoon thrower) located between the two famous beaches. This is the perfect place for watching locals enjoying the beaches and there are also good short walks along the rocky coastline. We continue our walk to Copacabana beach. ON Buenos Aires. (Favela Tour and local bus tickets is covered).
Day 21 Sugarloaf Mountain & Sambadrome. We metro to Sambadrome Marques de Sapucai, which is a purpose-built parade area for the famous annual Rio Carnival. There is a Samba Musuem that has various exhibits that tell the story of the Carnival and samba. We bus to the Sugarloaf Mountain and cable car up to the viewpoints. Airport transfer at 530PM for flight to Amsterdam at 2155PM. ON Plane. (Local transport covered. Cable car entrance fees not covered)
Day 22 Amsterdam. Arrive in Amsterdam at 1420PM 11:30hr flight. Transit 6.5hr. Option of a convenient 20min train ride to the Central Station, which cost Euro12 return. You arrive in the middle of Amsterdam tourist area and will have about 2-3hr for a quick look-around. The flight KL809 to KUL leaves at 2050PM. ON plane.
Day 23 KLIA. Arrive home 250PM SUN 8 APR 2018 after 12hr flight.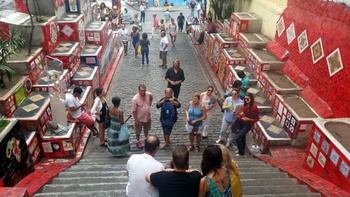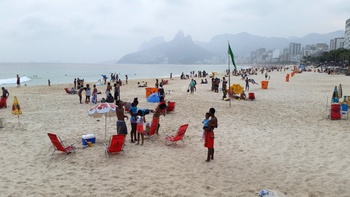 Seleron Steps / locals at Copacabana Beach
TERMS AND CONDITIONS
Cost cover Yongo trip leader, accommodation, airport transfers, town-to-town travel and tours specified in the itinerary as included.
Accommodations will be in guesthouses and budget hotels.
Not covered are internatiional flights (all in fare about Rm7500 as at Nov 2017),
Not covered is the cost of 6 domestic flight tickets. Rm5000 per pax is collected and any excess will be given back to member. Any shortfall, members top up.
Not covered are meals estimate Rm120 x 20 days = Rm2400, and any entrances which are not specified above.
In town taxis are not covered except for transfers to and from bus stations to our place of stay.
Cost is subject to change depending on fluctuations in exchange rates and/or airfares.
A total deposit of

Rm7900

(Rm2900 trip deposit n Rm5000 domestic tickets deposit) will be payable to confirm your place.
Email yongo123@gmail.com or rachelheng123@gmail.com
Phone Lee Min: 016 220 9033 or 603 4031 6225
Phone Rachel Heng 012 352 0868
Address No 19 Lrg Air Bersih Tiga, Air Panas, 53200 Kuala Lumpur