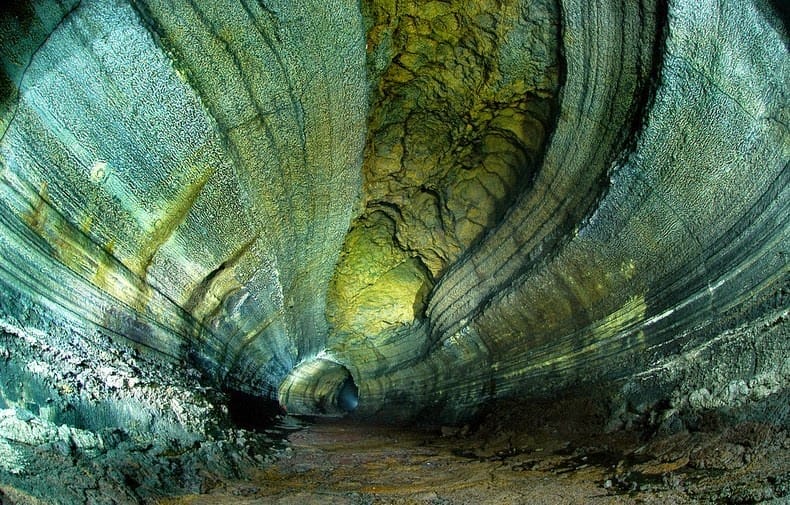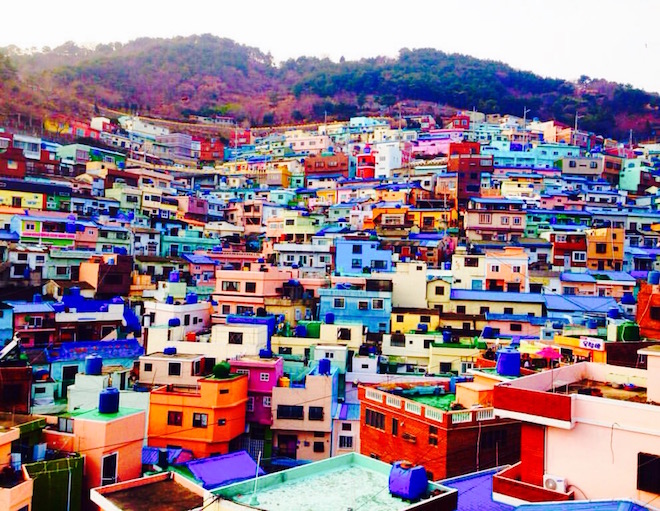 Manjanggul Cave / Gamcheon Cultural Village
This trip offers the best of Korea experience, exploring three top destinations in Jeju, Busan and Seoul. The trip begins in Jeju, The New 7Wonders of Nature and the entire Island is a UNESCO's World Geopark recognized for its diversity of volcanic formations and beautiful nature. We then travel north to Busan City, famous for its seaside nature walks and Korea's largest seafood market. The trip ends in Seoul, the 600-year-old world-class city, where both ancient palaces and modern "Gangnam-style" would fascinate you. This trip will use variouis types of transport mode: from self-drive private vehicle in Jeju, to over-night ferry to Busan and "bullet train" to Seoul at 350km/h. Early May offers Spring weather of average 23c /13c and a less-crowded off-season atmosphere in Korea.
Day 1 KL - JEJU Meet at KLIA2 by 0430AM on 4 MAY 2020 MON for AA flight departs 0650AM to Jeju, arriving 150PM after 6hr flight time. Upon arrival at Jeju, we pick-up our rental private vehicle, which will be our mode of transport in Jeju, we check-in hotel and deserve some local nice meal nearby after such an early and long flight. We then explore the city old urban area and it's Dongmun traditional market. ON Jeju

Day 2 SOUTHERN JEJU After breakfast, we drive straight to Yongmeori Coast at the southern Jeju. The UNESCO-listed Yongmeori (means Dragon Head) is a rough and dramatic coastline shaped from volcano lava eruptions. Walking along the spectacular rock formations is an eye-catching experience. After lunch, we visit Seogwang Tea Garden (O'sulloc green tea fields) and the popular Trick Eye Museum before head back to Hotel. ON Jeju

Day 3 EASTERN JEJU Today we explore the eastern-end of Jeju begin with UNESCO site Manjanggul Cave, which is one of the finest lava tunnels in the world. Only 1km of the 13,422m Manjanggul Cave is open to tourists with comfortable temperature of 11-21 degree Celcius all year-round. We then climb another UNESCO World Heritage site Seongsan Iichulbong, a tuff cone crater rose 90m from under the sea in a volcanic eruption over 100,000 years ago. "Iichulbong" means Sunrise. Later, we visit Seopjikoji - a popular site for Korean Drama "All-in" overlooking East China Sea from the cliff. On the way back to hotel, we make a brief stop at Seonggeup Folk Village - which is a small town with traditional houses hold unique local culture of the black lava rock walls. ON Jeju

Day 4 FERRY JEJU-BUSAN After breakfast, we visit the lovely Loveland, an outdoor theme sculpture park based on sensuality and eroticism.The spacious park is home to over 140 sculptures (40 within gallery and 100 outdoor). It's an attractive place where art and eroticism meet in cool, fun and humorous styles. Afternoon is free and easy before catching the Overnght Ferry to Busan. It's good time to explore and shope at nearby urban city at your own pace. Jeju is famous for hallabong orange and chocolate. ON Ferry.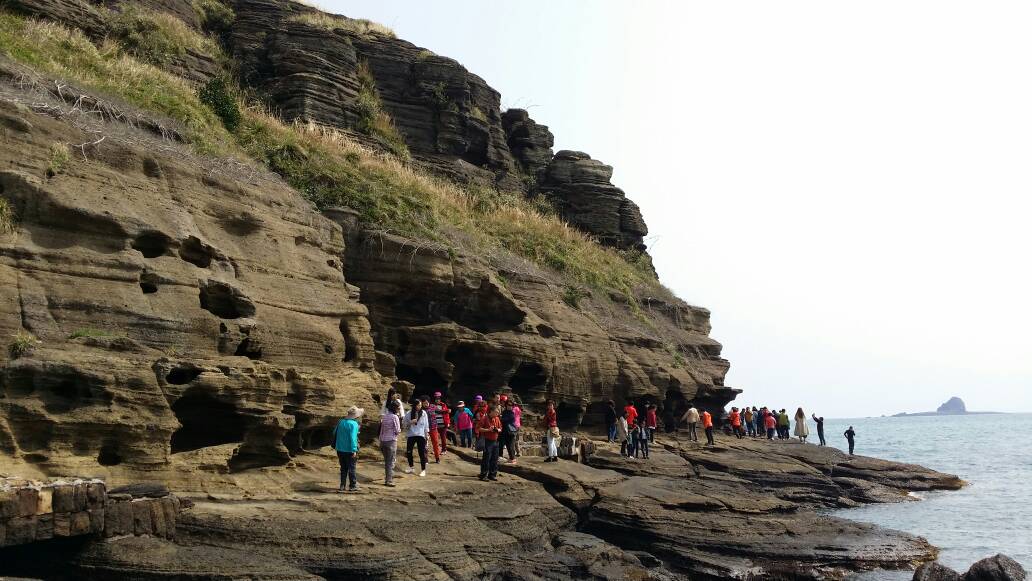 Yongmeori Coast / Busan Coastal Walk

Day 5 BUSAN JAGALCHI FISH MARKET By 7AM, the Ferry shall be calling at Busan port. Once we settle-in at hotel, we waste no time to visit the famous fish market of Jagalchi, and have brunch there at local shops like locals. Across the street, we visit BIFF square - a "Star Street" dedicated to film, related to the world-famous Busan International Film Festival. Within the area, you can shop later at your own pace at Gukje Market, Bosu-dong Bookstore Alley, Bupyeong (Kangtong) Market and Lotte Department Store. With short bus ride, we visit Gamcheon Culture Village. The village is known for its steep streets, twisting alleys, and brightly painted houses, which have been restored and enhanced in recent years to attract tourism. ON Busan

Day 6 BUSAN IGIDAE PARK Today we visit natural beauty of Busan begins with coastal walk in Igidae Park, and enjoy scenic view of Oryukdo Islets and Skywalk. Visitors will be thrilled with the view of the waves while looking down through the transparent floor. Before lunch, we can visit nearby UN Memorial Cemetary Park that honours soldiers and aids from 21 countries that were killed in battle during the Korean War from 1950-1953. We later visit 40-step Culture & Tourism Theme Street and back to our hotel in Nampo area though Yongdusan Park. The '40-step Street' has the deepest significance for the over 100,000 people that were displaced here during the Korea War. The entire area has been recently renovated to reflect life in Korea in the 50s and 60s and become another major tourist spot. ON Busan

Day 7 SEOUL LANDMARKS After breakfast, we catch Korea's "bullet train" KTX to Seoul travelling at speed of 350km/h. Upon arrival at Seoul, we make our way to hotel and leave luggages. We do a full day sightseeing including Bukcheon Village, Gwanghwamun Square, Cheong yecheon stream and Jogyesa Buddhist Temple. We adjourn at night to Insadong Market, the premier place for antiques, arts and crafts. ON Seoul.

Day 8 SEOUL SHOPPING DISTRICT We visit the UNESCO World Heritage site Gyeongbokgung Palace and the National Folk Museum, have a peek at the Blue House (official residence of Korea President). Then, we visit the renown Seoul Tower, aka Namsan Tower, it is a communication and observation tower located on Namsan Mountain in central Seoul. At 236m, it marks the highest point in Seoul. Then, we move to Namdaemun "Great Southern Gate", it ha the large traditional market selling various affordable goods from personal items, indoors and outdoors items. Shopping continues to nearby trendy Myeongdong shopping district, and upmarket Hyundai Duty Free Departmental Store. ON Seoul.

Day 9 SEOUL GANGNAM Gangnam literally means "South of the river", and this district in Seoul that lies along the south banks of the Han River (or Hangang in Korean). This is an upscale modern area home to gleaming skyscrappers, designer brands and stylish nighclubs and as popular depicted in PSY's hit song "Gangnam Style". It's also home to country's top plastic surgery clinics and K-Pop entertainment companies. We visit the COEX Mall (largest underground shopping mall in Asia) in Gangnam, to experience Gannam-style neighbourhood. Theh 8th century Silla dynasty's Bongeunsa Temple is located nearby. We then subway to the latest landmark of Korea at LotteWorld Mall with its Korea's Largest Luxurious Department Store and Korea's tallest skyscraper LotteWorld Tower. The 123-story building holds the Guiness World Records of the highest glass-floor observation deck at 500m above the ground. If time allow, our last optional stop is Dongdaemun area to visit the sprawling market and contemporary Design Plaza & Park. ON Seoul.

Day 10 Home: Morning is Free & Easy before re-group at noon for transfer to Incheon International Airport. Flight ICN-KL Dep 1625 Arr 2155 Flight Time 6h30m. You arrive KLIA2 on 13 May 2020 955PM WED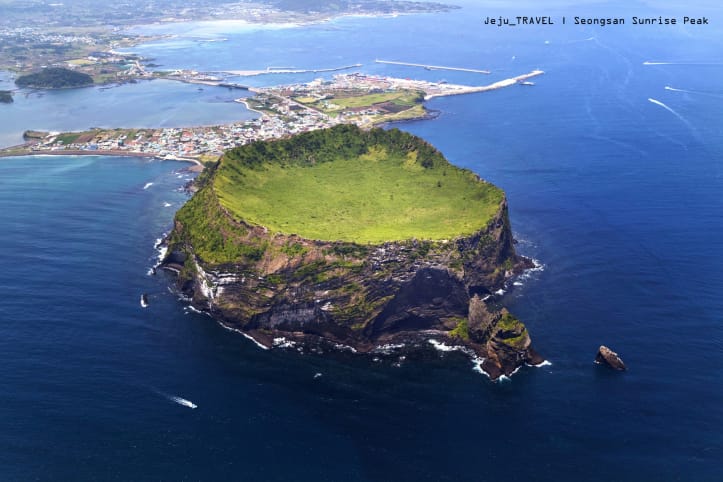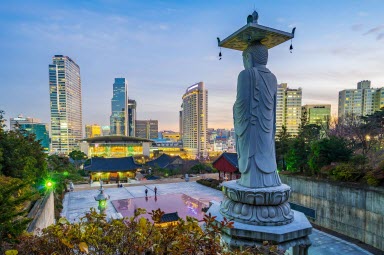 Seongsan Ilchubong / Bonguensa in Gangnam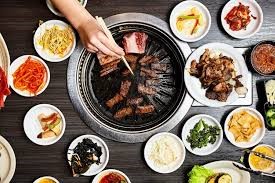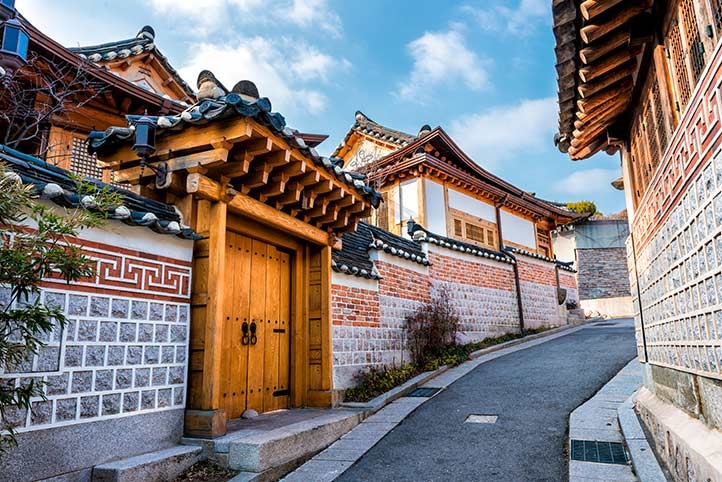 Korean Food / Bukchon Village