5 - 18 JUL 2023 (14 days 12 nights accomm) Kashmir Ladakh
(Delhi, Srinagar, Gulmarg, Doodhpatri, Sonamarg, Kargil, Leh, Nubra Valley)

Cost per pax RM5800 (10-15pax) Rm5500 (16-18pax) (based on 100 Rupees = Rm5.65 (Maybank 15May23)
Final adjustment on the cost is based on the exchange rate at time of final collection.
EXCLUDES BELOW FLIGHTS (AAX RM1200 & DOMESTIC RM900)
5 JUL WED AIRASIA X KUL/DEL 1915 2215
18 JUL TUE AIRASIA X DEL/KUL 2330 0755+1
6 JUL DELHI SRINAGAR & 17 JUL LEH DELHI

Update 15 May 2023. PLEASE DO NOT BOOK FLIGHTS UNTIL ADVISED BY US. WhatsApp trip handler YONG LEE KENG 012 3158353 or email yongleekeng@gmail.com for booking. Two domestic flights will be charged at cost at time of purchase, estimated at Rm900.
IMPORTANT NOTICE: This is meant to be a "free and easy" adventure trip. Participants should be relatively fit, with a good sense of humor, and above all, have the right attitude for close travel with others through possibly some trying times. Most definitely, this is not a trip for prudes, whiners, fuss-pots, and other similarly assorted types! We had a couple of those before and it wasn't pleasant for us or them. Although every effort will be made to stick to the given itinerary, ground conditions may change and cause some disruption and/or deviation from the norm. Otherwise, have fun.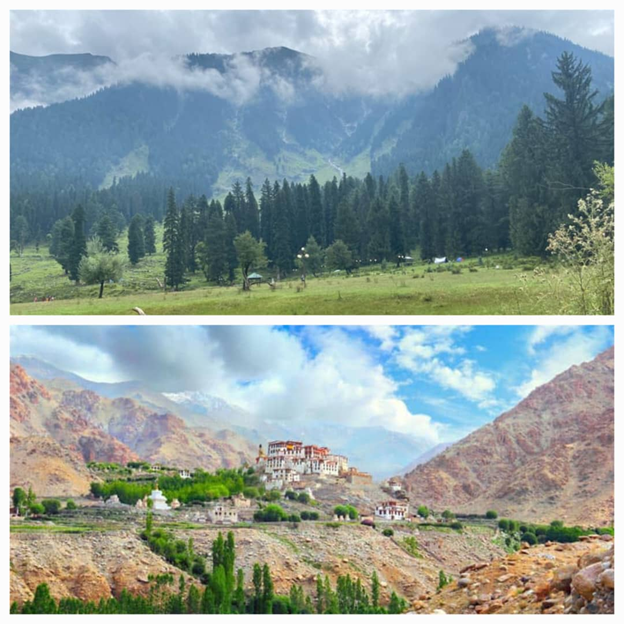 Our journey through two very different faces of India will take us from wondrous pine forests and green flowered meadows of Muslim Kashmir, to the rugged beauty of raw barren Buddhist Ladakh. Only an overland road trip can do justice to this trip as you will see the drastic change from lower to upper Himalayas, and that is what we will do!
DAY 1 KLIA to Delhi. Assemble KLIA by 5:00 PM, "get-to-know" your travel buddies time, and fly KUL (1915) - DEL (2215). On arrival Delhi, pick-up and transfer to nearby airport vicinity hotel for a good night's rest, and maybe dream of the high adventures to come ☺ Overnight (O/n) Delhi Airport Hotel.

DAY 2 Delhi-Srinagar-Gulmarg. Post breakfast short transfer to airport to catch our late morning flight to Srinagar. Fly Delhi (1135) - Gulmarg (1305). On arrival Srinagar, 1600m asl, we have lunch before taking in a scenic 1.5 hrs drive to Gulmarg (45km) one of the most beautiful resorts in the valley, Gulmarg, 2650m asl, is often called the "meadow of flowers". In deep winter, it is the only ski resort in all India. Rest of day is free to enjoy mountain views strolls around our highland resort. O/n – Gulmarg (B, D)
DAY 3 Gulmarg-Srinagar. We will go for a Gondola ride up to Second Phase. This ride is a highlight of any Gulmarg experience. The French-designed Gondola is one of the world's highest and longest cable car. We also visit Khilanmarg. A must-visit for sightseeing in Gulmarg. Spring season flowerings is when Khilanmarg lives up to its tagline of the "meadow of flowers" Gulmarg Golf Course, was established in 1904 by the British. At 2650 m asl, it is one of the highest golf courses in the world. Take in easy walking along the fringes of the golf course. Late afternoon drive back to Srinagar.O/n – Srinagar.
DAY 4 Srinagar. A day to enjoy Srinagar scents, sights and savourings. We visit the Mughal Gardens, Chashmi-e Shahi (The Royal Spring), Nishat (The Garden of pleasure) Shalimar Bagh (Abode of love) among others. We will have some free time to explore the local market at Lal Chowk, on the sides of visits to art and craft emporiums. A Kashmiri shawl is pretty cool even as it can help keep warm. Walnut tree wood carvings are beautiful and worth a thought, as Kashmir is the only part of India where the walnut tree grows. Later afternoon, we get into shikaras that will bring us to our Dal Lake Houseboats. Rest of day free to chill while taking in the unique lake scenes unfolding in front of our eyes. O/n - Dal Lake Houseboat.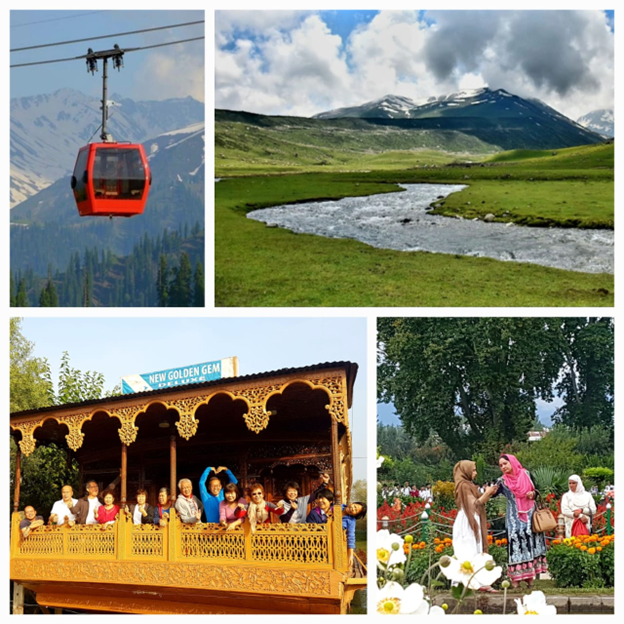 DAY 5 Srinagar-Doodhpatri-Srinagar. Drive Srinagar - Doodhpatri - Srinagar (100km round trip). We do a day-trip to Doodhpatri, 2730m asl. It is a bowl-shaped valley covered with green carpeted small meadows set in the heart of mountains to the south-west of Srinagar. It is an ideal picnic spot and of course this will be in the plan. We will take you to acres upon acres of grassy meadow ringed by forests of pine, and towering beyond them, awesome and majestic snow-clad mountains. It is also called as a "VALLEY OF MILK" because it produces rich milk in a large quantity. It is said that the cattle grazing in the meadows of Doodpathri produces the best milk in all India. Back at our houseboats by early evening.
O/n – Dal Lake Houseboat.
DAY 6 Srinagar-Sonamarg. Drive Srinagar – Sonamarg via Naranagh (110km). After breakfast, drive to Sonamarg, 2750m asl, via Naranagh, 2128 asl, through one of the most beautiful drives from Srinagar. Naranagh is well known for its ancient but pillaged temple ruins complex, for which not much is known about until today. Rice fields abound here as the elevation is lower. Sonamarg is the last stop of Kashmir. Absolutely true to its name, which means 'Meadow of Gold', the moment you enter Sonamarg, the first thing that you will notice will be the snow-covered mountains that form the backdrop of the town. Covered with alpine trees from all sides, Sonamarg has some of the loveliest flower collection in Jammu and Kashmir. Rest of the time is free to relax and self-exploration. O/n – Sonamarg.
DAY 7 Sonamarg-Kargil. Drive Sonamarg – Kargil (122km). After breakfast proceed for guided sightseeing of Sonamarg. You may take an optional pony ride, or just enjoy an easy 5km return walk, which will take 3-4 hrs, to Thajiwas Glacier, where snow remains round the year. In the afternoon, drive to Kargil, 2676m asl, via Zojila pass, 3528m asl. En-route we drop by Dras village, world's second coldest inhabited place, with temperatures plunging to -35 Celsius in deep winter. We will also pass Tiger hill along the way. Rest of the day free and easy.O/n – Kargil.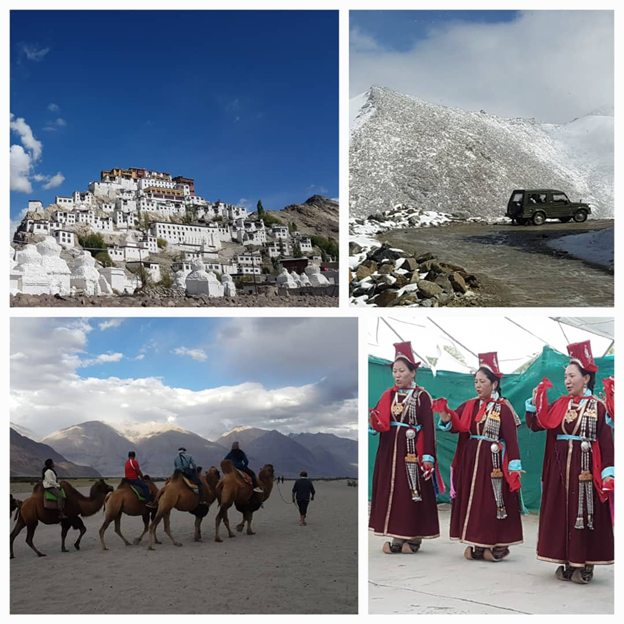 DAY 8 Kargil-Leh. Drive Kargil – Leh (210km). Today we leave the green mountains of the Lower Himalayas of Kashmir, and enter into the moonscaped dry and barren Upper Himalayas of Ladakh. The change is amazing! Our 210 km road trip to Leh will take about 8 hours, including stops at the following points of interest, 10th century Lamayuru and Alchi monasteries, 3500m asl, are among the oldest of Ladakh monasteries. Lamayuru itself sits spectacularly along the valley plain and surrounded by mountains. Magnetic Hill enroute defies the law of gravity and we will see what this means. Further driving through picturesque moonscape, will bring us to the confluence of The Indus And Zanskar River. Just before Saspul, a road to the right twill take us to11th century Likir Monastery, 3700m asl. One of the oldest and most active monasteries in the region, there is a colossal gilded image of the Maitreya out in the open, and one of the most impressive sights in Ladakh. O/n – Leh.
DAY 9 Leh-Nubra Valley. Leh – Nubra Valley via Khardung La (117km). The spectacular road journey from Leh to Nubra Valley passes over Khardung La, 5602 asl, the highest motorable road in the world. Even during summer, the pass is likely to still be snow covered. En-route visit Diskit Monastery, the oldest and largest Buddhist monastery in Nubra Valley. It belongs to the Gelugpa sect of Tibetan Buddhism, and was founded by Changzem Zangpo, a disciple of Tsong Khapa, founder of Gelugpa, in the 14th century. Later enjoy an optional double-humped camel ride. This hardy beast is a native of Gobi Desert, and found on the vast expanse of cold-desert areas across Mongolia, China, and much of Central Asia. Evening walk around the village to see how the locals live in this part of the world. Opportunity permitting, we will visit a Ladakhi home and experience Ladakh hospitality and cuisine to end the day.O/n – Nubra Valley.
DAY 10 Nubra Valley. Day Excursion to Turtuk Village (160km round trip). Turtuk village lies on the banks of the Shyok River in the Nubra valley, and unlike the rest of Ladakh, its indigenous population is mainly Muslim. The village is a gateway to the Siachen Glacier and in proximity to the line of control between India and Pakistan. Whereas most of Ladakh is barren, Turtuk is a green valley and a hidden gem due to its spectacular flora, including a wide number of apricot trees. Just only opened to tourists and relatively unexplored, Turtuk is the last village up the region where tourists are allowed. and that adds to the travel experience of visiting here. Turtuk has some interesting places to explore like the 16th century Minarets, the ruins of Pun Khar, K2 Peak view, and the quaint villages. Turtuk continues to follow the Baltit culture of Pakistan, with warm and hospitable Muslim locals who would make you feel at home there. Back at Nubra Valley, we may get a chance to see Ladakhi cultural performance.O/n – Nubra Valley.
DAY 11 Nubra Valley-Leh. Nubra Valley - Leh via Khardung La and Hemis Monastery (170km). Today we get to enjoy again the spectacular road journey from Nubra Valley to Leh. We will stop by Khardung La enroute to enjoy snow fun on this highest point of the journey. En route we will make a stop to visit Hemis Monastery, 3600 asl. One of the wealthiest monasteries in Ladakh, it houses a vast collection of thankas, gold statues, chortens embedded in precious stones etc. We arrive Leh late afternoon and free and easy to take in the shops of Leh. O/n – Leh.
DAY 12 Leh. Leh and environs visit. Shey Palace once served as the summer capital of Ladakh but is mostly in ruins now. Located on top of a hillock, it offers stunning panoramic views. The highlight of the monastery is 39ft tall Shakyamuni Buddha statue. Sindhu Ghat is a river bank near Shey Monastery in Leh.. The scenic lake landscape near Leh seems surreal with the barren mountains, rocky terrain, and rivers traversing the region is a sight to behold. Thiksey Gompa is located on a hilltop at an altitude of 3,600 meters above sea level. It is the largest monastery in Ladakh, towering 12 stories high, that is surrounded by the dreamlike beauty of the snow-capped mountains. Namgyal Fortress sits forlornly on top of a hillock affording expansive views of Leh and surroundings. It will take a bit of breath to walk up to see the breathtaking sights up there! We will have time to explore Leh's eateries, and shops on own walkabouts. O/n Leh.
DAY 13 Leh-Delhi. 6:00 AM transfer to airport to board the flight to Delhi taking back wonderful memories of Kashmir and Ladakh. Fly LEH (0900) - DEL (1030). On arrival, leave luggage at airport or our travel facilitator office. Rest of day free to make own excursion to Delhi city, and/or the nearby Chanakyapuri retail complex, for shopping, eating, etc. There is a convenient and worry-free train connecting the airport to Delhi. No Hotel, and only Breakfast provided today. All to assemble back at Delhi airport by 9:00 PM. Fly DEL(2330) - KUL(0755+1)
DAY 14 Home. Land KUL 7:55 AM.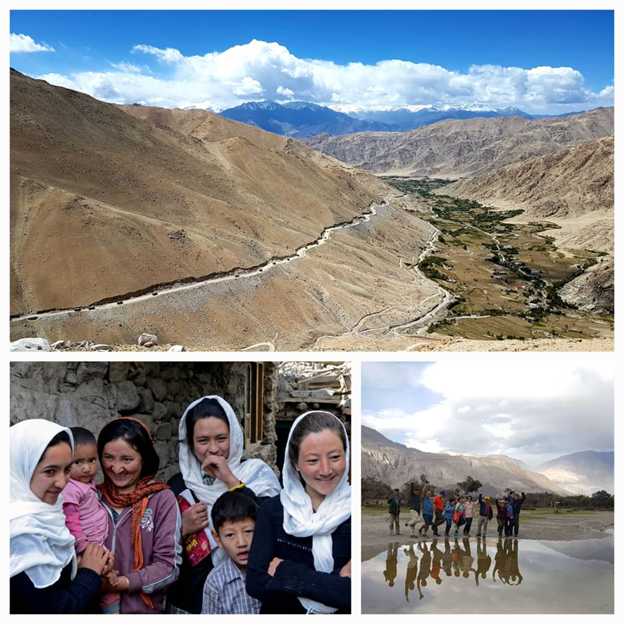 TERMS AND CONDITIONS
Cost cover accommodation, local tour guide, entrance fees, ground travel via chartered transportation and Leh interline travel permit.
Accommodation will be in guest houses and budget hotels. Breakfast and dinners included at all places except for Delhi (breakfast only).
Not covered are international and domestic flight, lunches (Rm30 x 12 days), India Visa Rm250 and optional activities.
Cost is subject to change depending on fluctuations in exchange rates..
A Non-refundable deposit of Rm2900 (INCLUDES DOMESTIC FARE RM900) is payable to confirm your place.
Whatsapp Phone: Lee Keng 012 3158353
Email: yongleekeng@gmail.com