Experience a taste of 3 Central Asian countries with its own distinctive highlights. We begin in Kyrgyzstan, home to mountains and its nomadic people. Next is Tajikistan which offers a mixture of nature & history. We finish our journey in Uzbekistan for its stunning architecture, home to several UNESCO listed sites.
HIghlights of this trip include:

- Kyrgyzstan & Tajikistan offers some valleys and lakes for easy walking and scenic mountain road journeys.

- Explore some of the world's oldest civilisations which were important bases along the ancient Silk Route in Tajikistan & Uzbekistan

- Discover the local culture through its handicrafts, food and bustling bazaars. The variety of culture includes ancient Persian, Kyrgyz nomads, Soviet influence and post-independence modernities.
B= Breakfast, L= Lunch, D=Dinner
Day 1 Airport/Plane: Assemble in KLIA by 7:00AM SUN 15 SEPT 2024 for Emirates morning flight EK345 departing 10:15AM. Fly 7hr before arriving in Dubai 1:10PM. Long transit for 9.5hr. Reconnect on Emirates/Flydubai flight 4hr EK2418 leaving Dubai 10:45PM arriving Bishkek 4:40AM next morning
Day 2 Bishkek: Arrive early morning 4:40AM. Meet our local guide at airport. We have walking tour around Bishkek to visit some of the places of interests around this capital city with about 1million inhabitants. O/N Bishkek hotel with own meals today

Day 3 Chon Kemin (B/L/D): After breakfast, our chartered transport then brings us east towards national nature reserve of Chon Kemin valley. Along journey, visit Burana Tower (minaret of 11th century). Lunch included with local family along our journey. Free time afternoon to have a short walk inside Kok-Archa gorge or optional horse-riding at own expenses. O/N in hotel with dinner provided.
Day 4 Karakol (B/D): After breakfast, our chartered transport drives us eastwards towards Karakol 140km away. Along the way, we make a short stop at Tamchy village to learn more about the local art of felt-making from wool. Next stop at Cholpon-Ata to view an open air petro-glyphs (rock painting) gallery. Our journey towards Karakol brings us pass the northern shore of Issyk-Kul Lake. It is the 2nd largest alpine lake in the world, after Lake Titicaca in South America.. Own lunch in cafe enroute. When we arrive at Karakol, we proceed to visit the Dungan mosque - built in Chinese style without using a single metal nail and a wooden Orthodox Church. Dinner with Dungan family, who are Chinese Muslim followed by local folk show. O/N in hotel for next 2 nights
Day 5 Altyn Arashan-Karakol (B/L): Morning transfer to Altyn Arashan gorge by Russian military 4WD vehicle. Altyn Arashan ("Golden Spa") gorge is one of the most famous gorges in Karakol. Here one will see wonderful fir tree forests and thermal springs along the whole gorge. Picnic lunch provided. After arriving at Altyn Arashan camp, members can enjoy walking around valley or sample the local hot springs (own expenses). Our 4WD vehicle brings us back to Karakol for our 2nd night stay.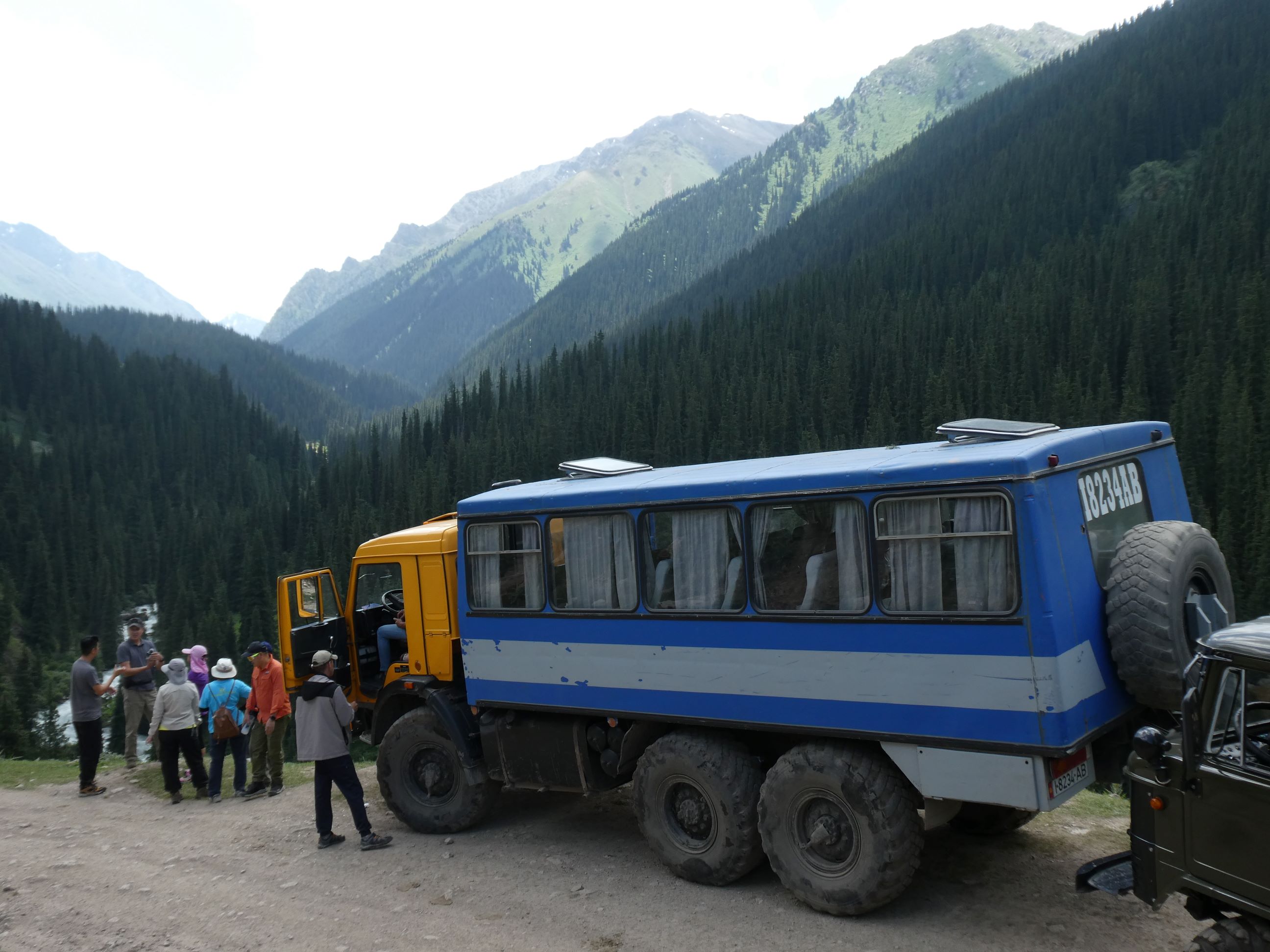 Russian 4WD military ride into Altyn Arashan / Jeti-Oguz gorge
Day 6 Kochkor (B/L/D): After breakfast, we drive to Jeti-Oguz Gorge. Its name in Kyrgyz language means "Seven bulls". The name is symbolic, because there is a 35 km long wall of seven huge red-brown cliffs resembling furious bulls standing together. We will also have look at Kyrgyz traditional eagle-hunting demonstration. Another stop at Skazka canyons (Fairy Tale canyons) for a short walk around, before our transport takes us towards Kyzyl-Tuu village famed for their yurt-making residents. Experience how the Kyrgyz members set up yurts and lunch provided here. Final transfer to Kochkor for our overnight stay. O/N hotel with dinner provided.
Day 7 Song Kul (B/L/D): Driver 3-4 hours towards the second largest lake in Kyrgyzstan - Song Kul located at 3,013m above sea level. Song Kul is the best place to experience the nomadic lifestyle of the Krygyz people who bring their herds here during summer time. This is also wonderful place to gaze at the stars because of minimal light pollution. Optional horse-riding experience here at own expenses. O/N Yurt Camp with outdoor shared toilets. Lunch & dinner at yurt camp.
Day 8 Kazarman (B/L/D): After breakfast, we drive south west towards Kazarman. Today is a long drive, but we will have few photo stops to enjoy the scenic views along the journey. Upon arrival in Kazarman, own free time to explore this tough mining town which used to be bustling from its gold mining activity. O/N Kazarman in guesthouse with shared toilets, lunch & dinner provided.
Day 9 Osh (B/D): After breakfast, we travel southwards towards Osh. Upon arrival in the afternoon, we go for sightseeing tour around Osh, which is the 2nd largest city in Kyrgyzstan. Legends said Osh was founded by King Solomon ages ago and had an important position on trading routes of the Great Silk Road. We walk up sacred Sulaiman Too Mountain, its Museum and Osh Bazaar. O/N in hotel. Kyrgyz farewell dinner included.
Day 10 Fergana, Uzbekistan (B/L): Continue balance of sights not covered day before in Osh. Lunch included at local place. Afternoon, we will cross into Uzbekistan via the Fergana valley. O/N hotel for 1 nights
Day 11 Kokand-Khujand, Tajikistan (B/L): After breakfast, we continue our journey to Kokand. Kokand is at the cross-roads of Tashkent, Fergana valley and Khujand of Tajikistan. We visit several key highlights of Kokand, including UNESCO listed Khudoyar-Khan Palace which now houses the Kokand Regional History Museum. After Kokand, we continue about 50km towards Rishton, famed for its many pottery workshops. Late afternoon border crossing between Uzbekistan and Tajikistan. We end our journey at Khujand for our 2 nights hotel stay.
Day 12 Khujand (B/L): Khujand is the further point where Alexander the Great reached in Central Asia. It has also grown into a major entreport along the Silk Road and is now the 2nd biggest city of Tajikistan. We visit several important sites today with lunch included. Some key sights are Khujand Fortress, Muslihiddin memorial complex and Panjshanbe Bazaar. O/N hotel for 2nd night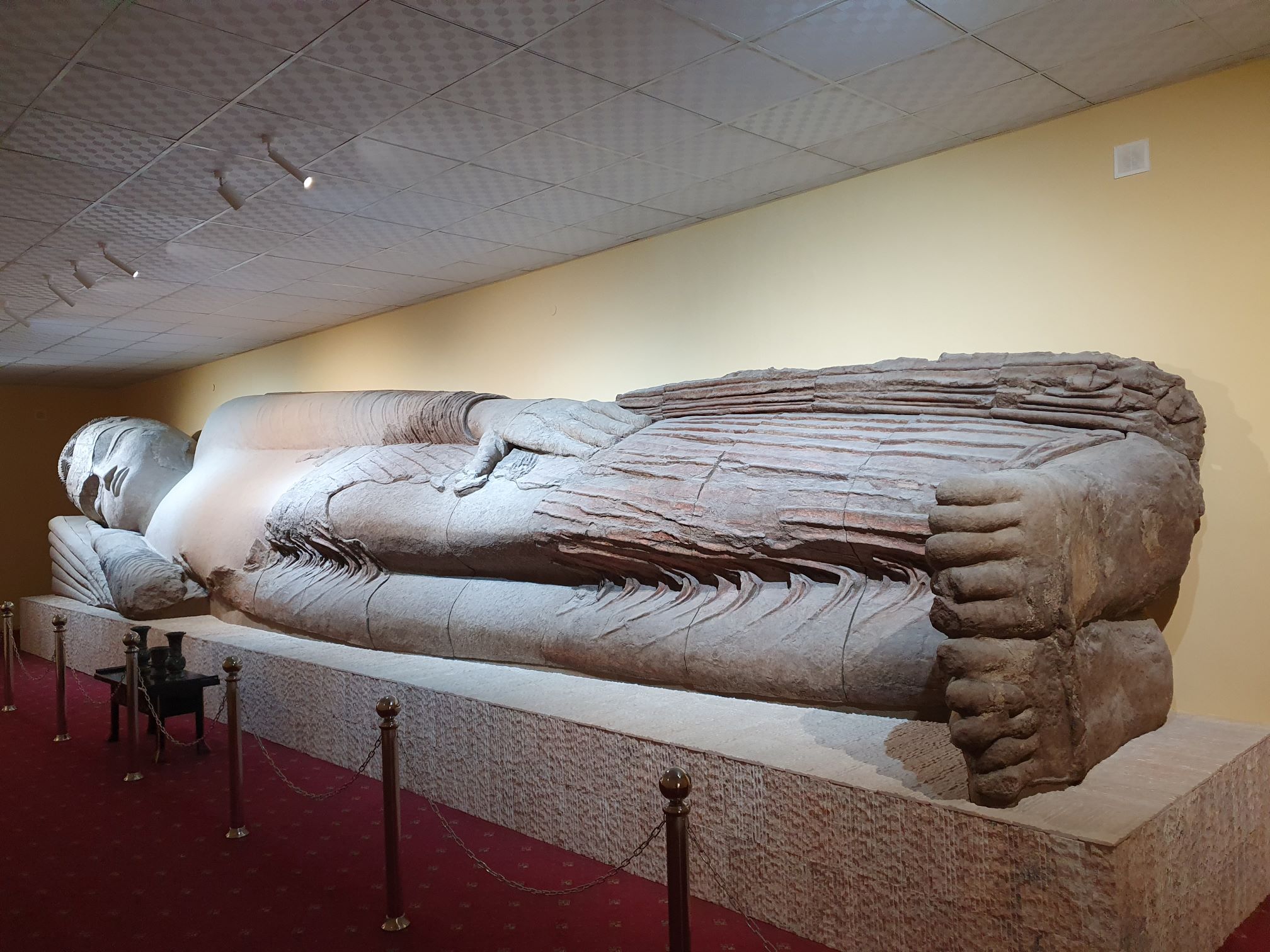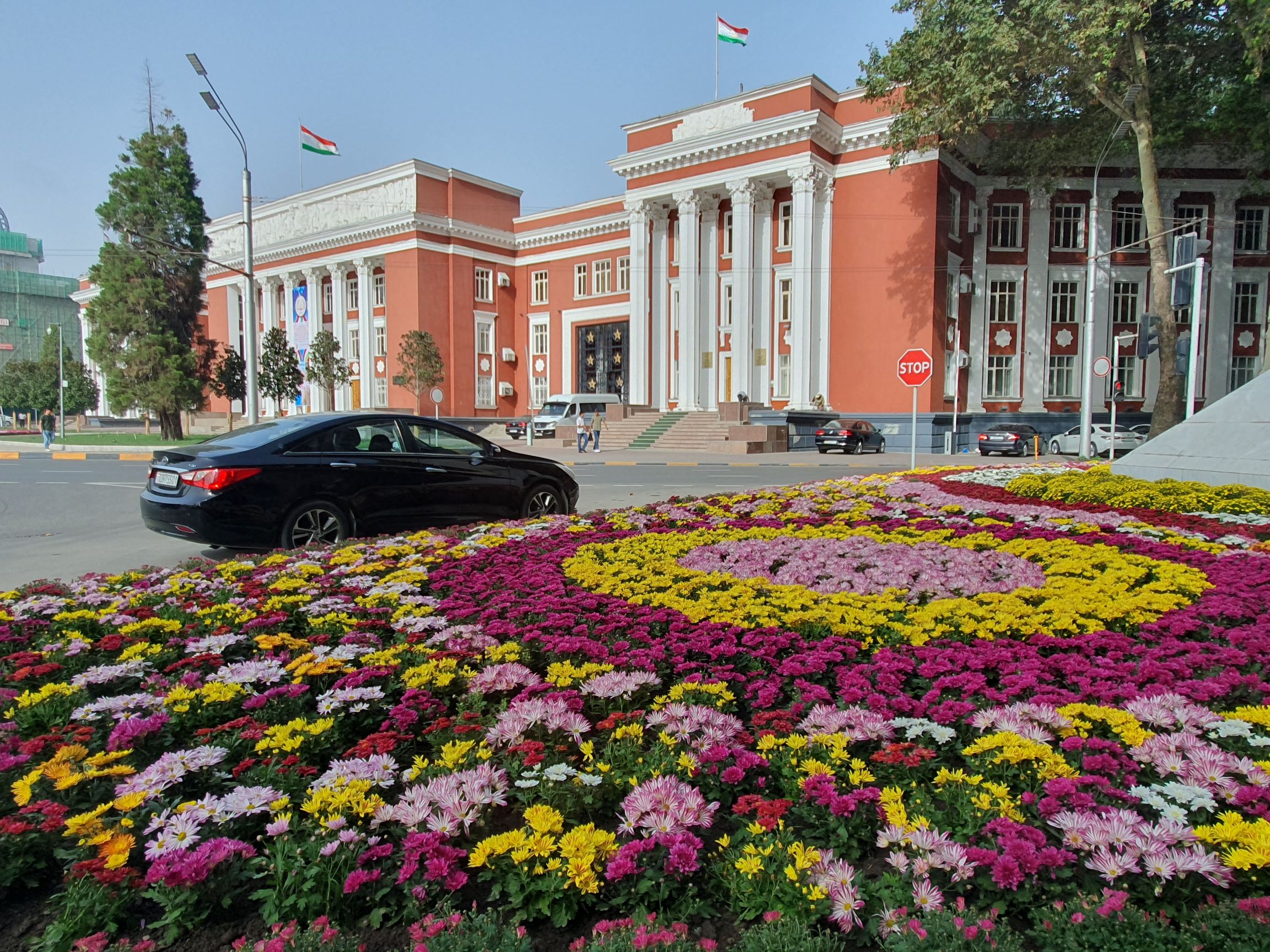 Famous sleeping Buddha inside Tajikistan Museum of Antiquities / Colorful parks around Dushanbe
Day 13 Dushanbe (B/L): Today we travel towards the Dushanbe, capital city of Tajikisan. Along the way, we make a stop at Istaravshan well known for their blacksmiths. We visit Hazrati Shoh complex, Fortress Mug located on the site of the ancient civilisation dating back to 7th-8th centuries and the local bazaar. Lunch included along the way. Arrive Dushanbe by late afternoon and proceed to check-in for next 2 nights. O/N hotel
Day 14 Dushanbe (B/L): Full day to explore Dushanbe, the biggest and capital city of Tajikistan. We start off at Hisar Fortress, located about 30km away. We return to capital city to cover other sights, which includes Tajikistan National Museum of Antiquities, where a famous sleeping Buddha statue can be seen. We also take some time out walk through Rudaki park, dedicated to the great Persian poet and visit the great Ismail Somoni statue. Being the capital city, Dushanbe offers plenty of eating options for dinner. O/N hotel for 2nd night
Day 15 Saritag (B/L/D): Today we began our nature explorations around Tajikistan. We drive about 130km towards Iskanderkul, named after Alexander the Great or Iskander as he was known in the East. Lunch enroute. We continue our scenic drive towards Saritag village (2,380m above sea level) for our 1 night simple homestay with dinner included.