This will be a backpack experience using a mix of local taxis, chartered bus and local trams/metros in some cities. Croatia is an expensive destination and we are visiting during the shoulder peak months. We stay in pensions and hostels in rooms, some private and some shared bath ranging from 2 to 4 pax sharing room. It is very important participants are able to manage their own luggage and we suggest backpacks or small trolley bags. As usual, you pay for your own meals, entrance fees, within-the-town taxis/trams and other activities, unless stated otherwise.
Note - B indicates where Breakfast included as part of accommodation costs. D = Dinner. O/N = Overnight
Day 0 KLIA Midnight: Assemble in KLIA by 1130PM on 24 May 2024 Friday for Emirates flight early next morning.

Day 1 Zagreb: Fly Emirates EK343 departing 2:25AM, arriving Dubai 5:30AM. Transit 4.5hr before reconnecting on EK2012 10:00AM, arriving Zagreb 2:10PM. Transfer from Zagreb towards our hostel nearby city center. After check-in, we are free to wander around Zagreb's old town square and enjoy the many good inexpensive meals. Overnight (O/N) Zagreb hostel doubles/triples for next 2 nights with no breakfast included, but kitchen facilities available.
Day 2 Zagreb : We have a full day to explore Zagreb, the capital city of Croatia filled with plenty of cathedrals, museums, art galleries, restaurants and cafes. Members can start the morning at the city's local market and famous Mirogoj Cemetery before escaping the hot afternoon at nearby Maksimir Park. Stay 2nd night Zagreb hostel.

Day 3 Plitvice National Park & Bihac (D): Our chartered bus takes us to UNESCO Plitvice Lakes National Park 137km 2:30hr and we spend a good part of the day wandering around Europe's answer to China's Juizhaiguo. The Park has many walking trails to enjoy. Members can buy lunch inside park or bring along packed lunch to enjoy enroute. Entrance fees eu23.50 (2023 prices) is included in trip costs. After we finish, we hop across the Croatia/Bosnia border into Bihac 22km 1hr away. O/N Bihac homestay doubles/triples/quads with shared toilets & dinner provided.
Day 4 Bihac (B/D): Optional morning white water rafting trip on famed Una river can be done today. After breakfast, we take a short drive towards Strbacki Buk. Measuring about 25m high, it is one of the highest and biggest waterfall inside Una National Park. After exploring this magnificent waterfall, we drive southwards towards Martin Brod where another series of rapids await us. Afternoon free & easy to explore around small village. Second night in Bihac with breakfast & dinner included.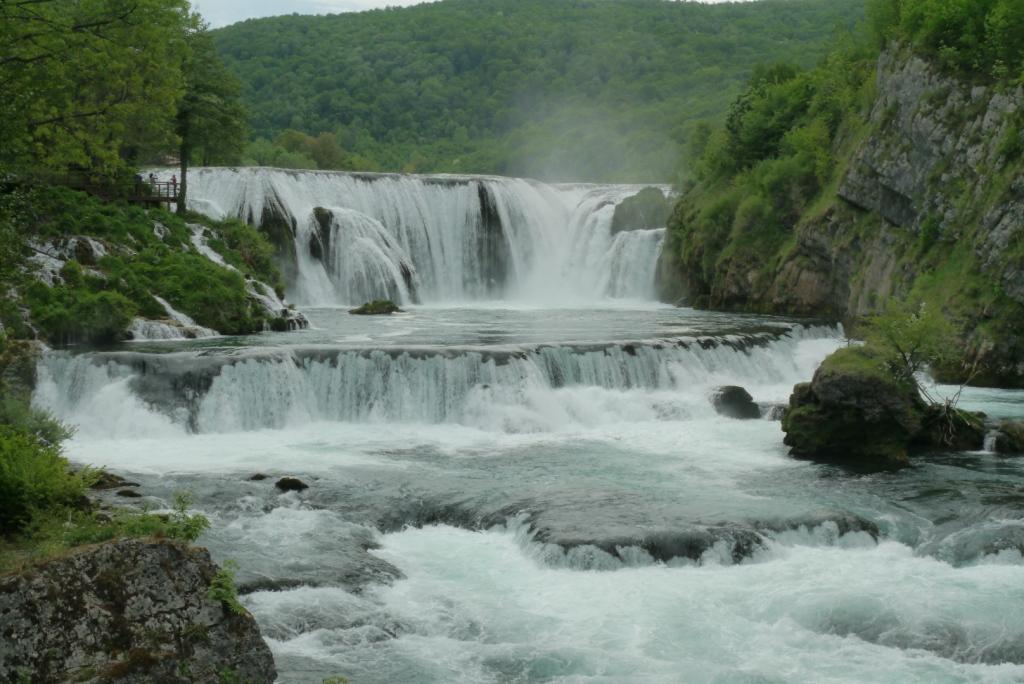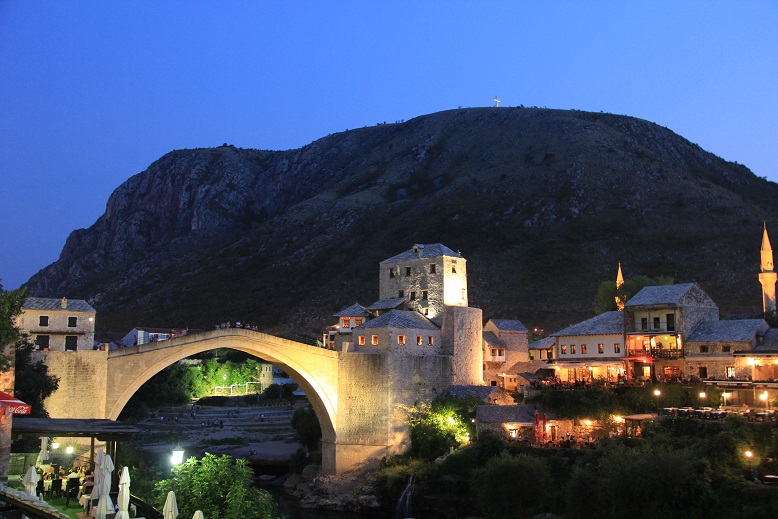 Strbacki Buk waterfall along Una River, Bihac / Mostar old Bridge
Day 5 Travnik & Sarajevo: After breakfast, our chartered bus takes us to medieval town of Travnik, some 4hr away. The local market is busy with a good mix of multi-religious Bosnians going about their business in this small town place for lunch, trout meals recommended. Members have option to walk up to the medieval Turkish castle, which was the seat of the 77 Turkish viziers who ruled Bosnia for 150 years. Later, we move on to Sarajevo 90 km 2hr. Sarajevo is the capital & largest city of Bosnia Herzegovina. Stay in budget hotel doubles/triples with attached bathrooms, no breakfast. O/N Sarajevo
Day 6 Sarajevo: Walking distance from our guesthouse is the Turkish Bazaar called the Bascarsija (Turkish Quarter). We organise a half day walking tour with a local English speaking guide. The city is famous for its cultural and religious diversity. Rest of afternoon free & easy. Members have option to visit Vrelo Brosne 12km away with public transport at own costs. The walk there is a tree-lined road/path of 3km that leads to a series of natural springs and streams and a good-sized park, full of locals enjoying the sun. 2nd night Sarajevo.
Day 7 Mostar (B): We proceed to Mostar 127km away with chartered bus 3hr through some spectacular scenery along Neretva River and mountainscape carved by the river. After check-in, we have a guided tour of Mostar with a local guide. Rest of afternoon free to wander the small town, home to several important Ottoman mosques and old Turkish houses which survived the last Bosnian War. The famous landmark of Mostar is the Old Bridge, a UNESCO Heritage site and venue for the annual diving competition during summer. O/N Mostar in local guesthouse in doubles/triples, no breakfast.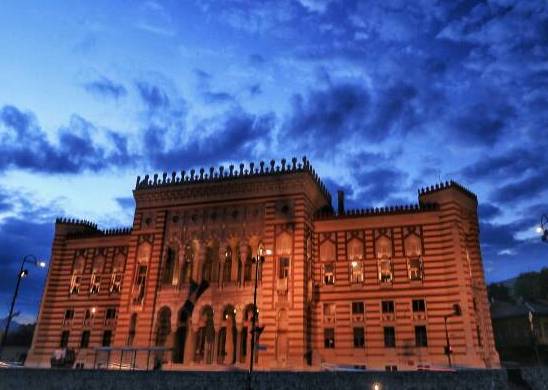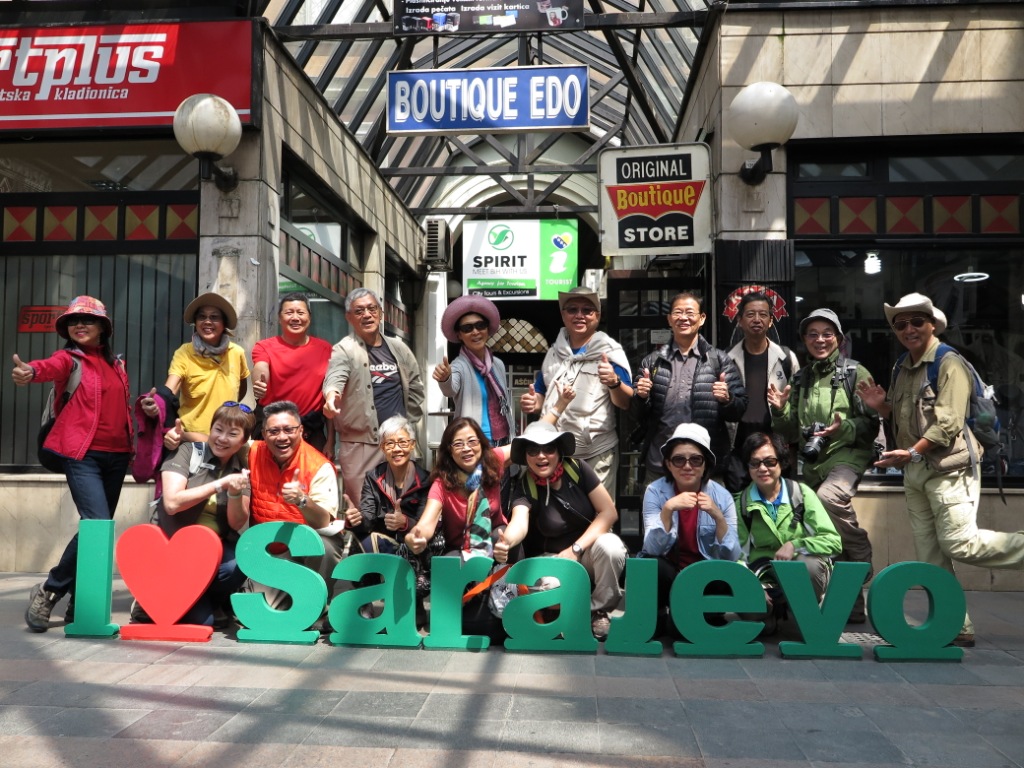 Sarajevo night view / Group at Sarajevo