| Home | More Pictures |

May 28 - Jun 14 2004 - 18 days India Himalayas Bhapa Pass Trek, Manali, Shimla, New Delhi, Jaipur, Agra Taj Mahal & Bharatpur Bird Park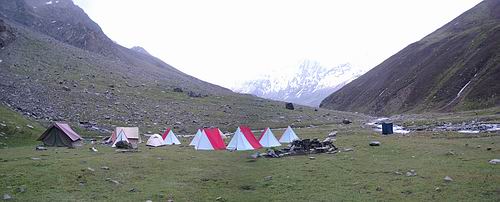 Fauti Camp over the Bhapa Pass
The group comprised of 14 pax excluding leader. As usual there were more ladies i.e. 11 and 3 men. It was summer in New Delhi and temperatures soured up to 40 degrees C. But up in the mountains, we experienced zero temperatures and strong winds made it even colder. Bhapa Pass was also enveloped in snow as a result of an April cold front, and right up to the time we were there, the snow had not melted. The adverse elements made the trek tougher than expected, even for the seasoned trekkers. Inspite of all that, the group performed beyond their physical limits and came out stronger.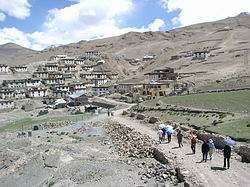 Ki Monastery Spiti 4116m / Kibber Village 4205m
Day 1 Friday - We met at KLIA for the afternoon flight and arrived in New Delhi at night. The group was tired out from the traveling and retired early. Overnight in Delhi.
Day 2 Delhi to Manali - We went on the train Shatabedi Express to Chandigarh. We arrived in the late morning where we bussed to the Rock Garden. This is a collection of thousands of figurines made from discarded and waste materials. After that, we lunched at a "famous" Singh's Chicken restaurant before continuing our long journey to Manali 2050 meters. We arrived late at night and like the previous day, retired early.
Day 3 Manali paragliding village walks - We had jeep taxis ferry us to Solang Valley 12 kms out of Manali. This is the site for some nice walks among the alpine streams and forest. Its also the site for skiing in winter and paragliding in summer. Seven members opted for the long flight, which involved a 45 mins trek to the top of a hill. Three others went on a short ride remaining airborne for about a a minute. One member had a unforgetable 20 mins flight. The group later assembled and walked to Manali, passing picturesque villages and fruit orchards of apples, apricots and pears. The rest of the day was spend in Manali town.
Day 4 Rohtang Pass to Batal - We began our Trans Himalayan section of the trip by bussing to Rohtang Pass 3978m. This is known as the snowpoint to local tourists, who flock here to take pictures in the snow dressed in rented winter clothing. The roads zig zagged up and down the high mountains and we had wonderful views of the surrounding mountains. Our first stop in Lahual Valley was a small outpost Chatru, where we stopped for some "chay" or hot tea. A few kilometers later, we settled in at Dadar Pol for our first overnight camp.
Day 5 Trek to Chandratal Lake - After breaking camp, we bussed to Batal 3960m to wait for our pack mules. Then we started on a 13 km trek which took between 5 to 7 hours along Chandra river to Chandratal Lake 4270m with more great views of the mountains and glaciers. There were a number of "casulties" because of acclimatisation problems. Lake Chadratal, a beautiful mountain lake surrounded by high snow-capped mountains, is holy to the local. Overnight Camp.
Day 6 Trek to Kunzum - Some of the group members still had not recovered from yesterday's exertions and the 9 km trek to Kunzum Pass 4551m, tooks it toll. Two members had to be "helped" to the bus. The strong trekkers arrived after 4 hrs and the last member drifted in after 6 hours. The bus took us down into Spiti Valley to the town of Kaza 3600m where we rested in the local guesthouse.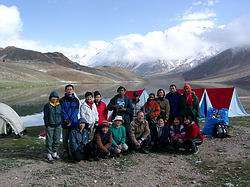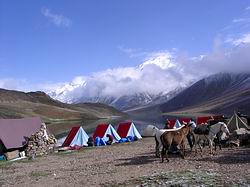 Lake Chandratal 4270m / Pack-mules and campsite
Day 7 Ki Monastry and Kibber Village - Our first stop was the village of Kibber 4205m, reputed to be the 2nd highest continuous inhabitable village in the world. We spend about an hour walking about this Tibetan village. Later we went to the Ki Gompa or monastery 4116m, located like many Tibetan monasteries, on the top of a high hill overlooking the village. This large gompa houses 300 monks. Our schedule last stop was the 1000 years old La-Lun monastery was canceled because the road there was cut-off by a rock fall. We arrived early in the town of Tabo 3050m and rested in the monastery-owned guesthouse.
Day 8 Tabo Dhankar - Tabo Gompa was built in 996 AD and is also known as the Ajanta of the Himalayas, as it contains some beautiful paintings inside the somewhat drab temple buildings. Its also a favourite destination for the Dalai Lama. Later in the day, we visited another hill-top Tibetan monastery of Dhankar 3890m, which offers great photo-taking opportunities. After lunch we entered Pin Valley and arrived at the village of Mud. Here we rejoined our 20 pack mules and their 3 handlers. We crossed the Pin river to our campsite 2km away.
Day 9 Upper Bara Bolandar - The 10 km trek passed through flower meadows and barren mountains. It meanders along the Pin River and we arrived at our scheduled campsite Bara Polander at 3pm. There we met a group of locals from Kinnaur on their way to meet the Dalai Lama in Spiti. We opted to move on to a further campsite known as Upper Bara Bolander, which took another hour and a half. The winds from the snow mountains made it uncomfortably cold for us to move about the campsite.
Day 10 Over Bhapa Pass 4890m to Fauti - This was to be the most difficult day on the trek. After about an hour and half level trek, we arrived at the base of the mountain pass, which was enveloped in snow. Fortunately the snow was compacted making walking on it a little easier. It took us a difficult 3-4 hours just to to reach the top. While most were ecstactic at the top, some were simply too exhausted to reflect on their moment of achievement. The trek down to Fauti took another 2 hours and we arrived in a sea of green fields and trees.
Day 11 Fauti to Mooling - It was a pleasant morning when I woke up at 630am. But at about 8am, it started to snow and by 10am, the snow was 4 inches thick. For some, the heavy snow-falls was welcomed and they even managed to build a couple of snow-people. We left at 11am as it looked like it would snow all day. After descending about 2 hours, the terrain was snow-free. The rest of the trek was a very pleasant and easy walk along the Bhaba river. There were pretty flowers all along the trail and we took our time to enjoy the scenery. At night we built a campfire with the plentiful wood available.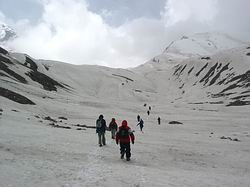 Base of Bhapa Pass / Top of Bhapa 4890m
Day 12 Kafnu then Shimla - We woke up to a glorious morning in bright sunshine. We had breakfast in the open to enjoy our last day of the trek. The final leg of the trek is an easy leisurely 5 hours walk along the Bhapa River to the village of Kafnu. We passed fields of flowers and forests of pine trees and beech. We feasted on wild strawberries, which were plentiful. We arrived at about 2 pm and bade farewell to our crew of 4 cooks and 3 horsemen. Then it was a long 7 hours jeep ride to Shimla for our overnight stay.
Day 13 Shimla to Delhi - We had a half day walking up to the town mall, where most of the British colonial buildings are located. Shimla was the summer retreat of the former British rulers and is still very popular among locals. After lunch, we took the steam train to Kalka, to connect to the Shatabedi Express train to New Delhi. We arrived at 9pm and I took some members for "kulfi", a local ice-cream and fresh fruit juices at an adjoining market area.
Day 14 Jaipur - We started early to catch the fast train 4 hrs to Jaipur, where a bus took us on a city tour incorporating the Amer Fort, City Palace and the Hawa Mahal or Palace of the Winds. At night we visited Chokhi Dhani, a folk village popular with locals with its showcase of Rajasthani's culture and folk artists. Overnight Jaipur.
Day 15 More Jaipur - Most spent the morning browsing the town market and its many souvenirs shops. A couple opted for a relaxing morning in the hotel gardens and comfortable rooms. After lunch we bussed to Bharatpur arriving at night. Overnight Bharatpur.
Day 16 Bharatpur - We were at Keoladeo Ghana National Park, a UNESCO listed site, early next morning. It was not the season for migratory birds so we made do with local birds, which were plentiful. After breakfast, we bussed to Agra to visit the Taj Mahal and the Red Fort, a must on any visit to India. We arrived in New Delhi at night and most opted for McDonalds fast food. Overnight Delhi.
Day 17 Delhi - We drove around the city to see the Delhi Gate, Mahatma Gandhi's Memorial and the Bahai Lotus Temple. Then we went to a new airconditioned shopping Mall and a local market for shopping. At night we bussed to the airport for our flight home. I extended my holiday with 5 other ladies to Sri Lanka up to 20 June 2004 on the way back to Malaysia.
Day 18 Arrived KLIA in the morning 1240hrs.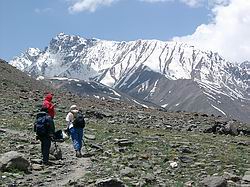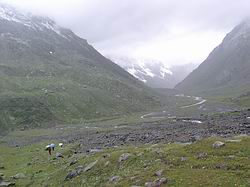 Trail from Mud / Trail from Fauti to Mooling
| Home |