19 October-2 NOV 2023 (15-days) Pakistan's Autumn Hunza Skardu (B)
Rm7180 (16 pax & above) (EXCLUDED Flight KUL-Islamabad-KUL)
(Note : Based on USD1 = RM4.60. We will make final adjustment on the cost based on the USD exchange rate in Aug-Sep 2023)
Update 9May23 - Trip have LAST 2 seats. Please qucikly register and confirm your seat by email rachelheng123@gmail.com or whatsapp her https://wa.me/60123520868. We had updated the flight time and revised the itinerary for better arrangement.
Update 31Jan23 - Trip is ON and expected to be full soon. Please qucikly register and confirm your seat by email rachelheng123@gmail.com or whatsapp her https://wa.me/60123520868.
Update 11Jan23 - Flight revised IN OUT Islamabad and itinerary revised accordingly. Those signed up earlier on filled up this same travel date (A) is FULL, we run 2nd group on SAME travel date for others. As such, please qucikly register and confirm your seat by email rachelheng123@gmail.com or whatsapp her https://wa.me/60123520868.
Update 20Nov22 - Pakistan which well known one of the beautiful place in the world! Yongo run Pakistan trip several times before @ 2006 and had resume in 2022! Trip received good response then :-). Expected seat will be fill up fast. We also run Spring 2023 trip too (15 days) beside Autumn (Below itinerary is NON-trekking) trip in Oct 2023. Please register and confirm your seat by email rachelheng123@gmail.com or whatsapp her https://wa.me/60123520868
Flight ticket is based on today's PIA airlines fare excluded taxes approximately Rm2500-3000 and will be updated if there is any changes. (NOTE : Please DO NOT purchase air ticket until YONGO advise AFTER trip is confirmed to run). Expected seat will fill up quick, as such we shall base on 1st come 1st serve basis for seat confirmation. Please register and confirm your seat by email rachelheng123@gmail.com or whatsapp her +6012-352 0868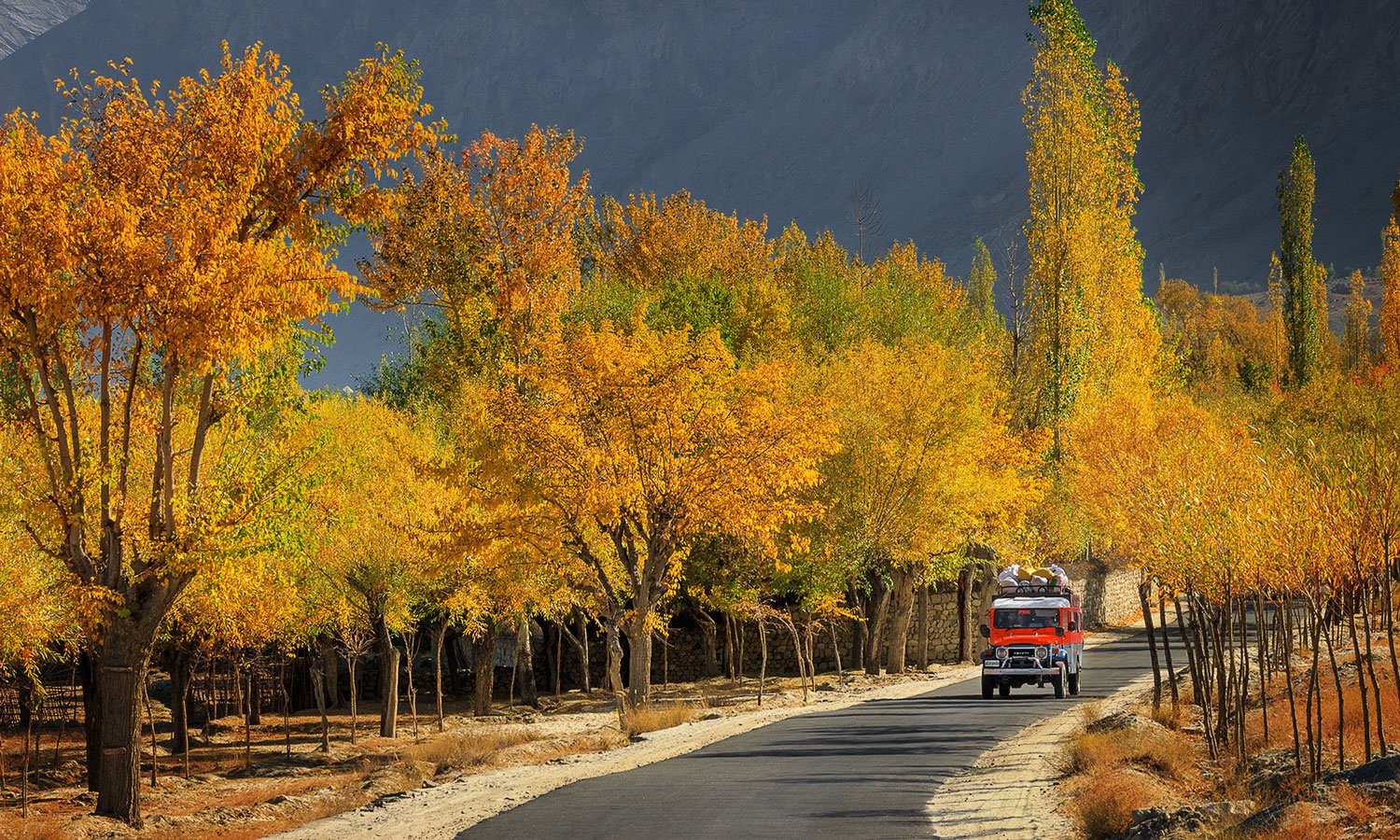 Autumn colour in Pakistan
IMPORTANT NOTICE
This is meant to be a "free and easy" budget trip. Participants should be relatively fit, with a good sense of humour, and above all, have the right attitude for close travel with others through possibly some trying times. Most definitely, this is not a trip for prudes, whiners, fuss-pots, and other similiarly assorted types! Although every effort will be made to stick to the given itinerary, ground conditions may change and case some disruption and/or deviation from the norm. Otherwise, have fun!
The most exciting season in the Hunza Pakistan is the autumn, at the end of the summer season in September the orchards start changing color like a bride Groom with colorful dress of her wedding day, these fantastic changes brings a glorious Trans fusion into human body, which gives happiness and pleasure.
In October it offers a picture seek view among the high mountain peaks of 7000 to 7800m, and above from the snow line to the water channel lies the colorful rocks which has a sharp ridges Nallahs Maize millet vegetables sunflower, waterfalls, lakes, Duck shooting possibility, enjoy the landscape with the Natural beauty the God Given Gift to human creatures. The areas are abounding in colorful flowers along with gushing streams, roaring waterfalls, particularly in Hunza.
One can find pink, white, red, yellow, blue flowers, dancing, everywhere in the northern areas during autumn season. Autumn in Northern Areas of Pakistan is something to behold. This is the time of year when the trees of poplar, apricot, mulberry, peach, apple and plum burst forth into a riot of color with hues of orange, rust and red. The clear and bracing weather offers the best view of the surrounding mountains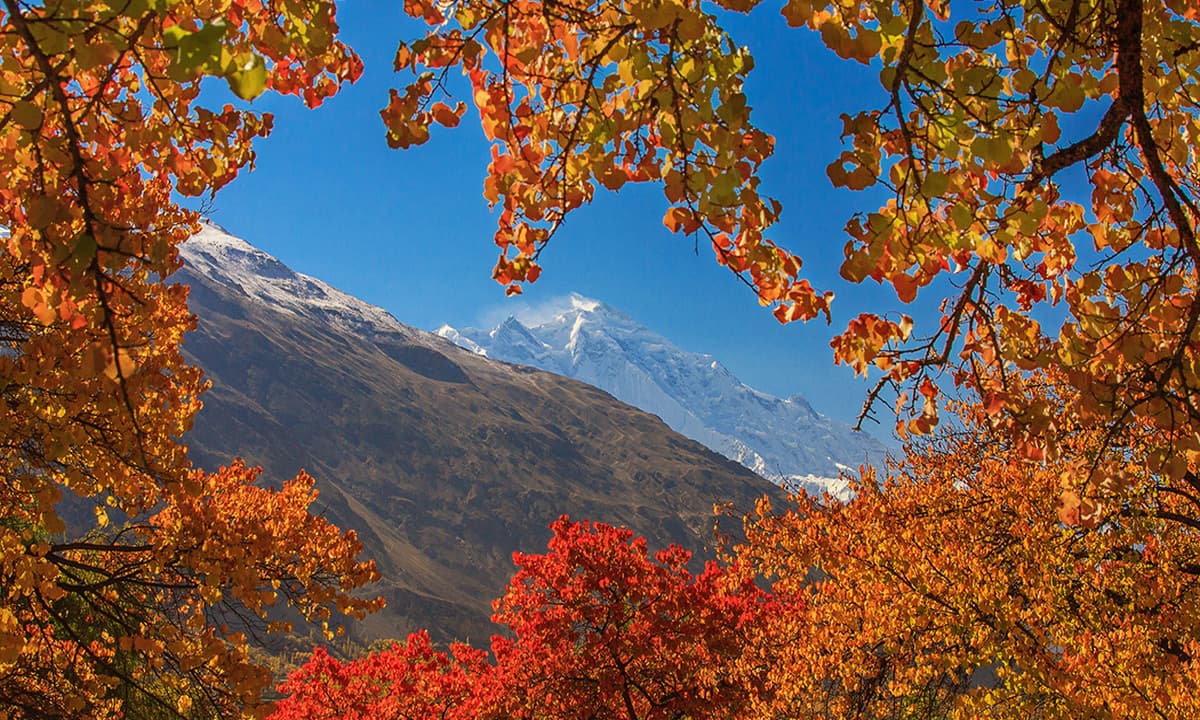 Day 1 Islamabad: Meet in KLIA for PK895 to Islamabad 1200/1500hr. Overnight (ON) Islamabad.
Day 2 Islamabad-Naran: Drive to Naran (279km, 6-7 hours) a lush green valleys of Kaghan, Naran valleys, through the beautiful Babusar Psss 4173m, en route we will stop for photography and refreshment at Lulusar Lake and at Babusar Pass. Transfer to hotel upon arrival at Naran (2409m). (Note : Lunch & Dinner included)
Babusar Pass is a high mountain pass at an elevation of 4.173 m (13,691 ft) above the sea level. The pass is the highest point in the Kaghan Valley, Pakistan. The pass connects the Kaghan Valley via the Thak Nala with Chilas on the Karakoram Highway. It's one of the famous hair pinned roads in the world.
Day 3 Naran - Karimabad : Today drive from Naran to Karimabad (320km, 9-10 hours), en route stop at various view point for photography including the famous junction point of three great mountain rages meets & Rakaposhi view point, upon arrival at Karimabad, transfer to hotel, evening walk around Karimabad. ON Karimabad. (Note: Lunch included).
The Hunza Valley is a mountainous valley, situated north/west of the Hunza River, at an elevation of around 2,500 m. The territory of Hunza is about 7,900 square km. Aliabad is the main town, while Baltit and Altit are popular tourist destination because of the spectacular scenery of the surrounding mountains.
The people are cheerful, friendly, fair-skinned and blue or green eyes. Almost all speak Burushaski and in upper Hunza they speak Wakhi.
Day 4 Hopper/ Altit/ Baltits Fort/Duiker Valley : Morning drive to Hopper valley 3hrs, visit Barpu and Bualtar glaciers and view of Miar and Sumayar glaciers, after visit Altit and Baltit forts and drive to Duiker Valley (30mins). O/N Duiker.
Hopper Valley is a cluster of villages around a natural bowl at a bend of Bualtar Glacier. Opposite Hopper the white Bualtar is joined by the Barpu Glacier. This is a base camp for treks into the high, glacier-draped peaks called the Hisper Muztagh. Whole population of this valley is Burushaski speakers.
Baltit fort: One of the high valleys between China and Indian subcontinent. Facing Rakaposhi Peak, one of the highest mountain peaks in the world, Baltit Fort is poised majestically above Karimabad, the present day capital of Hunza (Baltit was the capital of the old state of Hunza and is now included in the Karimabad settlement area).
Altit Fort: It has been built on a sheer rock-cliff that falls 300 meters (1000 feet) into the Hunza River and is much older than the Baltit Fort. Altit is the birth place of the Hunza Kingdom and Altit fort is the first fort of the region. The fort has been constructed in six different stages by using various natural levels of the rock.
Day 5 Duiker Valley /Holy Shrines Morning enjoys Sunrise from Duiker view point, afternoon walk through the village to Holy shrines, today will have opporturnity to rapport with local people. Also, short hike up to Shahabad Valley view point, from where will have bird eye view of Hunza & Ngaar Valley and panoramic views of Lady Finger 6000m, Ultar Sar 7388m, Rakaposhi 7788m, Spantik 7027-m, Diran Peak 7266m, Dastaghil Sar 7885m and many more snow caped peaks around. After dinner enjoy Musical program. O/N Duiker Valley.

Duiker valley Duiker valley is viewpoint to see the sunset and Sunrise over the beautiful mountains in the surroundings of Hunza). Duiker valley (Roof of the world), have a spectacular view down to Karakoram Highway and awesome views of Golden peak 7027m, Rakaposhi 7788m, Ultar Sar 7388m, Diran Peak 7266m, Lady Finger 6000m and Disteghil Sar 7885m.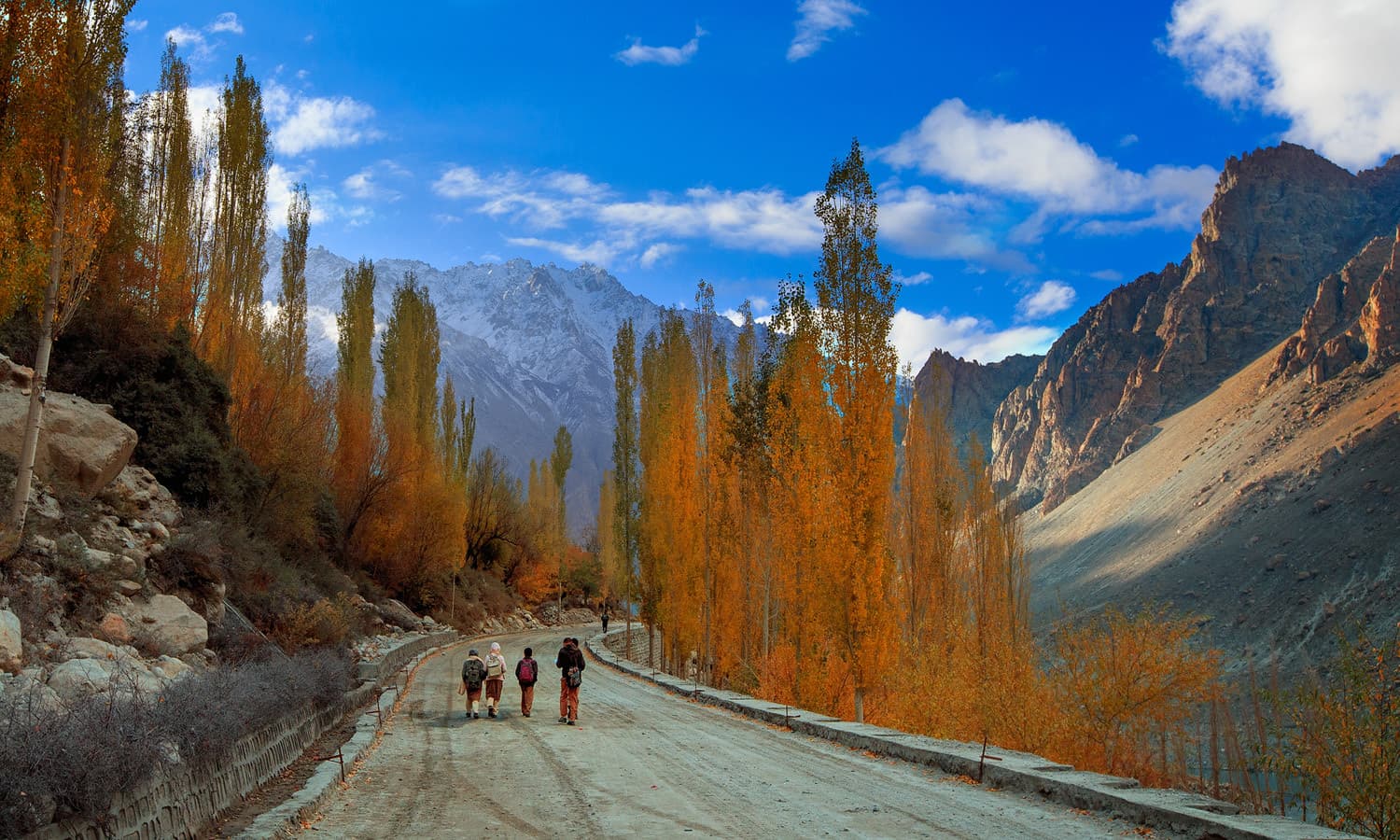 Day 6 Karimabab/Gulmit &Passu : Drive to Passu 1hr, en-route visit Attaabad Lake, arrive and transfer to hotel, after refreshment visit Borith Lake, Gulking village, Gulmit village, Passu Glacier, Passu village, Hussani village and Hussani suspension bridge. O/N Passu. (Note : Lunch included)
Attabad Lake is a lake which is located in the Gojal district of Hunza Valley in Gilgit- Baltistan, Pakistan. This lake was formed in the year 2010 after the major landslide in Attabad. Attabad Lake has become one of the most popular tourist attractions in Gilgit- Baltistan.
Borith Lake, a large brackish lake that attracts a number of migratory birds in February, June, September and November, from Ghulkin a footpath crosses the grey Ghulkin glacier to Borith Lake, two hours away. It's a tricky 1.25km across the glacier. Over the years the lake has grown swampy and brackish. Ghulkin villagers have organized themselves to keep hunters from threatening migratory waterfowl, mainly tufted.
The Hussaini Suspension Bridge, over the Hunza River, connects Zarabad hamlet to Hussaini village. Hussaini is located at about 45 kms from Aliabad Hunza and 132 kms from Gilgit. This bridge is known as a dangerous bridge due to the massive gaps between the planks and the wild swing.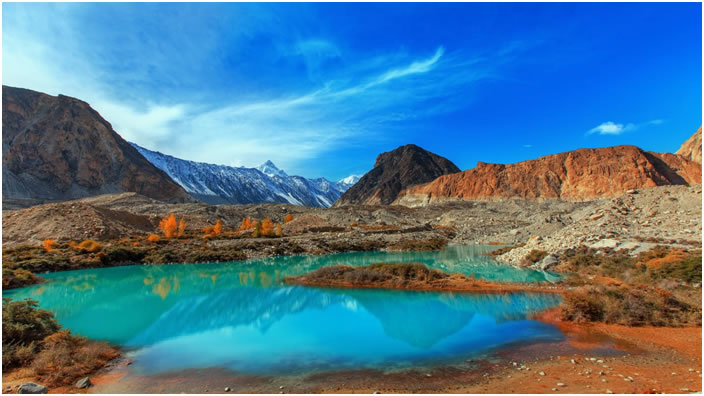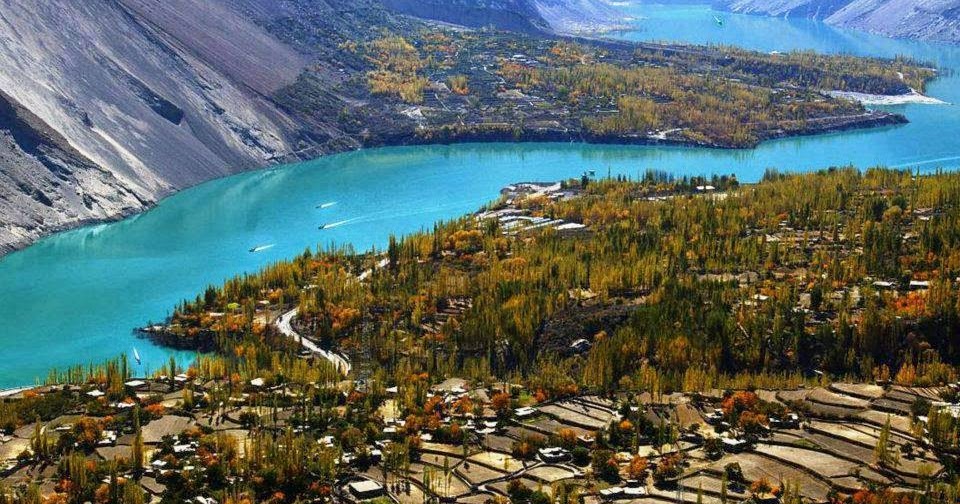 Borith Lake/ Attaabad Lake
Day 7 Excursion to Khunjerab Pass -Karimabad: Full day excursion to Khunjerab Pass 4,733m, en route cross serval small villages, evening drive back to Karimabad for overnight. (Note 1: Excursion to Khunjerab Pass depends on weather conditions. If road covered by heavy snow then is not possible to up. However shall up to Sost or Dee if weather permit) (Note 2 : Lunch included)

Khunjerab Pass elevation (4,733m) is a high mountain pass in the Karakoram Mountains in a strategic position on the northern border of Pakistan's Gilgit-Baltistan region and on the southwest border of the Xinjiang region of China. Its name is derived from Wakhi 'Khun' means Home and 'Jerav' means spring water/water falling. The Khunjerab Pass is the highest paved international border crossing in the world and the highest point on the Karakoram Highway.

Day 8 - Karimabad- Skardu: Drive from Karimabad to Skardu (340km, 8-9hours), en route stop at various viewpoints for photography. O/N Skardu
Skardu/Baltistan valley: The rising of Indus stretches down to Baltistan valley from Tibet to Gilgit and down to the Arabian Sea, which cuts the Indian sub-continent from Asia; Baltistan valley is called a little Tibet in the North of Pakistan. Baltistan is situated at the last end of Himalaya, beside Deosai Plain and Satpara Lake.
Day 9 Visit Shigar Fort & Katapana Desert : Full day visits of Cold /Katapana Desert, Kharpocho Fort (Note : 1 hour walk on hill Area, from where will have bird eye view of Skardu valley) later we will visit Shigar valley, Shigar Fort and Satpara Lake. O/N Skardu.
Katapana Desert is the world's most elevated cold desert with a Hight of roughly 7303 feet. being at such a rise from ocean level makes the climate of this desert incredibly cold. the tall white sandhills stand radiantly to make the desert look more wonderful moreover, the Katapana desert is known as the world's highest desert since its situated at the highest point of gigantic mountains.

Kharpocho fort is the ancient architecture of Skardu. Most importantly the whole of Skardu city can be seen from the top of Kharpocho. The Kharpocho Fort also known as Skardu Fort is situated in Skardu city, Gilgit Baltistan. Kharpocho means "King of Forts" in Balti and is an amazing sight for tourists.

Satpara sar Lake is a natural lake near Skardu, Gilgit-Baltistan, Pakistan, which supplies water to Skardu Valley. It is fed by the Satpara Stream. Satpara Lake is situated at an elevation of 2,636 meters above sea level and is spread over an area of 2.5 km².
Shigar Fort, The Fort on Rock is an old fort of Baltistan and Pakistan located in the town of Shigar. It was built in the 17th century by the Raja of Amacha Dynasty of Shigar.
Day 10 Excursion to Khaplu Village: Drive to Khaplu village 100 km, En-route stop at various viewpoints for photography, visit Khaplu Fort and Chaqchan Mosque, evening drive back to Skardu 100 km. O/N Skardu.

Khaplu Palace, locally known as Yabgo Khar (meaning "The fort on the roof"), is an old fort and palace located in Khaplu. The palace, considered an architectural heritage and a tourist attraction, was built in the mid-19th century, replacing an earlier fort located nearby. It served as a royal residence for the Raja of Khaplu.
Khaplu village: This handsome village of timber-and-stone houses and precision-made dry walls climbs up a wide alluvial fan beneath an arc of sheer granite walls. Painstaking irrigation has made it a shady, fertile oasis. As you climb its twisting track, the icy peaks of the Masherbrum Range rise on the other side of the valley.
Day 11 Fly Skardu to Islamabad or Drive to Naran or Besham :Morning fly to Islamabad, afternoon city tour of Islamabad, Faisal Mosque, Margalla Hills, Pakistan Monument and National Museum. O/N Islamabad OR Besham
(Important note : In case of flight cancellation, will drive to Naran en route visit junction point of three great mountain ranges meet, the Karakorum Himalaya and Hindukush. If time permit and arrived earlier from Skardu then will visit Saiful-Muluk Lake. Check in hotel in Besham.
Saiful Muluk is a lake which is situated in the middle of mountains, which throughout the year are covered with snow. One of the renowned mountains is Malika Parbat which is placed on the left of the heel. Saiful Muluk is named after a folk tale.
Faisal Mosque, the largest in South East Asia, and 5th largest mosque in the world. We will also take time to visit the Lok Virsa Museum and Pakistan Monument.
Islamabad, it replaced Karachi back in the 1967 and is now the political and commercial heart of the country. Situated against the lush backdrop of the Margalla Hills it is a city where old and new collide. Leafy green boulevards are home to modern buildings, and shopping malls, but also dotted with traditional homes and mosques.
Day 12 Islamabad or Drive Besham to Lahore : Drive to Lahore 380km and will check in hotel for rest. Evening will heading to Wagah Border for the closing ceremony which connects India & Pakistan. O/N Lahore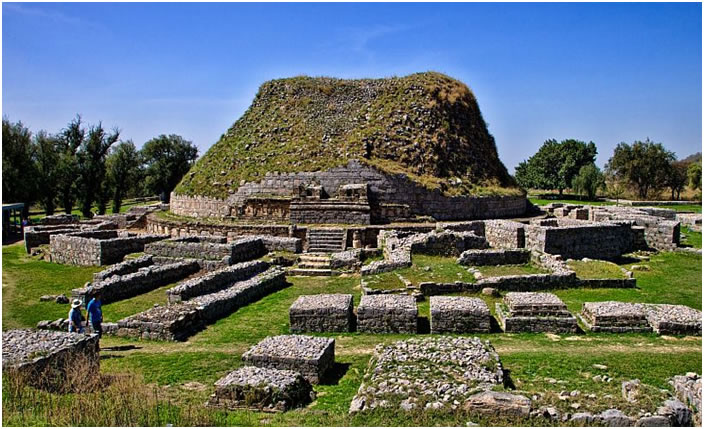 Taxila
Day 13 Full day tour Lahore & back to Islamabad: Todays visit Wazir Khan Mosque, Shahi Hammam, Lahore Fort and Badshahi Mosque, Delhi Gate, one of the thirteen gates of Lahore then walk to the old Spice Market from the Mughal Empire era, to experience the mesmerizing colors and aromas of the spices. Evening drive back to Islamabad. O/N Islamabad.
We proceed for lunch and then to Wazir Khan Mosque which is built with a beautiful mosaic. We will stop at Shahi Hammam, designed hundreds of years ago as a public bathhouse to service both the visiting travelers as well as the inhabitants of the city.
We continue to enjoy the majestic Lahore Fort citadel which is a Unesco World Heritage Monument. Take a look at the citadel Shish Mahal (Palace of Mirrors). It was built by Shah Jahan for the empress in the 1630s and showcased incredible interior stucco decorations. After the Citadel Shish Mahal, cross over to the Badshahi Mosque. The mosque was constructed by the Mughal emperor Aurangzeb between 1671 and 1673 and was the largest mosque in the world from 1673 to 1986.
We will proceed to the Unesco World Heritage site of Shalamar Garden covering 16 hectares and is arranged in three terraces descending from the south to the north. After dinner will drive back to Islamabad. O/N Islamabad.
Day 14 Taxila- Islamabad : After breakfast drive to Taxila to Visit Taxila Museum, Jaulain, Mohra Moradu. Drive back to Islamabad. Transfer to airport to catch midnight flight. O/N Airport/Plane
Taxila: Most of the archaeological sites of Taxila (600 BC to 500 AD) are located around Taxila museum. For over one thousand-year Taxila remained famous as a center of learning Gandhara art of sculpture, architecture, education and Buddhism in the days of Buddhist glory. There are over 50 archaeological sites scattered in a radius of 30 km around Taxila.
Taxila museum: A museum comprising various sections with rich archaeological finds of Taxila. It is one of the best and well-maintained site museums of Pakistan.
Day 15 Fly Home : Take early morning flight PK894 0145AM. Reached home 1030AM (5hr45m) (2NOV2023)
TERMS AND CONDITIONS