24 October-6 NOV 2022 (14-days) Pakistan's Autumn Hunza Phander
Rm10500 (per pax for group of 12-13pax); Rm9800 (14-16 pax) RM9500 (17 pax and above)
Update 20 Jul 2022 - Trip cost adjust accordingly as flight group fare is RM2230. Trip is FULL but have ONE last seat for ONE Male Only. Please email rachelheng123@gmail.com for more details.
Update 30June 2022 - Trip is FULL.
Update 7 June 2022 - Trip itinerary revised and added one domestic flight and besides breakfast included certain lunch/dinner. International flight cost increased compared 2 years ago, as such trip cost revised accordingly. Trip seat had been filled up by those participant whom supposed travel in 2020. However have limited seats open for those 1st come 1st serve based. If you wish to join longer day trips which cover some trekking (16 days) please email rachelheng123@gmail.com for details.
Update 25 May 2022 - Yongo run Pakistan trip several times before @ 2006 and will resume in 2022! :-). We would like to re-promote Pakistan which known one of the beautiful place in the world! We will run Spring 2023 (12 days) if Autumn (14 days) trips in Oct 2022 if is full. Trip costs is based on today's flight group fare approximately Rm2030 and will be updated if there is any changes. If fares are higher, group tops up. If lower, overall cost will be lowered. Please register and mention preferred (Spring OR Autumn) send email rachelheng123@gmail.com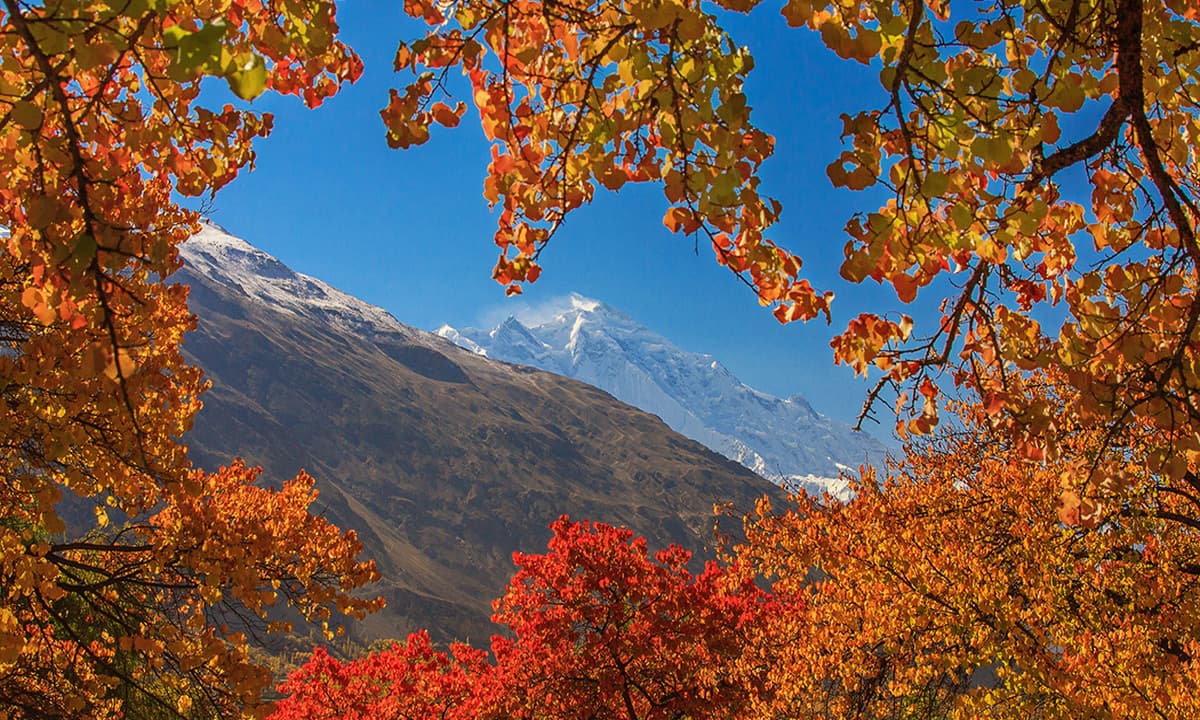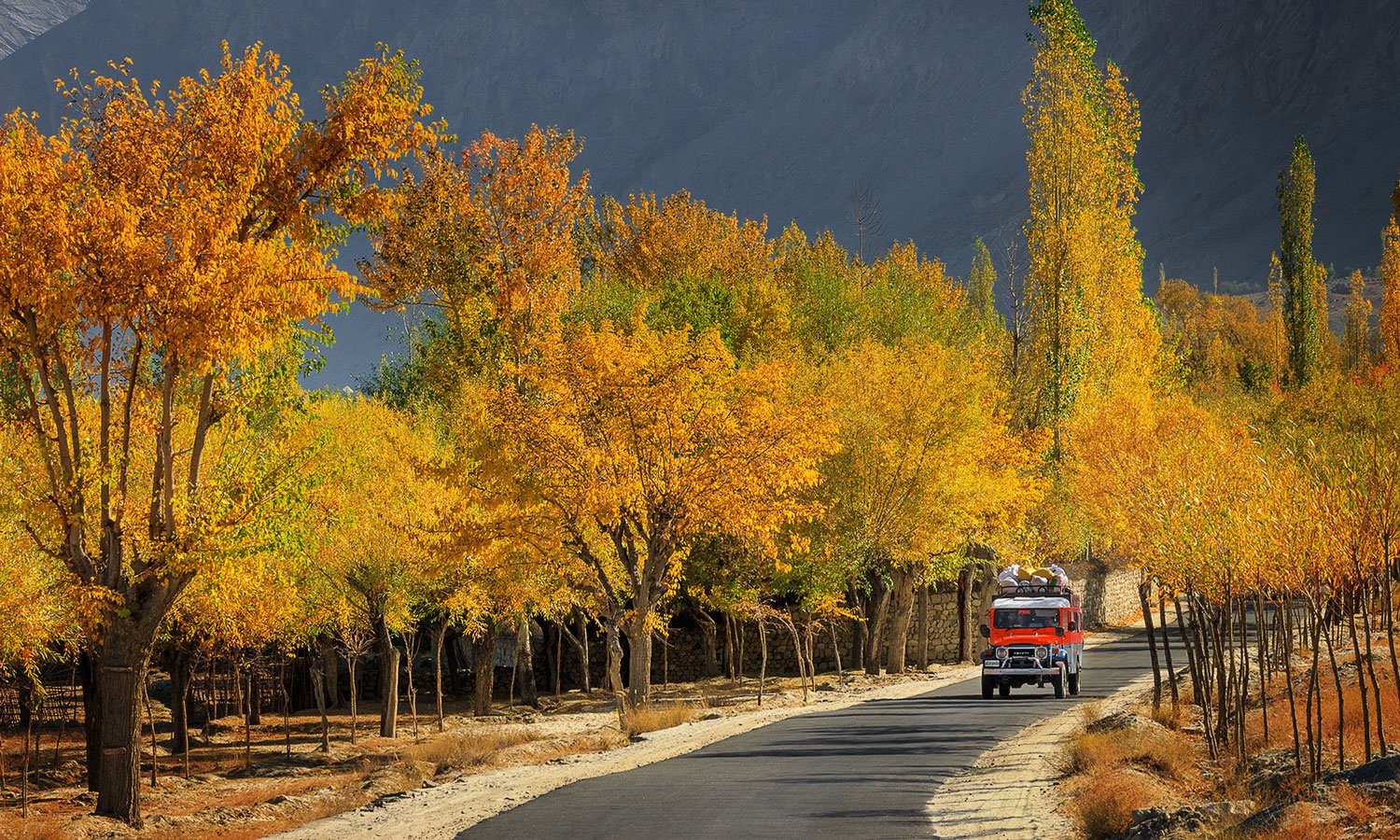 Autumn colour in Pakistan
IMPORTANT NOTICE
This is meant to be a "free and easy" budget trip. Participants should be relatively fit, with a good sense of humour, and above all, have the right attitude for close travel with others through possibly some trying times. Most definitely, this is not a trip for prudes, whiners, fuss-pots, and other similiarly assorted types! Although every effort will be made to stick to the given itinerary, ground conditions may change and case some disruption and/or deviation from the norm. Otherwise, have fun!
The most exciting season in the Hunza Pakistan is the autumn, at the end of the summer season in September the orchards start changing color like a bride Groom with colorful dress of her wedding day, these fantastic changes brings a glorious Trans fusion into human body, which gives happiness and pleasure. In October it offers a picture seek view among the high mountain peaks of 7000 to 7800m, and above from the snow line to the water channel lies the colorful rocks which has a sharp ridges Nallahs Maize millet vegetables sunflower, waterfalls, lakes, Duck shooting possibility, enjoy the landscape with the Natural beauty the God Given Gift to human creatures. The areas are abounding in colorful flowers along with gushing streams, roaring waterfalls, particularly in Hunza. One can find pink, white, red, yellow, blue flowers, dancing, everywhere in the northern areas during autumn season. Autumn in Northern Areas of Pakistan is something to behold. This is the time of year when the trees of poplar, apricot, mulberry, peach, apple and plum burst forth into a riot of color with hues of orange, rust and red. The clear and bracing weather offers the best view of the surrounding mountains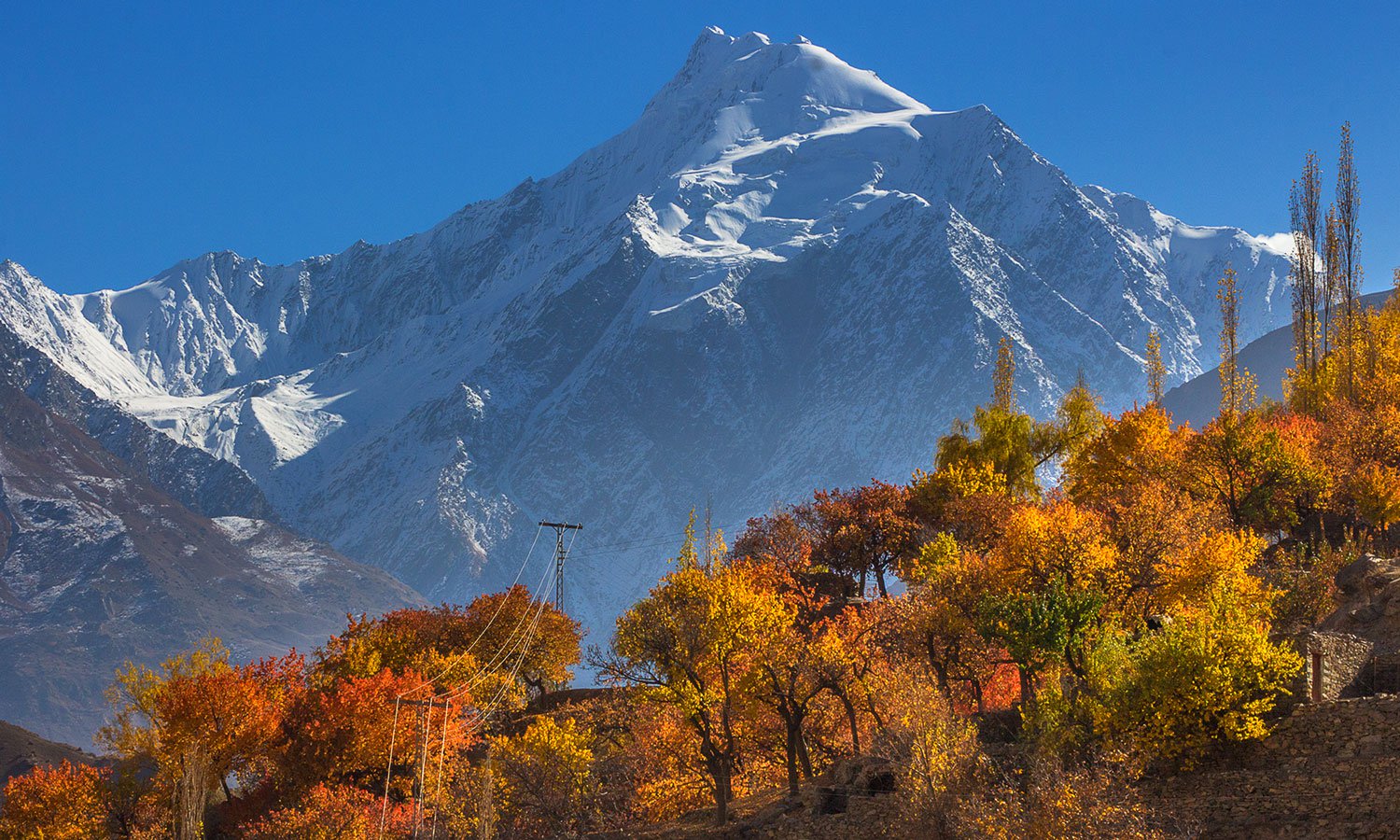 Day 1 Islamabad: Meet in KLIA for TG416 KUL to Bangkok 1320/1430hr to connect to TG349 Bangkok to Islamabad 1900/2210hr. Overnight (ON) Islamabad.
Day 2 Islamabad-Naran & Chilas: Drive to Naran via lush green valleys of Kaghan, Naran valleys, through the beautiful Babusar Psss 4173m, en route we will stop for photography and refreshment at Lulusar Lake and at Babusar Pass. Transfer to hotel upon arrival at Chilas. (Note : Lunch & Dinner included)
The beauty of Naran Kaghan is unmatchable, visit this amazing region in season. it provide unexpected heavenly views every time. Naran is beautiful tourist locations. This region has really evolved into a supreme destination for nature lovers. Naran offers sublime beauty, flowing river of Kunhar, snowcapped mountain and a various bunch of crystal water lakes such as Lake Saiful Muluk, Lake Dutipatsar, Saral lake, Lulusar Lake and Payala Lake.
Babusar Pass is a high mountain pass at an elevation of 4.173 m (13,691 ft) above the sea level. The pass is the highest point in the Kaghan Valley, Pakistan. The pass connects the Kaghan Valley via the Thak Nala with Chilas on the Karakoram Highway. It's one of the famous hair pinned roads in the world.
Day 3 Chilas - Karimabad : Today drive from Chilas 220km, 5-6 hrs, en route stop at various view point for photography including the famous junction point of three great mountain rages meets & Rakaposhi view point, upon arrival at Karimabad, transfer to hotel, evening walk around Karimabad bazaar to be more close with local people. ON Karimabad. (Note: Lunch included)
The Hunza Valley is a mountainous valley, situated north/west of the Hunza River, at an elevation of around 2,500 m. The territory of Hunza is about 7,900 square km. Aliabad is the main town, while Baltit and Altit are popular tourist destination because of the spectacular scenery of the surrounding mountains.
The people are cheerful, friendly, fair-skinned and blue or green eyes. Almost all speak Burushaski and in upper Hunza they speak Wakhi. The miracle of the Hunzakuts longevity, supposedly resulting from their mostly vegetarian diet of cereals and fruits from Hunza valley, Panoramic views of Rakaposhi 7788m, Diran Peak 7266m, Spantik Peak 7027m, Ultar 7388 Lady Finger 6000m.
Day 4 Hopper/ Altit/ Baltits Fort/Duiker Valley : Morning drive to Hopper valley 3hrs, visit Barpu and Bualtar glaciers and view of Miar and Sumayar glaciers, after visit Altit and Baltit forts and drive to Duiker Valley (30mins). O/N Duiker. (Note : Lunch included)
Hopper Valley is a cluster of villages around a natural bowl at a bend of Bualtar Glacier. Opposite Hopper the white Bualtar is joined by the Barpu Glacier. This is a base camp for treks into the high, glacier-draped peaks called the Hisper Muztagh. Whole population of this valley is Burushaski speakers. Burushaski has always been a mystery for linguists. This valley has many natural resources and natural beauty but ignorance by the government and local
politicians contributes to it not being realized for its potential.
Baltit fort: is a fort in the Hunza valley, near the town of Karimabad, in the Gilgit-Baltistan region of northern Pakistan. Founded in the 8th century CE, it has been on the UNESCO World Heritage Tentative list since 2004. In the past, the survival of the feudal regime of Hunza was ensured by the impressive fort, which overlooks Karimabad. The foundations of the fort date back to 700 years ago, with rebuilds and alterations over the centuries. In the 16th century the local prince married a princess from Baltistan who brought master Balti craftsmen to renovate the building as part of her dowry.

Altit Fort: It has been built on a sheer rock-cliff that falls 300 meters (1000 feet) into the Hunza River and is much older than the Baltit Fort. View of Altit fort, with the central town to the right and below the fort. The extreme gullies, sharp drop-off, and location high above the river made this settlement highly defensible and an older settlement than many in the central valley.
The majestic historical Altit fort is center of attraction due to its architectural design and strategic location. Altit is the birth place of the Hunza Kingdom and Altit fort is the first fort of the region. The fort has been constructed in six different stages by using various natural levels of the rock. The construction has been made right-on the edge of a sheer rock cliff that drops 1000 feet straight down to the Hunza River.
In the beginning it was built as a palace, soon after the addition of the watch tower a defensive architectural element it transformed to a fort. There is great possibility that different stages of the fort have been constructed during different times because the actual age of the fort is said to be more than 800 years. This fort is said to be around 50-100 years older than Baltit Fort.
Day 5 Duiker Valley /Holy Shrines Morning enjoys Sunrise from Duiker view point, afternoon walk through the village to Holy shrines, today will have opporturnity to visit many local women and men working in the fields. Also, short hike up to Sat Valley view point, from where will have bird eye view of Hunza Valley and panoramic views of Lady Finger 6000m, Ultar Sar 7388m, Rakaposhi 7788m, Spantik 7027-m, Diran Peak 7266m, Dastaghil Sar 7885m and many more snow caped peaks around. After dinner enjoy Musical program. O/N Duiker Valley


Duiker valley Duiker valley is viewpoint to see the sunset and Sunrise over the beautiful mountains in the surroundings of Hunza). Duiker valley (Roof of the world), have a spectacular view down to Karakoram Highway and awesome views of Golden peak 7027m, Rakaposhi 7788m, Ultar Sar 7388m, Diran Peak 7266m, Lady Finger 6000m and Disteghil Sar 7885m.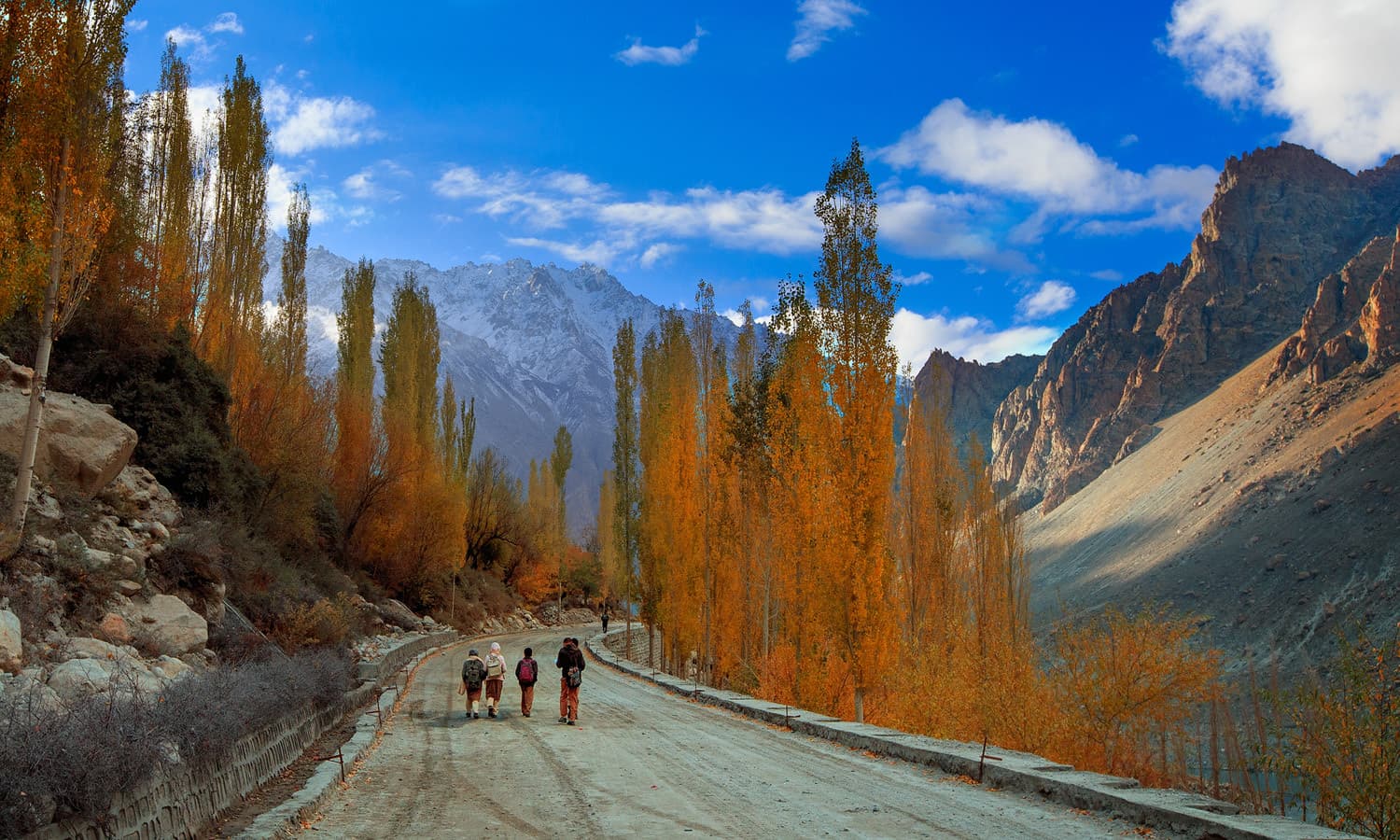 Day 6 Karimabab/Gulmit &Sost : Drive to Passu 1hr, en-route visit Attaabad Lake, arrive and transfer to hotel, after refreshment visit Borith Lake, Gulking village, Gulmit village, Passu Glacier, Passu village, Hussani village and Hussani suspension bridge. O/N Sost.
Attabad Lake is a lake which is located in the Gojal district of Hunza Valley in Gilgit- Baltistan, Pakistan. This lake was formed in the year 2010 after the major landslide in Attabad. Attabad Lake has become one of the most popular tourist attractions in Gilgit- Baltistan. Attabad Lake offers many fun-loving activities like jetskiing, fishing, boating, and some other entertaining activities. Pure water, fresh air, lush alpine flora, snow-capped mountains, green meadows, and mesmerizing views.

Gulmit used to be the second capital of Hunza kingdom in 960 years. It is one of the most important and center place of the Wakhi inhabitants, which is called Gojal or Upper Hunza. High mountains of 5500m to 7785m, with a unique color of surround Gulmit Brown, green and white, this unique cultural place lies on the Right Bank of Hunza River.
Borith Lake, a large brackish lake that attracts a number of migratory birds in February, June, September and November, from Ghulkin a footpath crosses the grey Ghulkin glacier to Borith Lake, two hours away. It's a tricky 1.25km across the glacier. Over the years the lake has grown swampy and brackish. Ghulkin villagers have organized themselves to keep hunters from threatening migratory waterfowl, mainly tufted.
The Hussaini Suspension Bridge, over the Hunza River, connects Zarabad hamlet to Hussaini village. Hussaini is located at about 45 kms from Aliabad Hunza and 132 kms from Gilgit. This bridge is known as a dangerous bridge due to the massive gaps between the planks and the wild swing. In 1960, the President of Pakistan Ayub Khan visited Zarabad for hunting purpose and directed the authorities to construct a suspension bridge which was finally completed in 1967-68. In the winter season the locals of Hussaini construct temporary bridges to make access to Zarabad.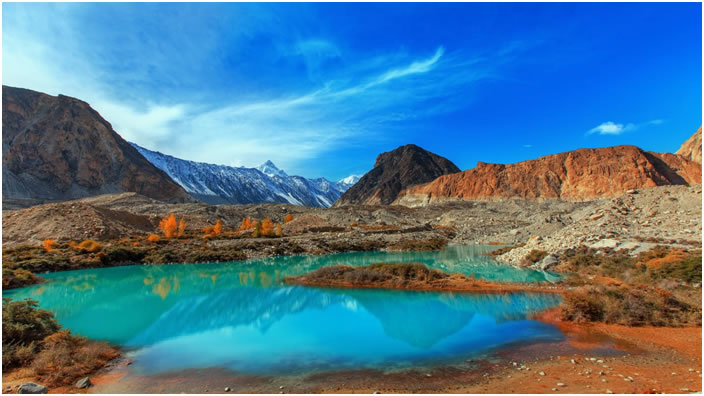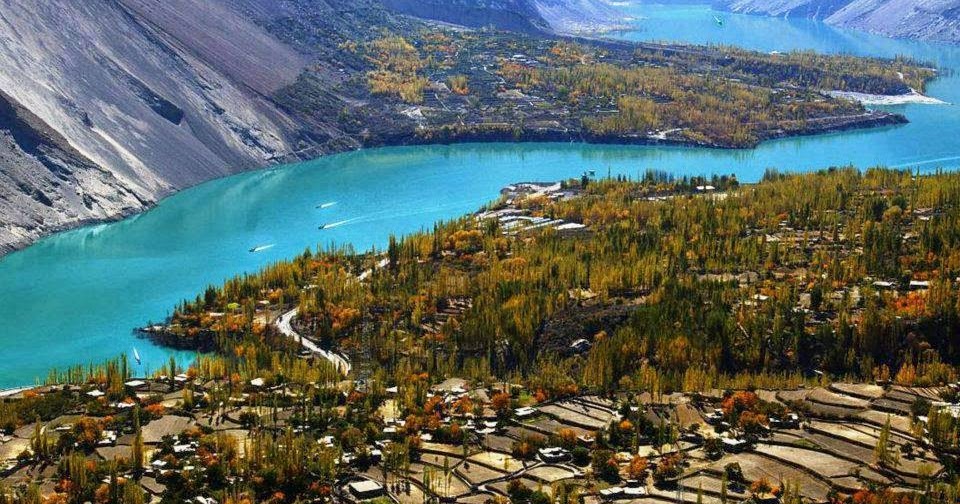 Borith Lake/ Attaabad Lake
Day 7 Excursion to Khunjerab Pass -Karimabad: Full day excursion to Khunjerab Pass 4,733m, en route cross serval small villages, evening drive back to Karimabad for overnight. (Note : Lunch included)

Khunjerab Pass elevation (4,733m) is a high mountain pass in the Karakoram Mountains in a strategic position on the northern border of Pakistan's Gilgit-Baltistan region and on the southwest border of the Xinjiang region of China. Its name is derived from Wakhi 'Khun' means Home and 'Jerav' means spring water/water falling. The Khunjerab Pass is the highest paved international border crossing in the world and the highest point on the Karakoram Highway. The road way across the pass was completed in 1982, and has superseded the unpaved Mintaka and Kilik Passes as the primary passage across the Karakoram.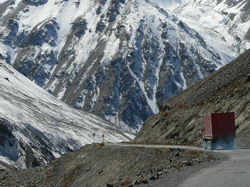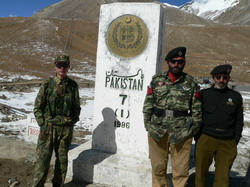 Near the top of KKH / Pakistan China Border Stone Marker

Day 8 Karimabad-Gahkuch: Drive from Karimabad to Gahkuch, en route stop at various viewpoints far photography. O/N Gahkuch
Gahkuch is the capital of the Ghizer District. Gahkuch is one of the most beautiful and historical village in Ghizer, Gilgit Baltistan. It is situated 72 kilometers from Gilgit, the capital of the autonomous province, GilgitBaltistan of Pakistan. It is a beautiful Town covered by glaciers and mountains and also many small hill around.
There are many historical palaces in Gahkuch like Chilla Shuwarun, Kalmakoi, Shawotai Khat, Gahkuch Fort (Defense Tower Gahkuch), Zeeratai Thoko, Xaramarik and Sujo Thoko. This area is also very famous for fruits especially Grapes, Almond, Apricot, Walnut, Peach, Pomegranate, Strawberry and many other local fruits like Gunnair, Kalail, Faice, Beeyew, Showtee, Chawttor etc. Many rulers used Gahkuch as their capital and its very save for defense and security. People of the region enjoy all four Weathers with full colors, its very cold during winter because of heavy snowfall.


Day 9 Excursion to Phander Valley : Full day excursion to Phander valley, afternoon drive back to Gahkuch for overnight.
Phander valley is one of the most attractive and prominent place of Ghizer District. Phander valley is famous for its most picturesque valley, deep blue lake and River Ghizer that flows through the village. Phander valley is also normally called "Little Kashmir" because of the lush green wide fields, river that flows across the village and breathtaking scenery. Phander valley is almost 61 km away from the valley of Gupis and about 163 km from Gilgit city. The most attractive tourist spot in Phander valley is the magnificent Phander Lake. The deep blue lake at the eastern end of the valley with crystal clear water, greenery, trees and rocky as well as snow-capped mountains offers
A marvelous view that makes one adore the nature in its most original form. In short Phander Lake is full of all the colors. The total area of lake is about 3 Km.
The local people of Phander valley are by nature very generous, simple and welcoming. The language spoken by the villagers is Khowar. In Phander Khass, Gulagmauli and Hundarap valleys are also present and are known to be the widest valley of North. Also Phander valley is very much famous for trout fishing along the Gilgit River.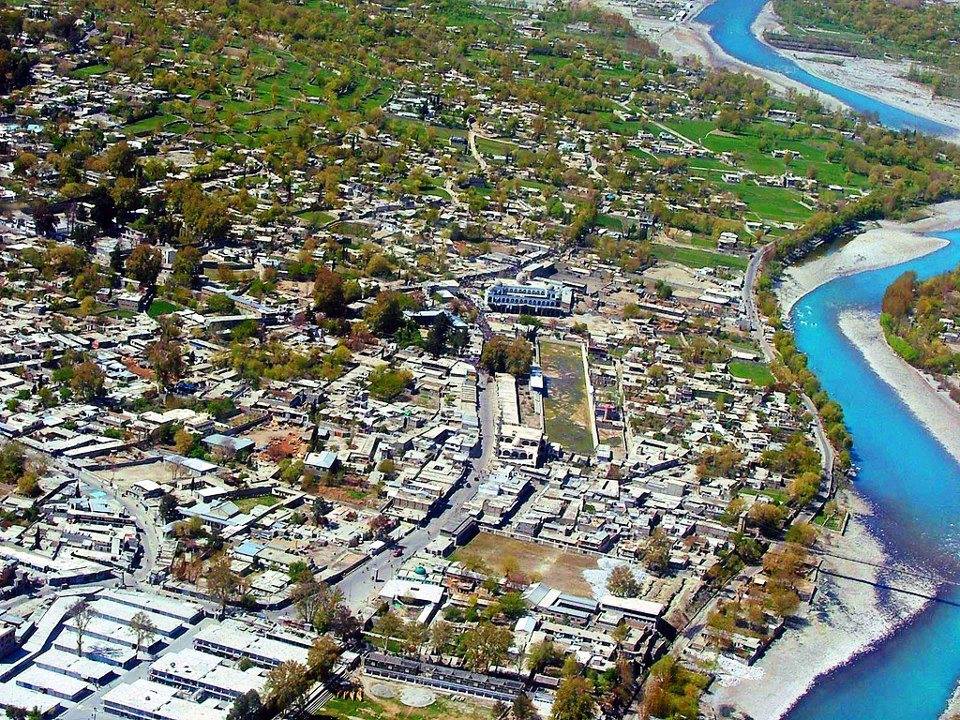 Gilgit River


Day 10 Gahkuch -Gilgit :Drive back to Gilgit, after lunch visit Kargha Buddha, Suspension bridge and Gilgit Bazaar, if a free style polo match planed on the day, you will enjoy it. O/N Gilgit
Gilgit city is situated in the north of Pakistan which is the capital of Gilgit- Baltistan. It is the hometown of beauty, various cultures and numerous languages. Gilgit region has been given many names like Jewel of Pakistan, Asia's wonderland and Roof of the world, whereas it is considered to be the paradise when it comes to explaining the beauty of this region. Strategically speaking, Gilgit is one of the most important regions of Pakistan as it links Pakistan with China and Central Asia.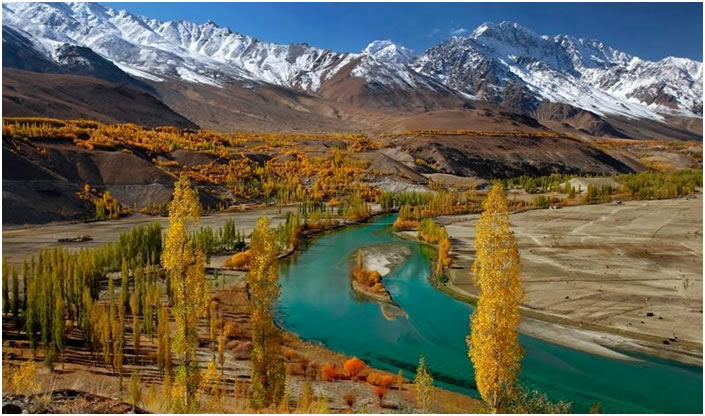 Day 11 Fly Gilgit - Islamabad or Drive to Naran: Morning fly to Islamabad, afternoon visit the colorful Rawalpindi Bazaar. O/N Islamabad. (Note : In case of flight cancellation, we will drive to Naran, en route visit junction point of three great mountain ranges meet, the Karakorum Himalay and Hindukush, afternoon visit Saiful-Muluk Lake)
Rawalpindi is a lively, bustling city with the crowded streets and colorful bazaars, thorough it lacks the grand monuments; nonetheless, the bazaar should appeal to anyone with the desire to see the real Pakistan. The buzzing Rajah Bazaar is a kaleidoscope of people and merchandise spreading in every direction from chaotic Fowara Chowk. You could spend hours exploring the colorful, crowded streets and buy anything from batteries to a new set of teeth. Dotted around are crumbling stone towers marking old Hindu temples.
Saiful Muluk is a lake which is situated in the middle of mountains, which throughout the year are covered with snow. One of the renowned mountains is Malika Parbat which is placed on the left of the heel. Saiful Muluk is named after a folk tale. It is the story of the prince of Persia who fell in love with a fairy princess at the lake. The impact of the lake beauty is of such extent that people believe that fairies come down to lake in full moon. The color of water is blue and it is crystal clear. An individual cannot put his feet under it for more than 30 seconds.

Day 12 Taxila visit or Drive Naran to Islamabad: After breakfast drive to Taxila to Visit Taxila Museum, Jaulain, Mohra Moradu. Afternoon drive back to Islamabad. In case of flight cancellation drive from Naran to Islamabad, en route visit Taxila.
Taxila: Most of the archaeological sites of Taxila (600 BC to 500 AD) are located around Taxila museum. For over one thousand-year Taxila remained famous as a center of learning Gandhara art of sculpture, architecture, education and Buddhism in the days of Buddhist glory. There are over 50 archaeological sites scattered in a radius of 30 km around Taxila. In Taxila visit archaeological sites of Jaulian, MohraMoradu and Sirkap. Later visit.

Taxila museum: A museum comprising various sections with rich archaeological finds of Taxila. It is one of the best and well-maintained site museums of Pakistan. Taxila is one of the most important archeological sites in the world. It is a city that is very well known for having strong ties and being the centre of Buddhism in the country. Many statues of Buddha depicting the various stages of his life have been excavated and are currently present both at the Taxila museum as well as various stupas in the city however the best of these statues have been taken abroad and are displayed in museums there. O/N Islamabad.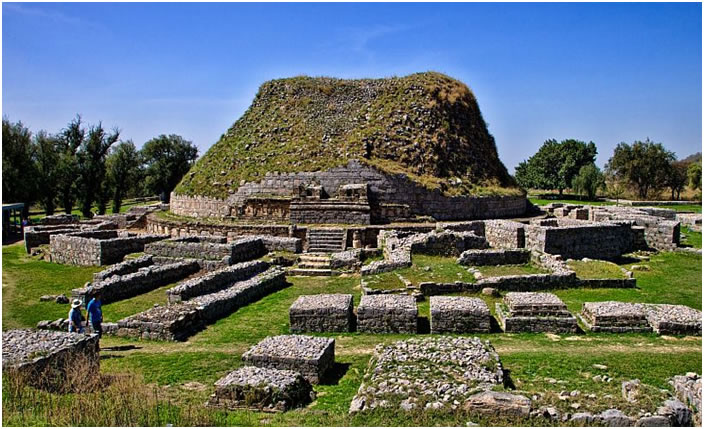 Day 13 CSS of Islamabad - Fly Home : Full day city tour of Islamabad and Rawalpindi, which includes famous Faisal Mosque, Shakar Parian, Pakistan monument, DamenKoh, Lok Versa, Museum, after dinner transfer to Islamabad airport for return flight TG350 @ 2320 to Bangkok arriving next day 0625. O/N Plane
Morning we will visit some of the famous sights of Islamabad including the Faisal Mosque, the largest in South East Asia, and 5th largest mosque in the world. We will also take time to visit the Lok Virsa Museum and Pakistan Monument.
Islamabad, it replaced Karachi back in the 1967 and is now the political and commercial heart of the country. Situated against the lush backdrop of the Margalla Hills it is a city where old and new collide. Leafy green boulevards are home to modern buildings, and shopping malls, but also dotted with traditional homes and mosques.
Islamabad is the capital of Pakistan and the ninth largest city in the country. Located within the Islamabad Capital Territory (ICT), the population of the city has grown from 100,000 in 1951 to 1.43 million as of 2017. The greater Islamabad-Rawalpindi Metropolitan Area is the third largest conurbation in Pakistan with a population of over 3.13 million inhabitants.
Islamabad is a modern city located in the Pothohar Plateau in the northeastern part of the country, within the Islamabad Capital Territory. The region has historically been a part of the crossroads of Punjab and Khyber Pakhtunkhwa with Margalla pass acting as the gateway between the two regions. The city was built during the 1960s to replace Karachi as Pakistan's capital. Islamabad is a well-organized international city divided into several different sectors and zones. It is regarded as the most developed city in Pakistan and is ranked as a Gamma- world city. The city is home to Faisal Mosque, the largest mosque in South Asia and the fourth largest mosque in the world
Day 14 Home : Reached Bangkok @ 0625 in morning. Connect flight TG415 @ 0905 back to Kuala Lumpur. Reached home 1215 (6 NOV 2022)
TERMS AND CONDITIONS