23 September - 8 Oct 2022 (16-days) Pakistan's Autumn (Fairy Meadow Trek)
Rm10800 (per pax for group of 12 pax); Rm10300 (14 pax) RM9800 (17 pax and above)
Update 18June 2022 - Trip is FULL.
Update 12June 2022 - Trip itinerary slightly revised easy trek with camping to enjoy stunning view, added one domestic flight, covered some meals etc. FYI International flight cost increased compared 2 years ago, as such trip cost revised accordingly. Trip seat had been filled up by those participant whom supposed travel in 2020. However have limited seats will open for those 1st come 1st serve based. Kindly emai rachelheng123@gmail.com asap.
Update 1 June 2022 - Yongo run Pakistan trip several times before @ 2006 and will resume in 2022 :-). We would like to re-promote Pakistan which known one of the beautiful place in the world! We will run Spring in 2023(12 days) if Autumn (14 days) trips in Oct 2022 if is full. Please take note this trip is involved some trekking and longer traveling days. Trip costs is based on today's flight fare approximately Rm2030 and will be updated if there is any changes. If fares are higher, group tops up. If lower, overall cost will be lowered. Please register and mention preferred (Spring OR Autumn) send email rachelheng123@gmail.com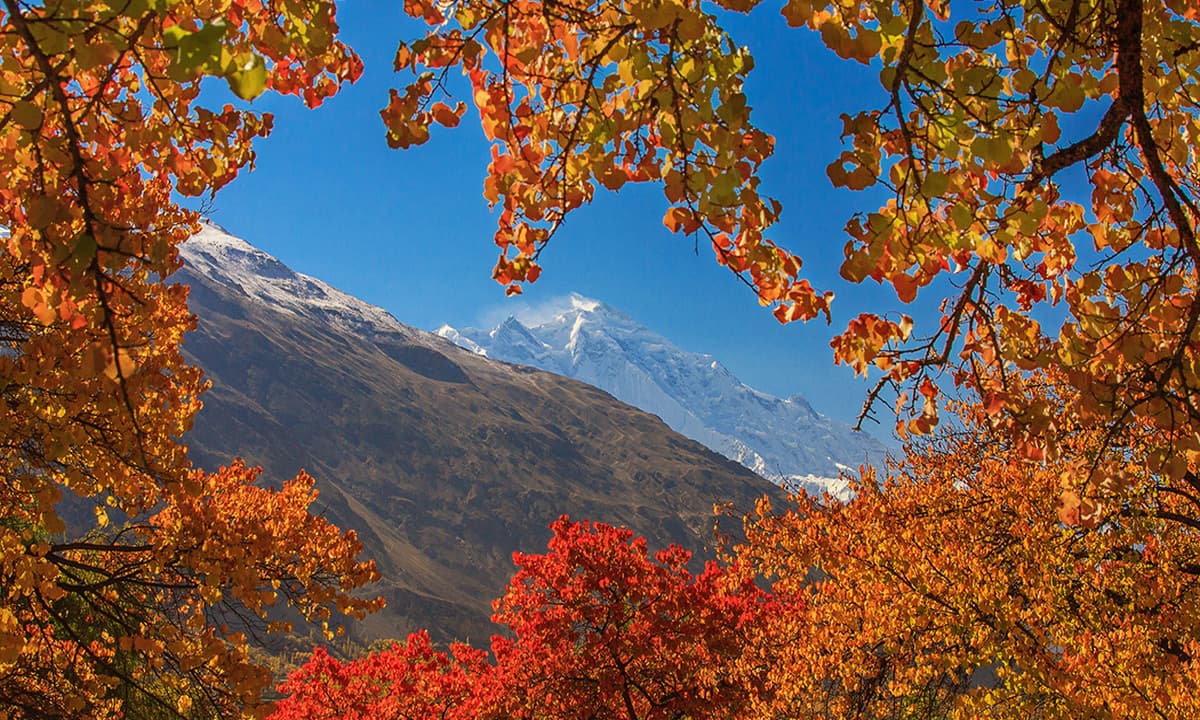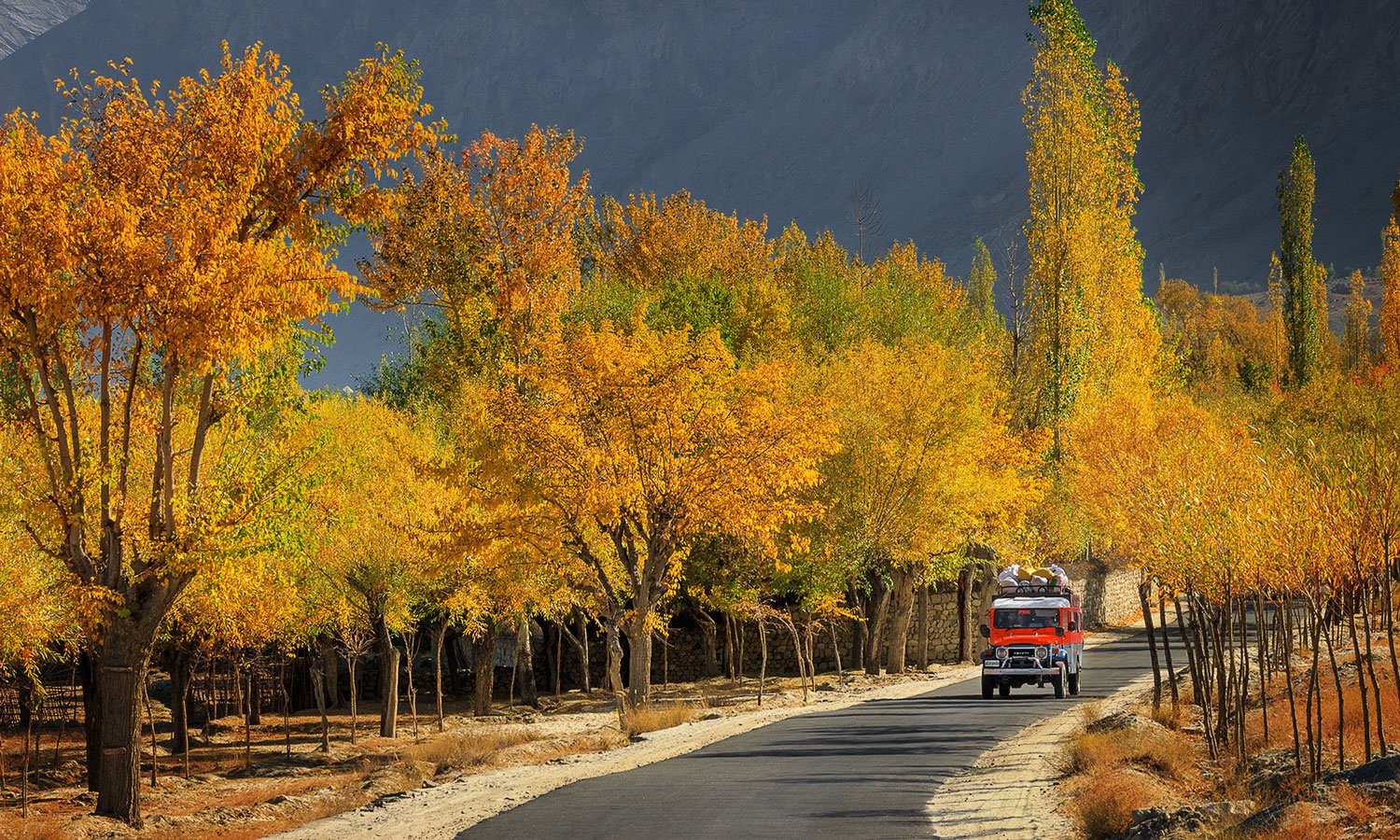 Autumn colour in Pakistan
IMPORTANT NOTICE
This is meant to be a "free and easy" budget trip. Participants should be relatively fit, with a good sense of humour, and above all, have the right attitude for close travel with others through possibly some trying times. Most definitely, this is not a trip for prudes, whiners, fuss-pots, and other similiarly assorted types! Although every effort will be made to stick to the given itinerary, ground conditions may change and case some disruption and/or deviation from the norm. Otherwise, have fun!
The most exciting season in the Hunza Pakistan is the autumn, at the end of the summer season in September the orchards start changing color like a bride Groom with colorful dress of her wedding day, these fantastic changes brings a glorious Trans fusion into human body, which gives happiness and pleasure. In October it offers a picture seek view among the high mountain peaks of 7000 to 7800m, and above from the snow line to the water channel lies the colorful rocks which has a sharp ridges Nallahs Maize millet vegetables sunflower, waterfalls, lakes, Duck shooting possibility, enjoy the landscape with the Natural beauty the God Given Gift to human creatures. The areas are abounding in colorful flowers along with gushing streams, roaring waterfalls, particularly in Hunza. One can find pink, white, red, yellow, blue flowers, dancing, everywhere in the northern areas during autumn season. Autumn in Northern Areas of Pakistan is something to behold. This is the time of year when the trees of poplar, apricot, mulberry, peach, apple and plum burst forth into a riot of color with hues of orange, rust and red. The clear and bracing weather offers the best view of the surrounding mountains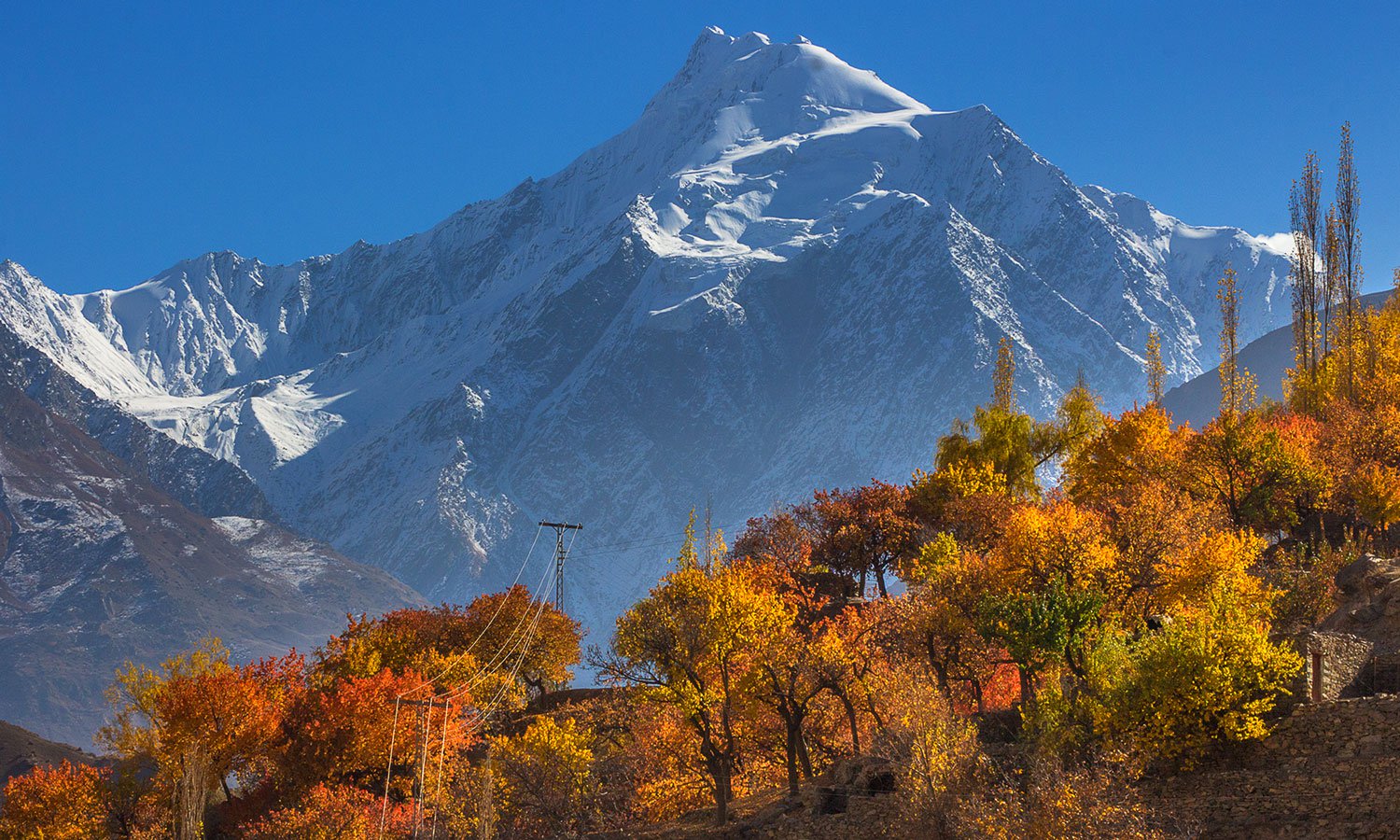 Day 1 Islamabad: Meet in KLIA for TG416 KUL to Bangkok 1320/1430hr to connect to TG349 Bangkok to Islamabad 1900/2210hr. Overnight (ON) Islamabad.
Day 2 Islamabad-Naran-Chilas: Drive to Naran via lush green valleys of Kaghan, Naran valleys, through the beautiful Babusar Psss 4173m, en route we will stop for photography and refreshment at Lulusar Lake and at Babusar Pass. Transfer to hotel upon arrival at Chilas. (Note : Lunch & Dinner included)
The beauty of Naran Kaghan is unmatchable, you can visit this amazing region in season. it will provide you with unexpected heavenly views every time. Naran is beautiful tourist locations. This region has really evolved into a supreme destination for nature lovers. Naran offers you sublime beauty, flowing river of Kunhar, snowcapped mountain and a various bunch of crystal water lakes such as Lake Saiful Muluk, Lake Dutipatsar, Saral lake, Lulusar Lake and Payala Lake.
Babusar Pass is a high mountain pass at an elevation of 4.173 m (13,691 ft) above the sea level. The pass is the highest point in the Kaghan Valley, Pakistan. The pass connects the Kaghan Valley via the Thak Nala with Chilas on the Karakoram Highway. It's one of the famous hair pinned roads in the world.
Day 3 Chilas - Fairy Meadows :
Drive to Raikot bridge 56KM (1.5 hour) transfer to 4x4 jeeps, which takes us to Tato village (1 hr) and trek to Fairy Meadows 2-3hrs, 5.5km, 640m ascent, Altitude 3306m (have a Spectacular view of Nanga Parbat 8125m). Overnight in huts. (Note : Lunch included)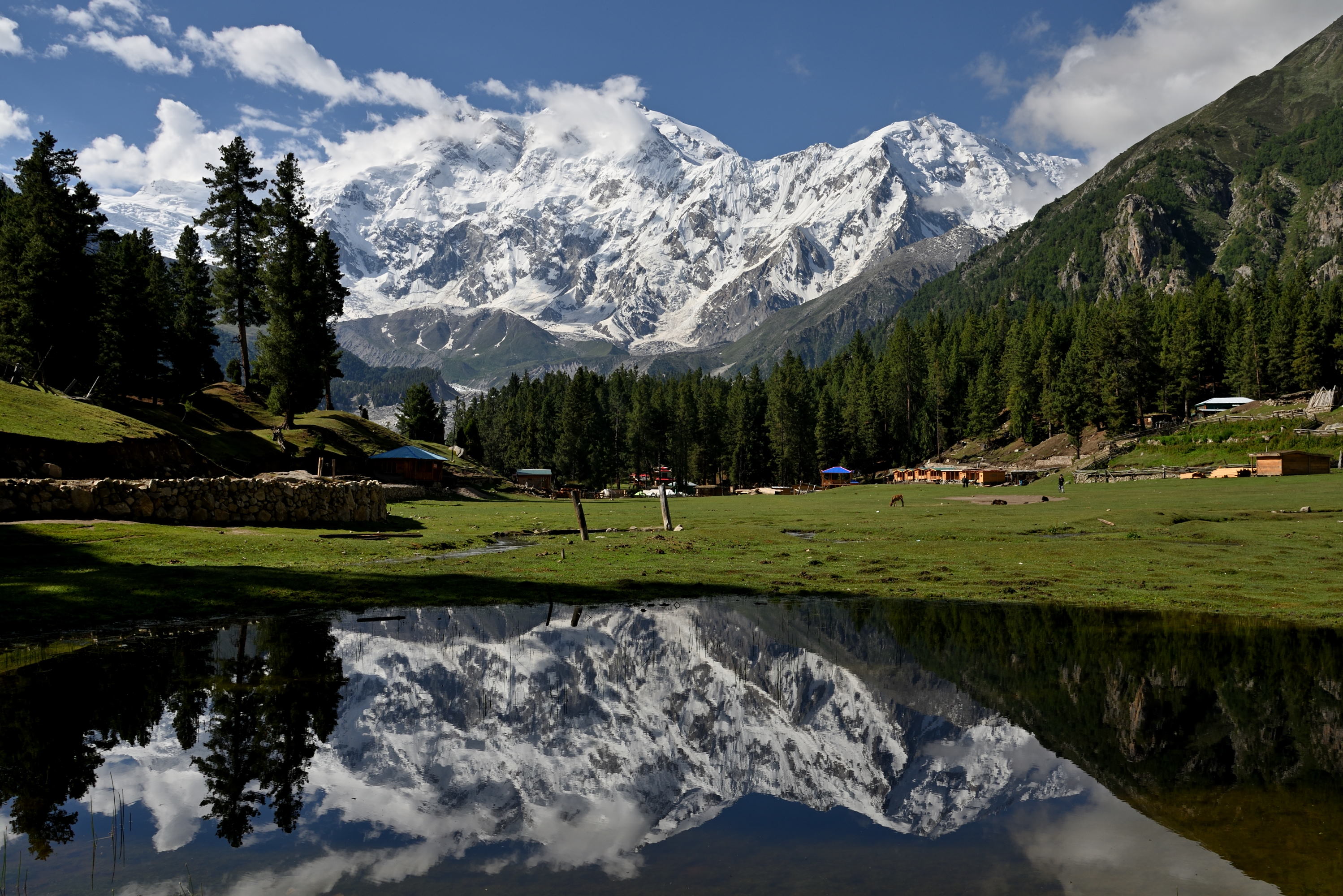 Fairy Meadow is a lush green plateau, at 3300 m, offering a breath-taking view of Majestic Nanga Parbat (The Sleeping Beauty). Many people have called it the "Heaven on Earth". These lush green meadows and forests lie at the base of Nanga Parbat at the western edge of the Himalayan range in Pakistan. Fairy Meadows is a very peaceful and relaxing place to enjoy the mountain atmosphere and hospitality of the local people.
The name Fairy Meadows is part of the legend that Fairies have their heaven on this lush green plateau. Hermann Buhl, the Austrian climber who made the first ascent of Nanga Parbat in 1953, named it Fairy Meadow due to its Wonderful scenery. It is about 540 km drive through Karakorum Highway, from Islamabad to Raikot Bridge (1400 m). Where local Jeeps will take you up to the Tato village, it is one and half hour exciting drive from Raikot Bridge to the last village of Tato (2900 m). Crossing through the most impressive view of Karakorum Highway & River Indus. On arrival at Tato village, it starts trekking on very easy and simple route to Fairy meadows.
Day 4 Excursion to Nanga Parbat : Full day excursion to Nanga Parbat view point and back to Fairy Meadows (3967m) (Enjoy and capture the panoramic views of Nanga Parbat 8126m, Raikot Peak, Chongra-I and Ganalo Peak, Chongra-I and Ganalo Peak. O/N huts. (Note : Lunch included)
Nanga Parbat (literally, Naked Mountain) or sleeping beauty is the ninth highest mountain in the world. It is the western anchor of the Himalayas around which the Indus River skirts before it debouches into the plains of Pakistan. It is located in the Diamir district of Gilgit-Baltistan province of Pakistan. Nanga Parbat is one of the eight-thousand, with a summit elevation of 8,126 meters (26,660 ft). An immense, dramatic peak rising far above its surrounding terrain, Nanga Parbat is also a notoriously difficult climb. Numerous mountaineering deaths in the mid and early 20th century lent it the nickname "Killer Mountain". Along with K2, it has never been climbed in winter. Nanga Parbat has three faces, Raikot, Diamir and Rupal face.
Day 5 Fairy Meadow - Minapin (2012m)
Trek down to Tato village and drive by jeeps to Raikot bridge (Karakorum highway) and continue drive to Minapin. En-route stop at various view points for photography, including junction point of three great mountain ranges meet, the Karakorum, Hindukush, and Himalayas. O/N Minapin (Note : Lunch included)
The village of Minapin site is above the true left bank of the Hunza River at the base of the Minapin glacier. Rakaposhi and Diran peak towers are above the head of the Minapin glacier. Minapin village is also the birthplace of Syed Yahya Shah, a veteran conservationist who is the first elected representative from Nagar valley in the Gilgit-Baltistan Legislative Assembly.


Day 6 Trek from Minapin to Hapakun (2804m) :
Trek to Hapakun 4-5 hours 5.8 km, 792m ascent, Altitude 2804m. Overnight in tents. (Note : All meals included)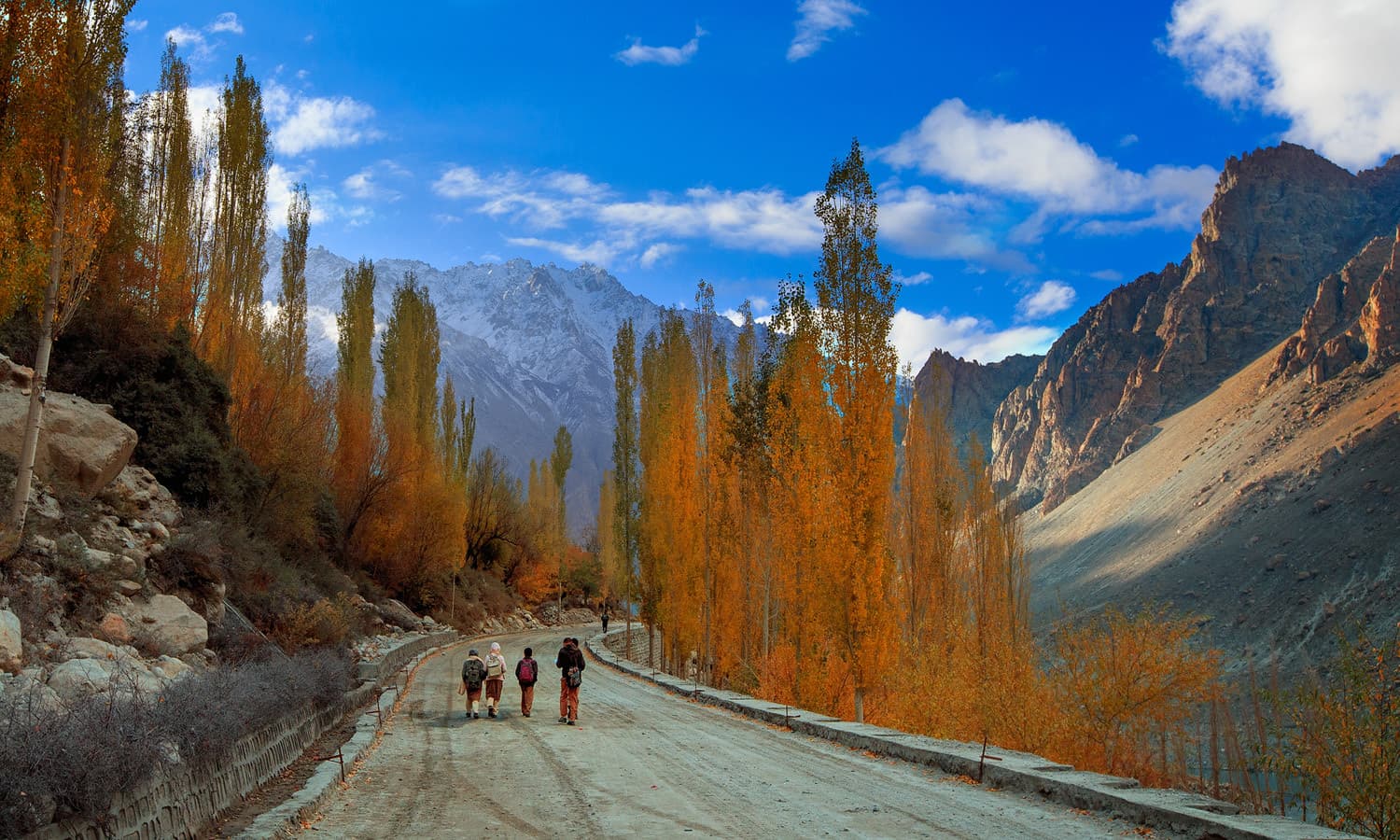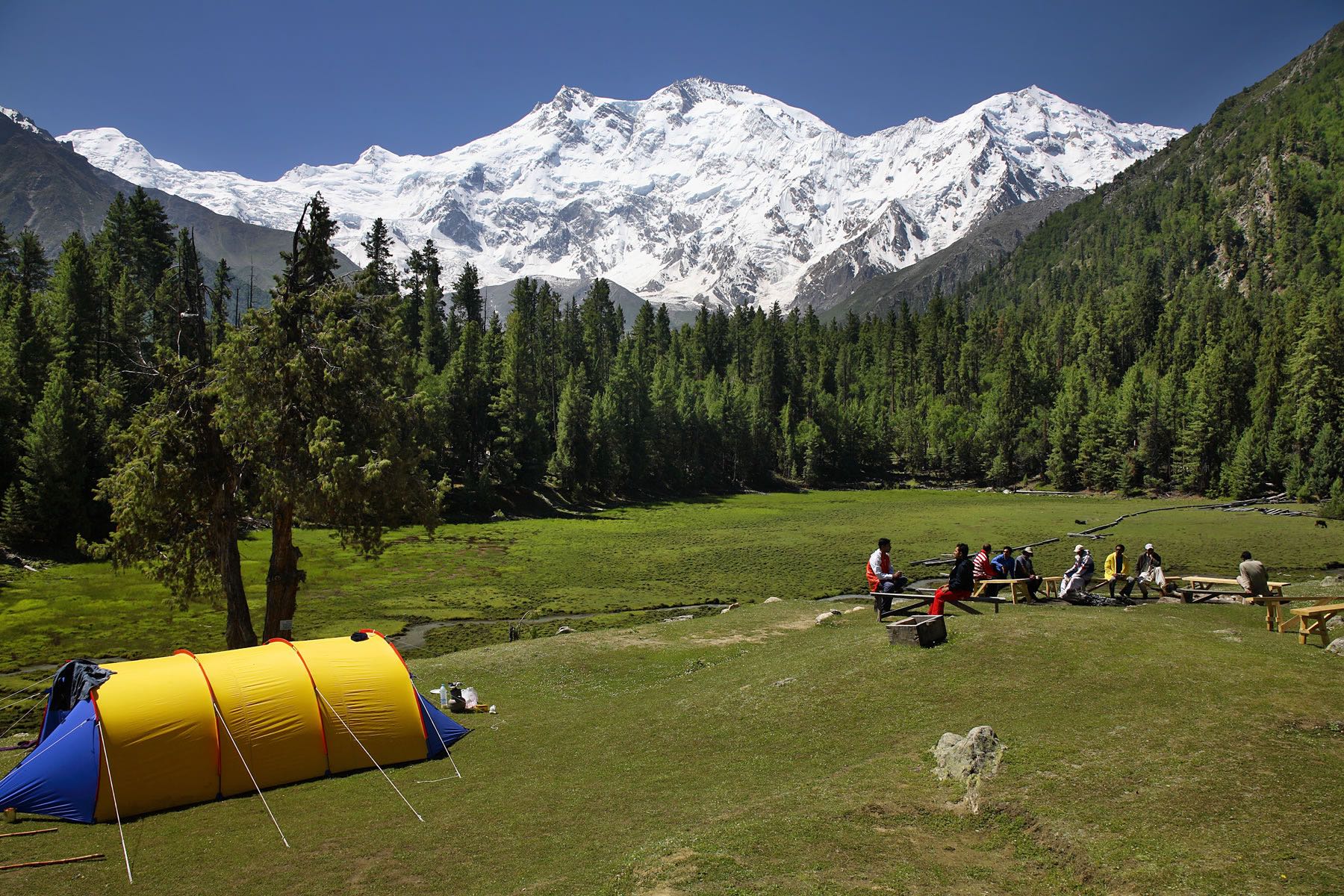 The trail begins behind the Minapin village, cross a bridge to the Minapin River's true left bank. The step path gives wide views of the Minapin Glacier, and eventually of the entire Rakaposhi-Diran crest line. After five hours' ascent we reached at Hapakun huts.
Day 7 : Trek from Hapakun to Rakaposhi (3261m)
Trek to Rakaposhi base camp 3-4 hours , 457m, ascent, Altitude 3261m, after lunch walk around Rakaposhi BC or walk towards Diran Peak base camp. O/N in tents. (Note : All Meals included)
Ascend a trail through forest with excellent views of Diran as you rise above the Minapin glacier. There is lush green Tagaphari meadow also summer huts with shepherds just overlooking the glacier's supper ice fields; from Tagaphari walk up the ridge for great views of the Batura peaks, Shispar peak and Ultar Peaks.
Day 8 Excursion to Diran Peak BC back to Hapakun (2804m):
Excursion to towards Diran peak base camp, after lunch trek back to Hapakun. O/N tents. (Note : All meals included)

Day 9 Hapakun to Minapin & Karimabad :
Trek down to Minapin 4 hours and drive to Karimabad 1hour, arrive and transfer to hotel. O/N Karimabad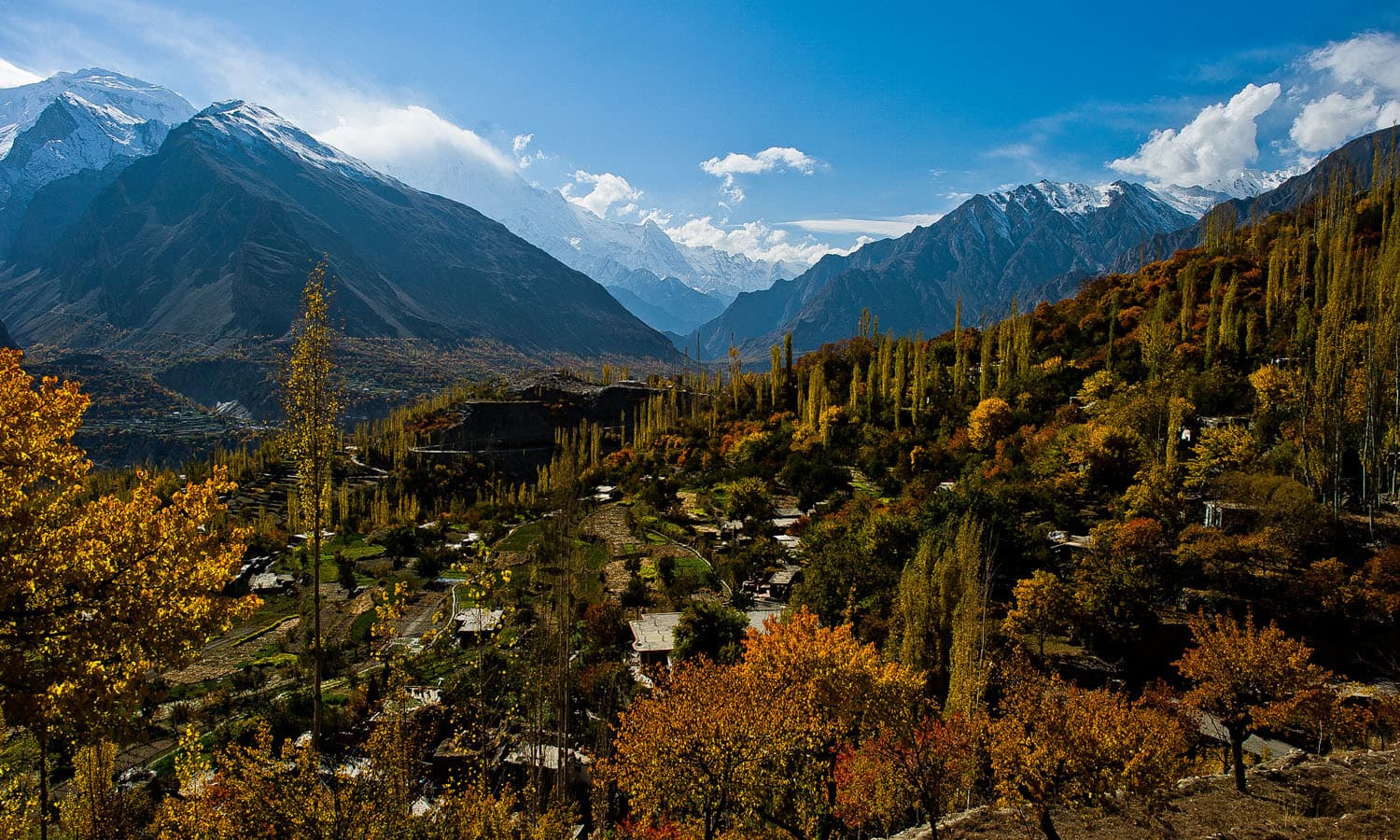 The Hunza Valley is a mountainous valley, situated north/west of the Hunza River, at an elevation of around 2,500 m. The territory of Hunza is about 7,900 square km (3,100sq mi). Aliabad is the main town, while Baltit and Altit are popular tourist destination because of the spectacular scenery of the surrounding mountains.
The people are cheerful and friendly, almost all speak Burushaski and in upper Hunza they speak Wakhi. The miracle of the Hunzakuts longevity, supposedly resulting from their mostly vegetarian diet of cereals and fruits from Hunza Valley, Panoramic views of Rakaposhi 7788m, Diran Peak 7266m, Spantik Peak7027m, Ultar 7388 Lady Finger 6000m.
Day 10 Altit- Baltit & Duiker Valley :
Morning visit Baltit Fort (700 Years old & Altit Fort (900-Years-old) afternoon drive to Duiker valley 30 minutes. After refreshment walk through the village to Holy shrines, will have opportunity to visit many local women and men working in the fields. O/N Duiker Valley
Baltit fort: One of the high valleys between China and Indian subcontinent. Facing Rakaposhi Peak, one of the highest mountain peaks in the world, Baltit Fort is poised majestically above Karimabad, the presentday capital of Hunza (Baltit was the capital of the old state of Hunza and is now included in the Karimabad settlement area). Located on the rocky upper level of the Hunza hill and surrounded by Ultar Bar to the east, the Hyderabad Har to the west, Mount Ultar and its subsidiary range to the north, the Fort offers breathtaking views of the magnificent high mountains as well as a bird's eye view of the villages in the valley. Baltit Fort has great historical, cultural and symbolic value to the local community. Historically, it was the seat of the Mirs of Hunza, a family that ruled the region for centuries. Culturally, with some buildings dating back to 12th century, it is a record of the architectural evolution of the area. The main building is an impressive stone structure with intricately detailed timber features. Its architecture is a significant example of Pakistan's diverse heritage, reflecting distinct Tibetan influence as seen by the presence of a Tibetan 'sky-light' in the roof.
Altit Fort: It has been built on a sheer rock-cliff that falls 300 meters (1000 feet) into the Hunza River and is much older than the Baltit Fort. View of Altit fort, with the central town to the right and below the fort. The extreme gullies, sharp drop-off, and location high above the river made this settlement highly defensible and an older settlement than many in the central valley. The majestic historical Altit fort is center of attraction due to its architectural design and strategic location. Altit is the birth place of the Hunza Kingdom and Altit fort is the first fort of the region. The fort has been constructed in six different stages by using various natural levels of the rock. The construction has been made right-on the edge of a sheer rock cliff that drops 1000 feet straight down to the Hunza River. In the beginning it was built as a palace, soon after the addition of the watch tower a defensive architectural element it transformed to a fort. There is great possibility that different stages of the fort have been constructed during different times because the actual age of the fort is said to be more than 800 years. This fort is said to be around 50-100 years older than Baltit Fort. Duiker valley is viewpoint to see the sunset and Sunrise over the beautiful mountains in the surroundings of Hunza).
Duiker valley (Roof of the world), have a spectacular view down to Karakoram Highway and awesome views of Golden peak 7027m, Rakaposhi 7788m, Ultar Sar 7388m, Diran Peak 7266m, Lady Finger 6000m and Disteghil Sar 7885m.


Day 11 Duiker To Passu & Gilgit
Early Morning drive to Passu, en-route visit Attaabad Lake, Borith Lake, Gulkin village, Gulmit village, Passu village, Hussani village and Hussani suspension bridge. O/N Passu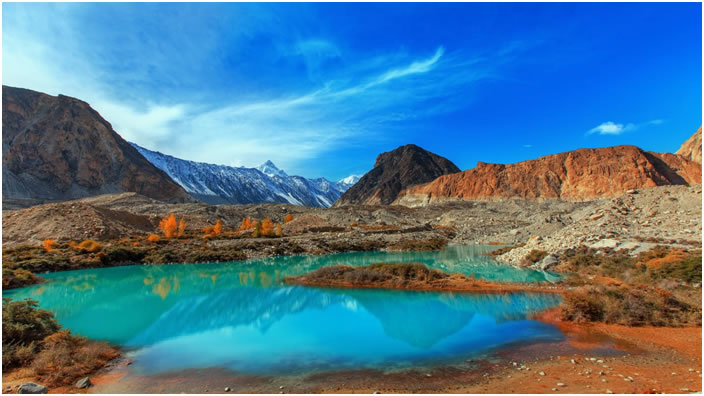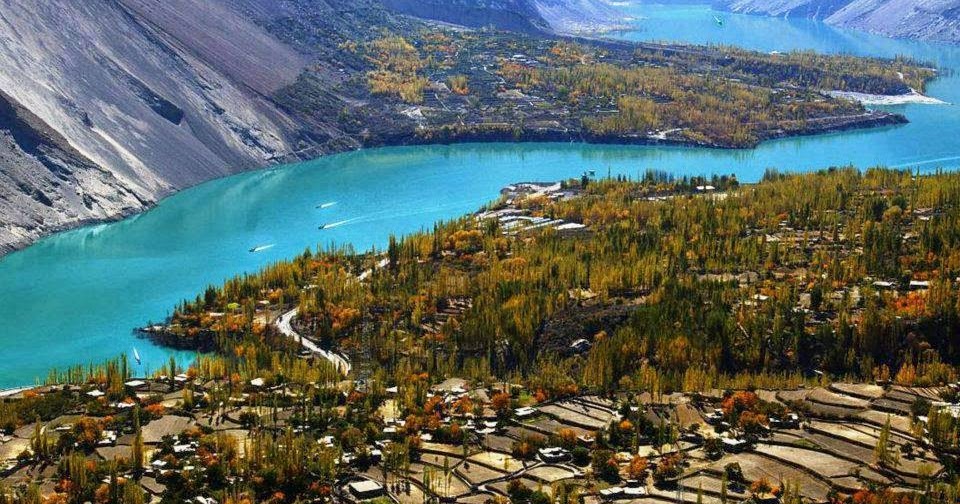 Borith Lake/ Attaabad Lake
Attabad Lake is a lake which is located in the Gojal district of Hunza Valley in Gilgit- Baltistan, Pakistan. This lake was formed in the year 2010 after the major landslide in Attabad. Attabad Lake has become one of the most popular tourist attractions in Gilgit- Baltistan. Attabad Lake offers many fun-loving activities like jet-skiing, fishing, boating, and some other entertaining activities. Pure water, fresh air, lush alpine flora, snow-capped mountains, green meadows, and mesmerizing views.
Gulmit used to be the second capital of Hunza kingdom in 960 years. It is one of the most important and center places of the Wakhi inhabitants, which is called Gojal or Upper Hunza. High mountains of 5500m to 7785m, with a unique color of surround Gulmit Brown, green and white, this unique cultural place lies on the Right Bank of Hunza River.
Borith Lake, a large brackish lake that attracts a number of migratory birds in February, June, September and November, from Ghulkin a footpath crosses the grey Ghulkin glacier to Borith Lake, two hours away. It's a tricky 1.25km across the glacier. Over the years the lake has grown swampy and brackish. Ghulkin villagers have organized themselves to keep hunters from threatening migratory waterfowl, mainly tufted.
The Hussaini Suspension Bridge, over the Hunza River, connects Zarabad hamlet to Hussaini village. Hussaini is located at about 45 kms from Aliabad Hunza and 132 kms from Gilgit. This bridge is known as a dangerous bridge due to the massive gaps between the planks and the wild swing. In 1960, the President of Pakistan Ayub Khan visited Zarabad for hunting purpose and directed the authorities to construct a suspension bridge which was finally completed in 1967-68. In the winter season the locals of Hussaini construct temporary bridges to make access to Zarabad.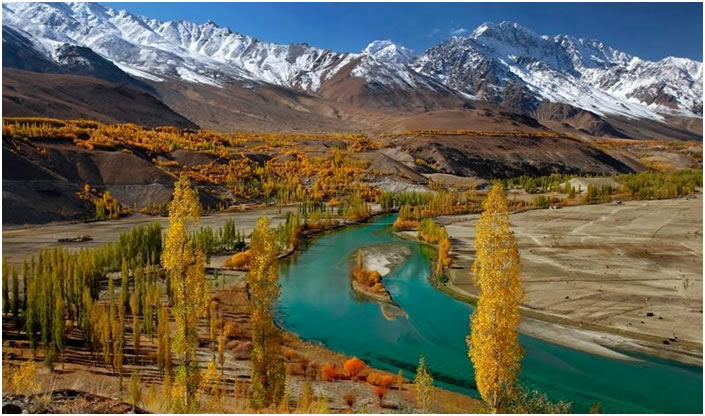 Day 12 Excursion to Passu Glacier-Gilgit:
Morning excursion to Pasuhsugar 6.6 km, 3-4 hours 810m ascent, 3210m, Enjoy photography from Passughar and Passu peaks. After lunch descend down to Passu 6.6 km 3-4 hours, and drive to Gilgit. O/N Gilgit

Passu Glacier is situated in the south side of Passu village. Passu Peak is situated in the back side of the glacier. This glacier is linked with Batura Glacier and many other glaciers in Batura Muztagh Mountain range The lower portions of the Batura Glacier feature a grey sea of rocks and gravelly moraine (an accumulation of rocks and sediment carried down by the glacier often caused by avalanches).
The glacier has a mean ice thickness of around 150 m, with the lower parts of the glacier holding most of its mass. This false-color composite image uses the near-infrared channel of the Copernicus Sentinel-2 mission to highlight vegetation, which appears in red. Batura is bordered by several villages and pastures with herds of sheep, goats and cows where roses and juniper trees are quite common. In the upper-right of the image, pockets of cultivated vegetation alongside the Gilgit and Hunza rivers can be spotted.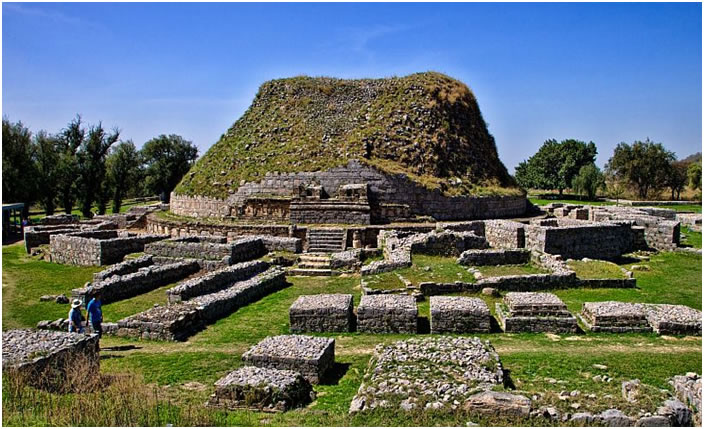 Day 13 Fly Gilgit to Islamabad or Drive to Naran:
Morning fly to Islamabad, afternoon visit the colorful Rawalpindi Bazaar. Overnight at hotel In case of flight cancellation drive to Naran, en route visit junction point of three great mountain ranges meet, the Karakorum Himalay and Hindukush, afternoon visit Saiful-Muluk Lake.
Rawalpindi is a lively, bustling city with the crowded streets and colorful bazaars, thorough it lacks the grand monuments; nonetheless, the bazaar should appeal to anyone with the desire to see the real Pakistan. The buzzing Rajah Bazaar is a kaleidoscope of people and merchandise spreading in every direction from chaotic Fowara Chowk. You could spend hours exploring the colorful, crowded streets and buy anything from batteries to a new set of teeth. Dotted around are crumbling stone towers marking old Hindu temples.
Saiful Muluk is a lake which is situated in the middle of mountains, which throughout the year are covered with snow. One of the renowned mountains is Malika Parbat which is placed on the left of the heel. Saiful Muluk is named after a folk tale. It is the story of the prince of Persia who fell in love with a fairy princess at the lake. The impact of the lake beauty is of such extent that people believe that fairies come down to lake in full moon. The color of water is blue and it is crystal clear. An individual cannot put his feet under it for more than 30 seconds.

Day 14 Taxila Visit or Drive from Naran to Islamabad
After breakfast drive to Taxila to Visit Taxila Museum, Jaulain, Mohra Moradu. Afternoon drive back to Islamabad In case of flight cancellation drive from Naran to Islamabad, en route visit Taxila.
Taxila: Most of the archaeological sites of Taxila (600 BC to 500 AD) are located around Taxila museum. For over one thousand-year Taxila remained famous as a center of learning Gandhara art of sculpture, architecture, education and Buddhism in the days of Buddhist glory. There are over 50 archaeological sites scattered in a radius of 30 km around Taxila. In Taxila visit archaeological sites of Jaulian, Mohra Moradu and Sirkap. Later visit.
Taxila museum: A museum comprising various sections with rich archaeological finds of Taxila. It is one of the best and well-maintained site museums of Pakistan. Taxila is one of the most important archeological sites in the world. It is a city that is very well known for having strong ties and being the centre of Buddhism in the country. Many statues of Buddha depicting the various stages of his life have been excavated and are currently present both at the Taxila museum as well as various stupas in the city however the best of these statues have been taken abroad and are displayed in museums there.
There are 5 small stupas in the city. The first one being the Dharmarajika stupa, which is locate two miles from Taxila museum. Then is the Glen of Giri, which is about three-and-half miles from Dharmarajika stupa, this is atop the highest peak of the range of hills are two stupas and a fortress built in a cleft near a spring of pure, sweet water. Jaulian is another marvelous complex of chapels, stupas and a monastery with assembly hall, store rooms, refectory, kitchen and bathrooms still very well preserved. Two miles west of Jaulian is another well-preserved monastery at Mohra Moradu. In one of the monk's cells here there was found a stupa with almost all the details intact. At Jandial, a mile-and-a-half from Sirsukh, is an imageless temple in the classic Greek style, with sandstone columns and cornices.
Statues of other famous people in history such as Alexander the Great and the eminent ruler Asoka are also be found in the city of Taxila. All these statues show great skill and craftsmanship because of the detail and intricacy that went into the making of these statues. Taxila was taken over by Alexander the Great in 327 BC after which it was ruled by the Mauryans. Towards the end, it came under Asoka's rule during which time it reached the zenith of its development and culture. Eventually, Taxila was taken over and destroyed. The last significant historical period for Taxila was the Gandhara period. It was during this time that Taxila became a world known Centre for philosophy and art.

Day 15 CSS of Islamabad - Fly Home :
Full day city tour of Islamabad and Rawalpindi, which includes famous Faisal Mosque, Shakar Parian, Pakistan monument, DamenKoh, Lok Versa, Museum, after dinner transfer to Islamabad airport for return flight TG350 @ 2320 to Bangkok arriving next day 0625. O/N Plane
Morning we will visit some of the famous sights of Islamabad including the Faisal Mosque, the largest in South East Asia, and 5th largest mosque in the world. We will also take time to visit the Lok Virsa Museum and Pakistan Monument. Islamabad, it replaced Karachi back in the 1967 and is now the political and commercial heart of the country. Situated against the lush backdrop of the Margalla Hills it is a city where old and new collide. Leafy green boulevards are home to modern buildings, and shopping malls, but also dotted with traditional homes and mosques.

Islamabad is the capital of Pakistan and the ninth largest city in the country. Located
within the Islamabad Capital Territory (ICT), the population of the city has grown from 100,000 in 1951 to 1.43 million as of 2017. The greater Islamabad-Rawalpindi Metropolitan Area is the third largest conurbation in Pakistan with a population of over 3.13 million inhabitants.
Islamabad is a modern city located in the Pothohar Plateau in the northeastern part of the country, within the Islamabad Capital Territory. The region has historically been a part of the crossroads of Punjab and Khyber Pakhtunkhwa with Margalla pass acting as the gateway between the two regions. The city was built during the 1960s to replace Karachi as Pakistan's capital. Islamabad is a well-organized international city divided into several different sectors and zones. It is regarded as the most developed city in Pakistan and is ranked as a Gamma- world city. The city is home to Faisal Mosque, the largest mosque in South Asia and the fourth largest mosque in the world
Day 16 Home : Reached Bangkok @ 0625. Connect flight TG415 @ 0905 back to Kuala Lumpur. Reached home 1215 (8 Oct 2022)
TERMS AND CONDITIONS