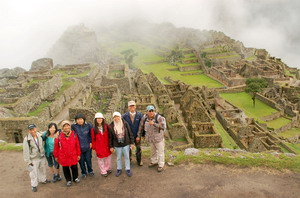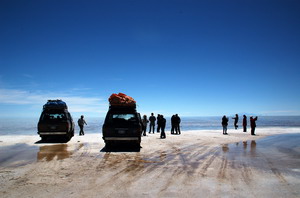 Group Photo at Machu Picchu / Salar Uyuni (Salt Plains)
DAY 1, Tue 6 Feb - KLIA to Amsterdam. Flew at 1130pm to Amstersdam, a 13hr flight.The 9 member group consisted of two married couples, a 73 year old man and 3 ladies. Had 2 cancellations in the last week because one member had sudden work obligations and the other fell and broke her arm.
DAY 2, Wed 7 Feb - Amsterdam to Lima. Arrived in Lima at 5am local time to strict new EU rules on Aviation security pertaining to liquids. Our onward flight was at 12am and on reflection should have taken the regular train, return fare Euro9 20mins travel time to Amsterdam. I did this on my way back to KL. The flight stopover for 45 mins at Benair, an island off the coast of Venuzuela, belonging to Holland before proceeding to Lima, total flight time another 13hr. It was 9pm local time when we arrived in Lima Airport and group waited while I bought the flgiht tickets to Cuzco schedule to fly on 9 Feb. Took us a whole 2 days to get to Lima. Peru time 9am Malaysian time 10pm.
Day 3, Thu 8 Feb - Lima Old City. The plan today was a late morning start 11am but group was up and about by about 9am. Since continental breakfast at the Hostal (Spanish for guesthouse or small hotel) cost US$3, group opted for simple bread and local cereal drinks for Rm1 a short walk away. Group then walked some 3km to Plaza de Armas, founded in 1535 by Pizarro, the Spanish conqueror. All along the way were numerous colonial buildings in this capital of Peru. Our lunch was at one of the many Chifa (Chinese)
We went on a 1.5hr long tour of the Convent Museo de San Francisco, a 17th century Baroque Church. There are 4 cloisters or abodes of Franciscan monks, three of which are still in use. The passageways are lined with Seville glaced ceramic tiles and renaissance paintings. The church had catacomb cemetaries which was the preferred burial place for the nobles and the wealthy.
Day 4, Fri 9 Feb - Fly to Cuzco. After a full day rest in Lima, we woke up at 4am to go to the airport 30min away for the 6am Cuzco flight. The flight was to take 1hr15min but we arrived an hour late at 8am due to flight delay. We were met by a tour operator Elizabeth who took us to our hotel some 15 min away. Cuzco centre is small enough to walk to the main areas but taxis also cost Rm1 for short distances. Negotiated our Sacred Valley, Pisac, Inca ruins and Machu Picchu 3 days tour with Genaro, Elizabeth's husband. Lunch at one of the numerous restaurants and had the local favourite of roasted guinea pig. All of us did not like it as it left a strong gamey taste.
The group went their own ways after lunch, moving about this Unesco listed place. It served as capital of the vast Inca empire and then the highland capital of the Spanish colonist. There were excellent churches with grand paintings and decor. Of course the main square Plaza de Armas had the churches and colonial administration buildings. Most of us called it an early night coz of the early morning start and also still jet-lagged from the long flight.
Day 5, Sat 10 Feb - Inca ruins Cuzco. We started the day at 9am in a hired van for a visit to four sets of Inca ruins in the vicinity of Cuzco. The first and largest is Sacsayhuaman (easy pronounciation as Sexy Woman), sited on top of a hill overlooking Cuzco (in Inca - City of Puma). Hired an on-site English speaking guide, who showed amazing Inca walls held up without mortar/cement. These were huge hand-chipped blocks with interlocking sections, many in the shapes of local animals - ducks, snake, llama, bird and so on. The site was also a great place for scenic photos of Cuzco.
The next set of ruins was the rather small Tambo Machay, a ceremonial royal bath. And nearby was another small fortress called Puca Pucara or Red Fort, beleived to be the gateway to Sacsayhuaman. The last stop was Qenko translated zigzag - where ritual practices took place. It rained and I had quick looks at the water channels and a small Inca amphitheatre. We finished at 1130am and a few members opted to visit the Mercado Centrale or Central Market, a good sized market where we lunched on Rm2, chicken soup pasta. There were lots of locals in dressed in colourful clothing - good for picture taking. The walk back to the Plaza de Armas took 20 min. In the evening, many members purchased good quality Tshirts from the Hostal staff.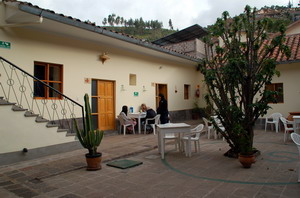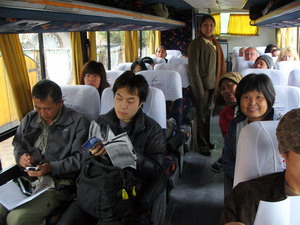 Hostal in Cuzco / Public bus to Puno
Day 6, Sun 11 Feb - Pisac Ruins & Market. Ollantaytambo. Started at 630am and stopped for pictures at a couple of scenic spots. We drove pass the village of Pisac, famous for its Sunday market, to a set of Inca ruins some 30min from town. The agricultural terraces were used for crop research and trial growing. At the very top one finds a few sets of ruins used for ceremonial and residential purpose. We then spent a couple of hours visiting the touristic Pisac market before moving on to Ollantaytambo ruins - said to be the biggest pueblo (town) in the Inca empire at one time. From here we also boarded a sight-seeing Vistadome train to Aguas Calientes, the town at the bottom of Machu Picchu.
Day 7, Mon 12 Feb - Machu Picchu. Started our day at 7am with a 25min bus ride up to Machu Picchu. I paid for a professional guide for Machu Picchu translated small mountain, who took us to the various viewpoints and gave us a thorough explanation. We waited quite a bit for the mist/clouds to clear up for pictures. The standard places of vist are the farm terraces, Plaza, Temple of the Sun, Temple of Condor and the residential areas. Machu Pichhu was shown the ruins by local Indians in 1911 to American explorer Harry Bingham, who took pictures and made it world famous. The city was abandoned for unknown reasons and was not "harmed" by the Spanish. Almost all the buildings are original.
Group completed the tour at 11am after which I and one other couple opted for the 1hr walk up Huayna Pichhu translated big mountain. The climb was worth it for its top down views of Machu Picchu as well as the high ruins and temples at the top of Huayna Pichhu. Met up with the group in Aguas Calientes and returned to Cuzco on the 355pm train arriving at 8pm.
Day 8, Tue 13 Feb - Cuzco to Puno. Another early start at 630am for the Inka Express bus tour to Puno, departing at 730am, a journey of 380km over the Altiplano (high altitude Andean platueau), at its highest point 4335m. The stops included Andahuylillas a 3122m Mestizo baroque architecture church and Raqchi a 3400m temple of Wirachocho God and home to Raqchi people with their distinct clothing. Its amazing to note that there were 20,000km of Inca Trail, which are rock paved trails linking the vast Inca Empire, passing through towns like Raqchi. La Raya the highest point was cold and windy and group had a quick stop for photos and shopping. We arrived in Puno at 5pm. Negotiated with a local agent for a half day Uros Island tour the next morning.
Day 9, Wed 14 Feb - Lake Titicaca. At 830am we trooped to the Bolivian Consular office one road away. Organised the visa before being transported to Lake Titicaca jetty at 930am for the 3hr tour of Uros floating islands, which number some 50 big and small. This was apparently the only place on the huge lake where the water is shallow enough to allow floating islands. The oldest islands are some 150yr old and the totora reeds are up to 30 meters deep. Lake Titicaca covers an area of 8560sq km, deepest point 280m with 24 rivers flowing in and one river flowing out in Bolivia. In the evening we were treated to a procession of singing and dancing locals, part of the week-long Festival of Virgen de la Candelaria (Virgin Mary).
Day 10, Thu 15 Feb - La Paz BOLIVIA. We left Puno at 8am on a local luxury bus service to arrive 2pm local time in Bolivia. Surprisingly, we did not have to wait too long for border formalities. All along the way, we could see grazing animals and Lake Titicaca. The buses was also comfortable with seats designed for bigger locals and whites. La Paz is the highest capital in the world at 3700m. Upon arrival, we were met by our Puno guide who also arranged the hotel. I took the opportunity to scout around for transport to Uyuni at the main bus station. Once at the hotel, I discussed with the tour desk for a 3 days 2 nights Salar Uyuni package. Later we had a group discussion and agreed to proceed with this trip, which was not part of the original itinerary. As Uyuni was expected to be cold, we went shopping for some extra cold clothing.
Day 11, Fri 16 Feb - La Paz. The hotel we stayed had an interesting market on a winding perhaps 3km long road - great for pictures taking, except that locals are not exactly happy about having their photos taken. Telephoto lenses is the way to go. The markets was very lively and colourful as the locals were shopping and preparing for their Monday Carnival. In the afternoon we arranged for a half day tour of the Moon Valley on the outskirts of La Paz plus a City tour, which included the town square, the upmarket area and the Witches Market. We had to rush to the bus station for our 7pm public bus ride to Uyuni but endured a 1.5hr delay as the bus was delayed coz of heavy traffic. After travelling a couple of hours, we had a further delay of 2hr to change bus. A rock cracked the windscreen of the first bus. This overnight bus ride was very difficult for most of our group members.
Day 12, Sat 17 Feb - Uyuni Day 1. Finally arrived at 930am but there was no one from the travel company to meet us. I had to wander about looking for the office for about 30min. Anyway we finally started at 1230am in two Toyota 4WD with 5 other travelers and a cook. First stop was Colchani village, where locals process salt blocks into iodised table salt. We stopped at the the edge of Salar (Salt Plains) which looked like a white sandy beach. Suddenly the vehicle drove through the water which was at its deepest point, probably some 4 inches. This Unesco listed site, area 9000 sq km, is the biggest salt lake on earth and one of the flatest as well. What is amazing is the fact that a hard 7m layer of salt sits on top of several meters of salt water at the bottom of the lake, making driving across the white watery surface a real treat. At 3653m, its probably one of the highest as well.
We drove for 60km before reaching Isla de Pescado, the popular lunch stop sited in the middle of Salar Uyuni. Giant cacti abound this small island in a sea of white salt. According to the pamplets, these cacti also provide "timber" for building purpose! After a sumptous meal of pasta and soft drinks, we drove another 90min to San Juan for our night accomodation in very basic rooms. Food though was great with llama meat, Inca rice and soups. And the available hot showers were indeed much appreciated.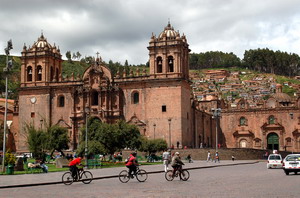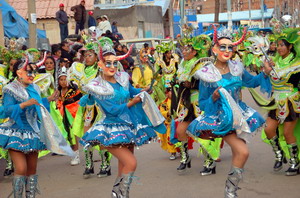 Cuzco Plaza de Armas / Puno Carnival
Day 13, Sun 18 Feb - Uyuni Day 2. We crossed Salar de Chiguana, a thin salt crusted plain. The track climbs 4000m plus to the only active volcano in Boliva, the 5865m Ollgue. The scenery along the way was very good, flanked by rust coloured plains and topped by snow-capped mountains. We also spotted wild vicunas, related to the Llama, Alpaca and distance relative of the camels. We visited a number of lakes including the surreal Laguna Canapa with its multi-coloured mineral-filled waters. The thriving mirco-organisms provide ample food for the large populations of flamigos (3 kinds), ducks and various other birds. The road goes even higher to 4500m across Pampa Siloli, a high altitude desert of volcanic ash and gravel., scattered with rock outcrops blasted into contorted shapes included the famous "stone tree".
Soon after we entered Reserva Eduardo Avoro, where one finds the biggest lake in Uyuni. Laguna Colorada (Red Lagoon/lake) has a huge population of flamingoes has distinct red colouration due to natural pigments of the algae. The fringes or the lake are coloured white with the chemical Borax. After tea, I ventured to the other side of the lake to get a closer look at the flamingoes. I had left my head warmers and gloves and could only manage a two hours walk. Accomodation here was even more basic, dorm-style and this time, no hot showers. Further we had an early night as we had to leave at 4am the next day.
Day 14, Mon 19 Feb - Uyuni Day 3. We left at 430am without breakfast and first stop at 5am was the Sol de Mauana geyser, shooting up to a height of perhaps 40m. This thermal active area located at 5000m has several mud pools with temperatures reaching 2000 degrees C. I had to watch my steps very carefully in the low-light dawn. The rest of the group members opted to watch from the vehicle because of the extreme cold. By 7pm we reached Lagunas Polques, our breakfast area and also a place for refreshing dip in a 36 degrees C natural hotspring pool. Before long, the pool filled up with backpackers and travelers. Next stop was Laguna Verde (Green Lake) with no birds. This beautiful lake reflected the snow mountains contains arsenic causing the green colour. At 10pm we arrived at the Bolivia/Chile border and we had about 1hr wait for our transport to the Chilean town of Pedro de Atacama.
Upon arrival we proceeded by hired van to Calama 2hr. After a late lunch we settled into our hotel. I spend the afternoon visiting the few public bus companies trying to get a day bus to Arica near Peru border. All buses leave at night and takes about 10hr. That evening spent the time at the town square and adjoining street mall.
Day 15, Tue 20 Feb - Calama CHILE. Free day in Calama. Had a late morning start and I spent the time having a long lunch with Mr & Mrs Ho at the Calama modern shopping mall. The afternoon was spent lazing at the hotel, killing time before our 10pm overnight bus to Arica, the Chilean border town.
Day 16, Wed 21 Feb - Border to Arequipa. Arrived 730am and crossed the border by taxis and then on to Peruvian town of Tacna 1.5hr. After breakfast at the bus terminal, boarded a 10am public bus to Arequipa 5hr. Upon arrival, proceeded to sort the group bus tickets to Nazca 8hr, opting for the more comfortable Cama class buses. A while later the hostal van arrived to fetch us to the hostal. Once again, due to time contraints, quickly organised the next day Colca Canyon tour, starting at 3am! In the evening spent a leisurely time at a cozy pizza place with some members.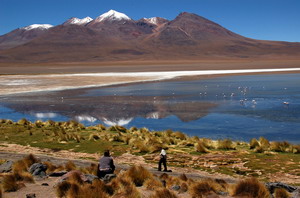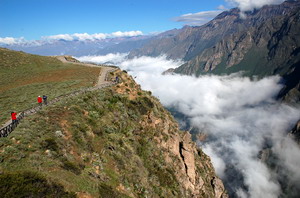 Laguna Canapa / Colca Canyon walkway
Day 17, Thu 22 Feb - Condors of Colca Canyon. Promptly at 3am we left by hired van and road goes up as high as 4960m over the bleak altiplano (high Andean plateau) before dropping down to Chivay village 3hr. Early breakfast of local herbal drinks and bread before another 2hr drive to Cabanaconde, the entry point to Colca Canyon, at its deepest point some 3191m and reputed to be one of the deepest canyon in the world. A tourist pathway leads from one viewpoint to another, which would have taken some 2hr to complete. We opted to walk part of the way and van the rest. According to our guide, there are some 30 condors (carrion-eating vulture-like birds with wing-spans up to 3m long) living in the canyon. All we could see of the condors were specks in the blue skies. We returned to Chivay for lunch with stops for pictures of the ancient farm terraces. Arrived late afternoon with enough time to spend at the town square.
Day 18, Fri 23 Feb - Arequipa & Nazca. Morning free in Arequipa, a pleasant tourist town. I spent the time catching up on my internet while the rest wandered about town. At 3pm the hostal van took us to the bus terminal for our bus to Nazca 8hr. Arrived just before midnight and walked some 200m to our hotel in this small town. Also arranged for a small plane flight over the Nazca lines the next morning for the group.
Day 19, Sat 24 Feb - Fly Nazca Lines. These are a series of giant desert figures, clearly visible only from the air. At 9am we assembled at the lobby before being escorted to nearby airport. Planes are either 6 or 4 seaters small planes. Plastic bags were provided for those with weak stomachs. The plane rotated 360 degrees over each figures to allow each passenger clear views on this 30min flight. Some of the figures viewed included whale, dog, spider, monkey, tree, flamingo, humming bird, trapezoids and an astronaut!. We lunched in town before leaving for Pisco 4hr in the afternoon. We were met at the bus station and van to our hostal in Pisco.
Day 20, Sun 25 Feb - Isla Ballestas, Paracas NP & Pisco. Started the full day tour at 830am and was transported to the jetty in Paracas. Here we boarded a 30 seaters speedboat to visit what is dubbed by the locals as "poor man's Galapagos Island". It was a memorable sight of thousands of birds including pelicans, penguins, comorrants, oyster catchers, seagulls and huge colonies of sea lions. On the way, boats stop for a view of the famous landmarked Candelabra, a giant candle-like figure etched into the coastal hills. The afternoon was spent lunching in Paracas National Park and visiting the Information Centre. Really nothing much to shout about here but certainly popular among locals. At night, I browsed the town square and its adjoining pedestrian mall.
Day 21, Mon 26 Feb - Lima, Fly Home & onto Trujillo. Totday was the last day for the "official itinerary" for our group. Morning free for "lepaking" and chit chat with group members at the pleasant hostal, which has a small swimming pool. Went over to the Plaza de Armas for some photo taking. In the afternoon group left for Lima 3.5hr by public bus. From the bus terminus, we took taxis to the airport where we bade farewell to 3 members who ended their trip today. Flight left at 930pm for Amsterdam then KUL. 3 other members decided to go on wait list because they were "homesick" but were not successful that night. The three opted to stay behind in Lima to try again the next few days. Mr & Mrs Ho and I opted to continue with our scheduled extension of 1 week to North Peru. So we took an overnight bus to Trujillo 9hr.
Day 22, Tue 27 Feb - Trujillo & Chan Chan ruins. Arrived at 8am and walked about 10min to Hostal Colonial and immediately signed up for a ful day tour of the Moche pyramids and Chimu ruins of Chan Chan, starting at 930am. The pre-Inca civilization of Moche (0-700 AD) are famous for their massive pyramids of the Sun & Moon, the latter which was only excavated some 15yr ago. Revealed were beautiful friezes in their original colours. In the afteroon, we visited the Chimu (1000-1470 AD) city of Chan Chan (translated Sun Sun), a Unesco site. It was the biggest pre-Columbian city in the Americas, covering 28 sq km and housing some 60,000 people. We visited the massive Tschudi palace compound and there were 9 other palaces in Chan Chan. Last stop on the day was the seaside town on Huanchaco, well known for its cigar shaped totora reed boats, called Caballitos.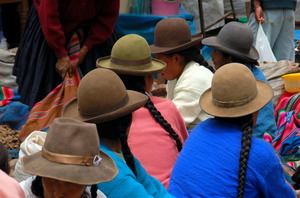 Hills of Cumbe Mayo / Pisac Sunday Market
Day 23, Wed 28 Feb - Cajamarca. Before the 10am bus to Cajamarca, I went over to the Plaza de Armas for my now-routine morning pictures of the main town square. We took the cheaper economico local bus. The journey of 6.5hr was scenic , passing rich green fields of rice and other agricultural produce. I sat and chatted with Alan, a local dentist who could manage good English. At 2750m, Cajamarca is surprisingly warm. Once again on arrival, I organised a day tour for the next day.
Day 24, Thu 1 Mar - Cajamarca surrounds. The local market is 200m from the town square where we stayed. I was early and market was not active. We started at 930am with a van full of other tourist and locals. The van took us to 3600m to visit Cumbe Mayo (translated small or narrow channels), actually a pre-Inca irrigation system sited in some beautiful hills. Trip consisted of a 2hr walk with wonderful picture taking opportunity. Returned to the Plaza de Armas at 130pm. At 330pm we assembled for the next part of the tour i..e Ventanillas de Otuzco. Ventanillas are rock niches containing ancient artifacts, which have all been moved to museums. The oldest are some 1500 B.C. but in my opinion, unimpressive. Tour then took the group to a local farm and then a local diary. Cajamarca apparently is famous for its diary industry.
Day 25, Fri 2 Mar - Trujillo then Huarez. Woke up early for internet and learnt that the Group of 3 on day 21 did not manage to fly home despite 3 nights of going on wait list. They left for Huaraz on yesterday overnight bus arriving this morning. Coincidently we were schedule to arrive in Huarez tomorrow morning.
So at 10am we left Cajamarca for Trujillo 6hr arriving at 4pm. Checked into a nearby hotel and negotiated a cheap rate for a few hours rest before our overnight bus at 9pm to Huarez 9hr away.
Day 26, Sat 3 Mar - Huarez. Arrived early 6am and was approached by numerous agents. In view of the short time we have, signed up for a full day trip on the most popular tour i.e. Yungay & Llangunaco lake. At 3091m, the weather in Huarez was pleasent, not the expected cold at this Codillera Blance, which has the highest mountain in Peru. In 1970 an earthquake caused a massive snow and mud avanlance in the town of Yungay, which killed 18,000 residents. Only some 92 survived as they were at the elevated town cemetary.
Cordillera Blanca (White Mountains) is Unesco listed and a popular destination is the Llangunaco lake, which we visited. As it was cloudy and rainy, we were not able to see the best views. The tour also took us to Caraz and a few small town on the way back. Incidently we accidently met up with our 3 friends when they went on the same day tour but with another company.
Day 27, Sun 4 Mar - Lima. We woke up to clear skies which revealed Mount Huascharan 6768m, Peru's highest. The 10am bus journey to Lima traveled along pretty hillside farms, up to 4300m pasturelands and along desert coastlines. Indeed a beautiful trip. Arrived after 8hr and proceeded by taxi to a hostal in San Miguel, a stone throw from the coastline. At night we adjorned to San Miguel Mall, a 30min walk with a Wong's Hypermarket, Ripley clothing store, KFC, Pizza Hut, McDonalds and a huge Ace Hardware Store. We bought mostly coca teas and some other provisions to take home.
Day 28, Mon 5 Mar - China Town Lima. Took a bus 20min Rm1 to Lima Old Town and walked to Bario Chino. Streets are lined with Chifa or Chinese restaurants and stores. We dined in one owned by a Chinese from Guangzhou, serving good Canton dishes. I lost the main group while buying cheap climbing ropes and made my way back by bus to San Miguel Mall to kill time. Made our way to the airport for our 930pm flight to Amsterdam.
Day 29, Tue 6 Mar - Amsterdam. Arrived in Amsterdam at 530pm 13hrs flight. I went through immigration with the intention of seeing the airport. At the arrival hall, I suddenly decided to go down to town on the convenient 20min train ride to the Central Station, which cost less than Euro 9. There, I wasted some time locating the Tourism Office and only had about 1hr to wander the famous Red Light district and the nearby tourist walks. Anyway got back to Airport ahead of the 845pm departure to KUL.
Day 30, Wed 7 Mar - KLIA. Arrived safely at 330pm after a long 13hrs flight.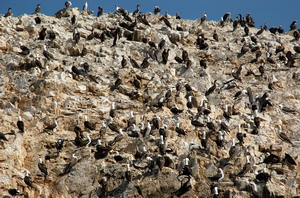 Fly over Nazca Lines / Isla Ballestas Pisco
| Home |