Yong Lee Min writes - 24 days Peru Bolivia Feb 2009 was family Hon's first trip with Yongo. This humourous and enlightening essay captures the essence of a Yongo trip. My heartfelt thanks to Hon who has taken much effort for this well-written piece, which he has kindly given permission to share with other Yongers and would-be Yongers. Picture here is Mr Hon Too Fang and family.

Hon writes - The Travel Company
This tour is arranged by this company Yongo Travel. Their website is www.yongo.biz. The boss is Mr Yong Lee Min who led us in this tour. They specialise in semi-backpack adventure tours. They go to less familiar places like Bhutan, Sikkim, Morocco, Romania, Syria, etc. They go to India and China too, and in China they don't have those "enforced" shopping at the silk factories, jade factories, medicine shops, etc. PT should go to China with them. They have local adventure tours in Sabah and Sarawak too.

And food is mostly on our own for Yongo Travel's tours. And I find this a big plus. We are at liberty to choose our own food during the trip. Choice of type, choice of price, choice of time. We can eat 2-minute instant mee for dinner too.

Another plus point is good for those not proficient or slow in taking photos. At the end of the journey, the boss (Lee Min) and his assistant (Rachel) would download all their photos onto his laptop, and whoever wants these photos could just upload them into his or her thumb drives. Thumb drives are so cheap nowadays, an 8 GB type cost only around RM 50. So convenient.

Thank you, Lee Min and Rachel for the unforgettable experience. It won't be the last time we join your tour, that is sure..
Hola Amigos (Hello Friends)
Last month Feb09 we went to Peru and Bolivia for a 3+ week sight-seeing tour. These are Spanish speaking countries. During the journey I wrote a series of emails to family members and several friends to inform them of our whereabouts. This is an edited and enlarged compilation of the emails to talk about the tour in a lighthearted way. As usual I hope my friends are entertained. But it is difficult to write an entertaining report of a tour so my next-best objective is to hope that my friends who finish reading it would at least find it interesting.
Gracias.
(afternoon, 19-3-09)
**********************************************************************
Part 1 Lima
Hello my friends
We are now In Lima, the capital of Peru, after staying in the air for a total of 25 hours with a 6-hour transit stop in Amsterdam. We flew with KLM, the Dutch airline. Service was good but the air hostess were a bit over the hill. In age they are nearer to my wife than my daughter.

I am always fearful of long flights, can't sleep and would feel very restless just after a few hours of flying. It is a small miracle that I have not dropped dead along the way and instead made it to Peru.
(10.30 pm, Peru, 11-2-09)
*********************************************************************
Part 2 Cusco
Hello friends,

After my short first report, I received many best wishes. Thanks, my friends.

Yesterday we took a local flight from Lima to high-altitude Cuzco, an old Inca capital in Peru. From near to 0 meter in Lima to 3,200+ meters in Cuzco in an hour, we were passionately greeted by Senorita HAS or High Altitude Sickness. Most people in our group had some problems associated with HAS. My wife and I had fever, short of breath, coupled with the lack of sleep in the last few days due to time-zone problem, we endured a very cold night with temperature in the low single digit. Typical highland weather, though Peru is still in summer. We had a miserable night.

"Why pay money to suffer?" you may ask. Good point to ponder. Hope I don't need to see a psychiatrist for an answer. That is more money spent.

We are slightly better today, spent our time roaming the old city of Cuzco. Tomorrow we are going to Machu Picchu, the highlight of the tour.

Will write when situation permits. The internet cafe next to our hotel charges about RM 1.20 half hour, very reasonable.

(10.10 pm, Peru, 14-2-09)
**********************************************************************
Part 3 Machu Picchu
Friends,

I am very surprised to receive many responses to my Part 2. Our friends are concerned with our encounter with Senorita HAS. Their deepest sympathy to this suffering couple as JC expressed it. There are many suggestions on how to deal with Senorita HAS, like introduce her to a handsome young man to take away her attention. Not sure if my son is handsome enough but he has no problem with her. SK said we should hold our breath when we were ascending but that was a temporary measure good only during a flight. We are now facing a permanent problem on land. Our Chinaman friends gave their grandmothers' secret remedies, our qigong friends asked us to practise more qigong and our church friends were asking for divine intervention on our behalf. Aiya, not that big an issue lah, no need to bother the Almighty.
Thanks, my friends, I would not make individual reply to your emails. You can continue writing to me of course.

We are still in the highlands and will be there the next week too.
Three days ago we visited some archaeological sites in the Sacred Valley around Cuzco and also a Sunday farmers' market in Pisac where their orang asli trades. People in colourful costumes trading colourful wares. Most picturesque. Corn is a staple food for these indigenous people in the highlands. We saw big ears of corns in so many colours: pearl white, golden yellow, light green, dirty chocolate, deep purple, pitch black, rainbow, etc. Believe me? Or are you sure you are not "cornned" by me?

Two days ago we spent more than half a day at Machu Picchu (word meaning "Old Peak") the famous Inca ruins unmolested by the invading Spaniards in the 1560s. It is a UNESCO World Heritage Site. In 2007 it was voted in a worldwide internet poll as one of the new Seven Wonders of the World. The ruins contain about 140 stone structures for housing, sanctuaries, parks and temples. Very steep terrain with many terraces for agriculture. A full workout day with all the climbing. This is a 5-star tourist attraction, no doubt about that. Awesome.
The most remarkable thing about this piece of archaeological treasure is that not only there is no food outlet or souvenir stall within the site, there is no toilets or even trash bins. Toilet facilities are only available in the visitor center at the entrance. Tourists have to hold on to their full bladders and their empty plastic water bottles until they are back at the visitor center on their way out. That could be 6 hours. Why not empty their bladders into the empty bottles? Very good discipline in the management of the park.

Yesterday we took the Inca Trail from Cuzco to Puno; taking the trail by tour bus of course, not by foot as the Inca people did.
Earlier this morning, we were at Lake Titicaca, at 3,710 meters, the highest navigable lake in the world. We visited several floating islands built on reeds, interesting. The afternoon was free and easy so I took time off to write to my friends. Tomorrow we are going to Bolivia for a week, then back to Peru for another week.

Weather in the highlands is like a difficult boy-girl relationship: hot and cold, up to low 20s Centigrade by noon but in the low single digit in the evening. Very troublesome in terms of clothing. We the senior citizens could not cope well with this boy-girl relationship as we have forgotten how it was like. The old man-old woman relationship which we are familiar with is always very stable: cool.

The high altitude problem is very bothersome, especially at night when it is cold. There is this feeling like in Chinese "the upper qi not connected to the lower qi". The situation is tied to the word PRESS. When we go to bed in 5 layers of clothing and under 3 layers of blankets each weighing 5 Kg, we feel somebody is on top of us. Certainly not my wife on top of me, we have no mood for that. We feel COMpressed. Very hard to breathe. Since I don´t own a pair of pajamas since adulthood I have to wear my cotton pants to bed and they need to be REpressed the next day. Thinking of spending so much money to suffer we are DEpressed.
Another thing to tell my friends. The prepaid Maxis mobile phone service or Hotlink has no roaming service in Peru and Bolivia , so you all can't reach me or my wife by phone. That is also good lah, the Ah Longs can´t reach me too.
That's all folks. Don't worry, we are OK.

(5.30 pm, Puno, Peru, 17-2-09)
The internet speed here is much faster than the 1.0 mbps offered at RM 77 per month from our Streamyx, and cost only RM 1.20 per hour in Puno. It has to be cheap. Otherwise you think this calculative fellow will write so much eh if it is expensive!
******************************************************************************
Part 4 La Paz Bolivia
Hi friends,
Three days ago we came to La Paz , the capital of Bolivia, one of the poorest countries in S America . She has something in common with Malaysia - public toilets are equally dirty. She has something in common with China too. "Yes, both names ending with an "a". "Smart boy, good answer." But my point is: both have public toilets without doors!
At the border crossing the Bolivian immigration front office is about 10 feet by 15 feet in size. No computer; the lone officer just stamped our passports and left the entry forms in an old shoe-box. Then we had to pay about RM 1.00 each as entry tax. They collected that in the bus. No receipt of course. RM 1.00 is not an amount that we would complain but "sikit sikit jadi bukit juga" to the corrupt officers.
Though Bolivia is said to be very poor, in La Paz the pasar malam and the pasar pagi are really crowded with people. The morning market outside our hotel is said to be several kilometers long. 235% more crowded than Petaling Street . Not that poor may be.
Most of you should have read an email with a power-point presentation on the most dangerous roads in the World. Topping the list is one in Bolivia showing 2 trucks in opposite directions negotiating a tight bend. On a gravel road surface, not a paved road, my friends. The inner truck is 2 cm from touching the rock face while the outer truck is tilting 15 degrees towards the 500 meter deep ravine. Look like it can go down anytime. This is the highway linking La Paz and Coroico. There were over 300 deaths a year as a result of accidents on this Death Highway.
Well, yesterday we went to this Death Highway.
"Siao eh? Pay money to risk your life?"
No lah, my friends, I am not only kiasu, I am also kiasi. If I want to risk being killed, I don't have to go to Bolivia , I just need to walk alone at midnight in any of the back lanes off Jalan Raja Laut.
Actually this Death Highway is no more in "real use". There was a new highway completed 2+ years ago linking La Paz and Coroico. This old road now attracts only fools like tourists and the no-kiasi bikers. They are promoting the road as the Death Ride for Bikers. We only encountered less than a handful of on-coming small vehicles during our travel there lasting about an hour. Little thrill. We also did not travel in a big clumsy bus but in 2 vans, smaller nimble vehicles. No thrill at all. The danger, hence the thrill, only arises when 2 big trucks meet "head-on" at a sharp bend. That was history. Nevertheless the new road to Coroico took us to a certain high ridge where it was snowing very lightly then. Snow flowers lah, as the Chinese says. All the senior citizens turned into 5-year-olds jumping around to catch the flowers. Or may be they just shivered in the cold!
Earlier today we went to a town called Oruro to watch their annual dance festival. This place and the festival might be less famous than the samba dance festival in Rio de Janeiro in Brazil , it is still a famous one in South America. 30,000 dancers are said to be involved, covering 2 days, with over 300,000 spectators. Not many bikinis compared to the one in Brazil because it is colder here, but still an eyeful of cleavage and thighs. We stayed there for 4 hours. The festival also acts as an anti-terrorist drill. The parade was accompanied by throwing of water bombs and firing of water guns. We had to protect ourselves with plastic ponchos. Certainly a 4-star entertainment. But it was a festival for pick-pockets too. A member had her backpack cut and she lost her RM 1,500 camera.
Now to more interesting things. From my Part 3 SK commented that how come we were staying in cheap hotels without heating. "How come Hon so cheapskate one!" he asked. Aiyo, SK, times are hard lah. Last year lost so much money in the share market. This year my only hope Puncak Niaga also refuses to go to the puncak. Need to remain cheapskate lah. Actually we are on a semi-backpack tour, staying in 2 or 3-star hotels, they call guest houses here. These cheap hotels are all located at the town center for easy sight-seeing and food. Private bath and hot water yes, nothing else luxurious. But we have multi-millionaires in our group too. 2 couples come from gated-housing (bungalows) areas in the Klang Valley, like Country Heights. One a surgeon from Perth, Australia. Haha, not so cheap a group lah.
In my Part 3, I wrote about HAS. Well, this Senorita HAS is throwing her tantrums, may be she is love-sick. My e-SLR big Canon is having auto-focus problem in low-contrast situation, my other small Canon is having lens-cover closing problem, my polalizing filter's spring gave way, rendering it unusable. I think they are not designed to work in a HAS environment. I lost a lot of zeal in photography. Yesterday my watch went dead, after working non-stop for 4 years. A few hours later my wife's watch went dead too. It is very likely that she (my wife's watch) committed suicide since her partner was dead. I never knew these electronics have feelings. Their love is so much stronger than that between their masters.
I am still not feeling too good, kind of congestion of the chest but no cough. I suspected I was having respiratory tract infection. I started to take an antibiotic yesterday morning. The antibiotic was given (gave, but I still paid for it) by my family doctor for respiratory tract infection in case I need one on tour. Of course this is illegal, prescribing medicine "in advance". But please don´t report him to the Medical Council.
In La Paz, our 3-star hotel had this doctor-on-call service. May be girls-on-call too. So last night I called for the doctor. A white man speaking good English. He was not interested in my chest (what if a woman patient?) and insisted I had digestive tract infection (said to be very common with tourists). He said I had a lot of activity in my stomach. He even fixed his scope to my ears to listen to the activity in my stomach. I have not listened to my stomach before, so how could I know how much activity my stomach is supposed to have? Of course there is activity, I am not dead yet. He gave me a jab, asked me to take a new kind of antibiotic, saying his choice is a better one; charged me US$ 45, medicine not included. What else could I do in an alien environment except to listen to him? This is a matter of life and death, man!
But I did feel better later last night. Round One to Dr Iturri the Tourist Fleecer. This morning CK commented in Cantonese, "Ah Hon OK already lah, see how loud he talk!" Aiyaya, I simply talked too loud, those with me for only 3 days also noticed that. Must trim my vocal cords! I remembered I was reminded by the form teacher to talk softer on my first day in class in Primary 1. But it is difficult to correct bad habits, especially if my wife is 80% deaf (only when I talk) and forever pretends not to hear what I say.
About my not feeling well, my friend YL commented that this was because I was not "in harmony" with the Peruvian water and the Bolivian earth or in Chinese 水土不服 But LT said my problem arose because of bad fengshui. At this time of the Bull year South American is ruled by Fire over Water, the Northwesterly Wind is overly prominent and the star Venus is too bright, all of these no good for the loud-talking hard-working bulls like me. Whom you want to believe, a friend or a psychic? Of course a friend lah.
That's all folks.
(mid-nite, 21-2-09, Oruro , Bolivia )
*******************************************************************************
Part 5 Salar Uyuni 4WD trip
Hello friends,
First on the tour. The last 3 days we were on an adventure tour in a very dry region in south-west Bolivia. This is a top-rated adventure tour in South America. Most part of the region toured is between 3,500 meters and 4,500 meters in altitude. Because of the "no-clear-road" kind of terrain we had to travel by Toyota 4-wheel-drives.
The most famous attraction is the salt plain, called Salar de Uyuni, 11,000 square kilometers of flat ground, which is much bigger than Singapore. The main salts are gypsum and halite. It also has half of the World's reserve in lithium. The place is so flat because below the hard salt crust is supposed to be water, though I am not sure if this is the correct geology or not. At the center of the plain the white glittering surface extends in all directions from us to merge with the sky. 360 degrees. Just nothingless but us and our 4-wheel-drives. Simply surreal. Most weird landscape but beautiful. When there is water on the surface it creates the most fascinating reflections.
The salt crystals reflect the light from the sun, so the whole salt surface is glittery. Unfortunately all that glitters is not gold. It is so glaring that our eyes cannot stay open more than a few minutes if we don´t put on our sunglasses.
That evening we stayed at the rudimentary salt hotel, where the walls, tables, chairs, beds were made of salt blocks.
Over the next 2 days we travelled a lot of distance over dusty rocky terrain to the south, saw a live smoke-oozing volcano from a distance, different weathered rock formations, lakes of different colours (due to different minerals), geysers, hot-springs, pink flamingos, other highland animals, etc. Late yesterday afternoon, we had to brace freezing wind to walk (to and fro) 4 km to see a famous red lake and the flamingos.
This 3-day adventure trip is certainly a 5-star attraction for nature lovers, but may be only 4-star to us.
This region is a very cold place. In winter the temperature is known to drop to minus 50 degrees at night. We had to endure 2 cold nights without heating. We are going to a lower region later today. Most of us are glad that the cold is over.
Back to other issues. Despite taking Dr Iturri the Tourist Fleecer´s antibiotic I still don´t feel completely healthy. At the start of the salt plain tour I started to have cough with phlegm, and felt more congestion in the chest. Aiya, should have asked for a lady doctor in La Paz; she might be more interested in my chest. After consulting the surgeon in our group who said it was OK to take 2 antibiotics together, I re-started taking the other antibiotic given by my family doctor and it finally proved that the old antibiotic worked well with me. Round 2 to Hon the Self-diagnosing Patient.
After more than a week on the highlands, the HAS or High Altitude Sickness is now a HAS been. Senorita HAS has left us for newer victims. Even my watch has sprung to life, and my wife's too. I think the watches´ batteries were affected by the cold and temporarily lost power. Nothing to do with HAS. Sorry lah, Senorita HAS for wrongly blaming you for our trouble. But that is human nature, we just have to blame others for our trouble.
I must say that the lack of sleep is affecting me. The first few days were affected by the time-zone thing, then the cough and the cold nights. I may be having 4 or 5 hours of sleep a day. If it was a continuous 4 or 5 hours of deep sleep it would probably be enough, but the 4 or 5 hours I had came from the sum of short periods of sleep or nap over the whole 24 hours. In the share market, the worth of the entity is always less than the sum of the parts; the same with our sleep calculation. Hope I can still express myself clearly in my emails. JC advised that I should have taken a small bottle of brandy with me. A few sips before going to bed will not only warm me up (since my wife fails to do that) in the cold nights, I would certainly sleep well. Thanks, JC, will heed your advice the next time, XO also can eh?
The 3-day 4-wheel-drive trip gave me another problem. Because of the constant jumping up and down of the 4-wheel-drives over the rough terrain, plus the fact that there was no neck support for the seats, the bone spur on my 5th vertebra (osteophytes) also flared up, giving me some discomfort at the neck and occasional sharp pain in the ankle.
"Wah lau, you so sick one eh?"
"Shh....shh....shh, please don´t tell others lah!"
"Siao eh, pay money to suffer!"
(late morning, 24-2-09 Bolivia )
***************************************************************************
Part 6 San Pedro de Atacama Chile
Hello friends,
This will be a short one. We are now in the cowboy town of San Petro at Atacama in Chile. We are not really seeing Chile; this town is just a transit to rest our bodies after 3 tough days at Salar de Uyuni and the south, before we go back to Peru . We spent one and a half days here. The cost of living is very high in Chile . In Bolivia a 2.5-liter bottle of mineral water sells for less than RM 2, but in Chile it is sold at over RM 7.50. A glass of fruit juice in a cafe in town costs over RM 15, a cup-mee (made in China) cost RM 4.50. And the town of San Petro is about the size of One-Utama. Ha!
Both the Bolivian highlands and this Atacama region are very dry and dusty. Practically everybody in our group is now having some kind of cough or sore throat. LT lost her voice for days. Her cough sirup is beer, which is her lunch too.
"Siao eh, pay money to suffer! Serve you right."
For group tour to China, tourists often sing karaoke in the bus. We have some kind of musical performance too in the bus, called the Coughing Tune in G Minor. Everybody is coughing, short one, long one, single, double quick-step, thrice, loud one, not so loud one, dry one, phlegmy one, quite a performance. Sorry that you miss the greatest musical performance of all time!
Regards.
(evening, 25-2-09 San Petro at Atacama, Chile)
*****************************************************************************
Part 7 Arequipa
Hi friends,
Today we are in the city of Arequipa in Peru, in the mid-highlands. Very comfortable weather and a beautiful city listed as a UNESCO World Heritage Site for its well-kept medieval buildings. Tomorrow we are going to Nasca to see another 5-star attraction: the Nasca Lines.
Run out of jokes for this Part 7. Would try to answer questions on the tour. YL asked me why I chose Peru and Bolivia for our first visit to South America, instead of the more famous big brothers Brazil and Argentina. I really don't have a firm answer. Machu Picchu is obviously an important reason. And the fact that the tour operator has only this to offer is also a reason, if you can accept this.
KT commented that she would never go for a trip like this which is certainly less than comfortable. She also asked me anything to shop here.
To me there are 2 board types of tourists. First the sight-seeing type. We travel to see things we have not seen before, whether these are archaeological artifacts, special modern structures, unusual landscapes, strange costumes, endemic fauna and flora, etc. We try to taste the local food (might not be good), experience different kinds of weather (might not be comfortable), see the way of life of the locals (might be very superficial), listen to the local music, etc. We store these impressions in our brains as well as in our digital memory chips. We can recall the happy memory anytime we want, forever. The memory never fades or be out-of-fashion. We might stay in less-than-comfortable accommodation but when we go back to our more-comfortable homes this greatly-satisfying blissful feeling of home-sweet-home will be with us until we embark on another trip.
Then we have the second kind of tourists who are interested only in shopping in big cities. They would check into a RM800-a-night hotel in a big city, sleep until noon everyday, see nothing but shopping malls, and come back home 4 days later with a few RM 3,500 LV handbags, bought on sale. Then the misery spell starts. The on-sale LV bags go out-of-fashion in 2 months. They regret buying the wrong models. Because their beds at home are less comfortable than those in the hotel, they feel miserable in their own beds in their own million-RM homes. Their feeling of misery will only be halted temporarily when they go for another big-city trip 6 months later. Poor souls.
So KT, don't worry about the short-term discomfort, it is the long-term happiness that counts. Warren Buffett said that. If we have not seen the vast barren grounds of Peru and Bolivia, how could we know Malaysia is so blessed? Karpal Singh said that. If we have not seen the suffering in hell, how do we know we are already in heaven? Father John said that. But I know you will never come here, KT.
(7.15 pm, Arequipa, Peru, 27-2-09)
*************************************************************
Part 8 Nazca Line
Hello friends,
Two days ago we came down from the mid-highlands to the Peruvian coast, to more familiar weather. We traveled for 650 km on the first day, over barren ground throughout. Very dusty. So everybody still coughed. My wife lost her voice, and, my ears gained their peace. Unfortunately that lasted only a day. We had seafood for the last few meals, tomyam squid soup, raw fish kerabu, big-head prawn noodle, etc. Not joking, the dishes are of course named differently.

Yesterday morning we saw the mysterious Nasca Lines, line-drawings of giant figures of animals and birds (up to 100 meters big) and other geometric patterns itched on the desert floor. Who did these and for what purpose still remain unanswered questions.

The best view is of course from the air. But in reality It is not easy to see the lines even from the air. There are too many other lines left behind on the desert floor by tourist vehicles during the early days of the discovery of the Lines. Touring by land vehicles is now banned. But it is a thrill to fly in a 4-seater Cesna plane; they are like dragonflies "hanging" in the air. The 30-minute "air-cruise" cost US$ 50 each, plus about RM 24 in airport taxes.

In the afternoon, we went up a certain sand dune in Huacachina, said to be the largest in the World. We went up seated in a kind of buggy, with the 8-seater machine literally flying in the air, more exciting than the roller coaster ride in Disneyland!. SC, our most senior member at 66, went skiing on the sand dunes.

Earlier today we went to some islands famous for their wild life sanctuaries. Saw several kinds of birds, thousands of them, sea lions, penguins, other tourists, etc.
Now we are back in Lima and ready to go back, Malaysia I mean. I have already received 2 emails from officials of MOF, who needed this big-time speculator to go back to support the RM, said to have dropped to 3.76 to the USD. Luckily my mobile is not working, otherwise the Minister might have called.
Tomorrow we will fly to Amsterdam, and stay there for 3 nights before going back to KL.
My friends, this is the last part of the series. Hope you don´t feel you have wasted your time in reading them.
Adios.
(early afternoon, 2-3-09, Lima, Peru)
*******************************************************************
Now back in KL
The Travel Mates
There are 23 in our group, excluding the boss of the tour company and his assistant. About two-thirds are in our age-group, retired or in less-than-active self employment. A few younger married ladies came without their husbands. Then we have a few single professional ladies in their 30s. And lastly 2 young men accompanying their parents. Most are Malaysians though we also have citizens from UK and Australia.

Strange Discovery
In all the 3 countries we covered, Peru, Chile and Bolivia, there is this strange notice in all their toilets, be they in the hotels, restaurants, shopping malls, etc. The notice says we should not put the soiled toilet paper in the bowls of the WC. A basket or trash can is provided beside the WC for the soiled toilet paper. Why? Our tour leader explained that their toilet bowls are designed with smaller "necks" to save water. There is only enough water to flush away the solid waste. If we put in the paper, it could get blocked easily. But how to dispose off the soiled toilet paper? Use them as fuel or fertilizer? I don't know. I consider this the most strange discovery of the tour.

This shows that the region is seriously short of water. In the latest James Bond movie, Quantum of Solace, the chief villain is trying dirty tricks to control the water resources of Bolivia. What a co-incidence that I watched the movie on the plane during our flight to the country.

Some Personal Discoveries
The Katak
Among my close friends I might be the well-traveled one. But compared to the others in the same age group on this tour I am the Katak below the Tempurung. This 3+ week tour is the longest we have undertaken but PL said her normal trip is one month long. CK and wife have gone to every corner of Africa and next month they are taking a 3-month trip to see all major cities along the Trans-Europe and Trans-Asia railways.

The Novice
Among my friends I am the keener photographer. I am even the assigned official photographer of our qigong group. We have 6 people using e-SLR cameras in this trip and I am the novice here. All the others are so familiar with features of their cameras and so fast with their adjustments. CK carried twin lenses and they are heavier than his normal luggage! And the Nikon of KC costs 4 times more than my Canon! Must resign as the official photographer of our qigong group lah.

The Weak
I keep healthy by walking up and down Bukit Kiara in KL, covering may be 25 Km each week. So I am reasonably fit, I must think positive. But of the 6 men in our age group, I most likely is ranked 6th in fitness. Not bad lah, still in the top 10. CK has climbed Mt Kilimanjaro before, the highest peak in Africa, while BL, from Sabah, climbs Mt Kinabalu once every few weeks. Even the ladies in our age group, PL and KK walked much faster than me in the hilly terrain of Machu Picchu. During the journey I coughed the most, needed 2 courses of antibiotic for infections. The sick man of Malaysia. Aiyaya, most humiliating experience.

Conclusion
Getting old lah, and weak too.

Lost & Found

Lost - a small knife, sunglasses clip-on, lens cloth, "raincoat" for my camera. Never that clumsy before, may be Senorita HAS played a part in the poor performance.
Thrown away - half a dozen underwear, 2 pairs of socks, the fear to fly more than 10 hours. Hello Americas, would see you more often.
Left behind - a big backpack the threads about to burst, a small backpack the zip is failing, 2 pairs of sandals, several T-shirts.
Found - some new friends.

The Travel Company
This tour is arranged by this company Yongo Travel. Their website is www.yongo.biz. The boss is Mr Yong Lee Min who led us in this tour. They specialise in semi-backpack adventure tours. They go to less familiar places like Bhutan, Sikkim, Morocco, Romania, Syria, etc. They go to India and China too, and in China they don't have those "enforced" shopping at the silk factories, jade factories, medicine shops, etc. PT should go to China with them. They have local adventure tours in Sabah and Sarawak too.

And food is mostly on our own for Yongo Travel's tours. And I find this a big plus. We are at liberty to choose our own food during the trip. Choice of type, choice of price, choice of time. We can eat 2-minute instant mee for dinner too.

Another plus point is good for those not proficient or slow in taking photos. At the end of the journey, the boss (Lee Min) and his assistant (Rachel) would download all their photos onto his laptop, and whoever wants these photos could just upload them into his or her thumb drives. Thumb drives are so cheap nowadays, an 8 GB type cost only around RM 50. So convenient.

Thank you, Lee Min and Rachel for the unforgettable experience. It won't be the last time we join your tour, that is sure.
*********************************************************************
Hello friends,
After I sent out my "essay" (SEE BELOW) on the tour to Peru, I received a handful of comments. Less than expected which shows not many of my friends finish reading the email which is too long. This is the final comments. It is short.

(afternoon, 3-4-09)

Fact or Fiction
Since I mixed jokes with facts of the tour, a few friends commented they don't know which is fact and which is fiction. My friends, facts of the places are of course true, to the best of my knowledge or correctness of my sources. On the other hand jokes are jokes lah, they are more likely to be untrue or exaggerated accounts. Of course we were not that sick on the tour but certainly there is this effect of high altitude. The mighty Argentina football team just lost 6 -1 to Bolivia because it was played in high altitude in Bolivia.

And my wife always features in my jokes. A woman friend commented that that is not the way to treat the wife. Mmmm...... may be she wrote under the secret instruction of my wife. To protest? But who should my object of the jokes be then, if not the wife? Isn't she my closest friend on tour? Take the example of my description by feeling compressed with 5 layers of clothing and 3 layers of blanket, I wrote that it was like my wife on top of me. If I had said I thought some other woman was on top, all my woman friends would run away, my wife too. If I wrote another man could be on top, all my man friends would run away, my wife too.

The Food
This topic of what the Peruvians and Bolivians eat is the most popular question asked. Well, my friends, the Peruvians eat only grass, they don't drink water but the juice of coca fruits, and the Bolivians eat only meat of the Bolivian dragons. Unbelievable! Yes, you don't believe them too. Hello my friends, the Peruvians and Bolivians are Homo sapiens, just like us. And Peru and Bolivia are located not far from the Equator, just like our country. So there is not too much a difference of what they eat and what we eat lah. They eat both rice and noodle, pork, chicken and beef, fish, squid and prawn, potato, banana and mango, what-we-have they-have lah. May be they don't have durians. And of course they eat the meat of alpaca, the camel-related highland animal. On the dry regions they have less vegetables. They fry their bananas, together with the skin, as a vegetable, not in your roti pisang. And their chili paste is hotter than our chili padi. A common local dish is called "the chicken soup" with a big piece of chicken, a piece of white potato, a piece of yellow potato and a piece of tapioca. Although it is called a soup, there are a few spoonful of rice, like a "thin" porridge. Everywhere the same. A big bowl cost about RM 3 in the coffee shop for locals, or RM 6 at the main bus station for everybody, or RM 12 in a cafe for tourists.
The novelty dish in Peru is roast guinea pig, something like a roast suckling pig. A few in our tour group tried that but unfortunately we didn't because just before we left for Peru my wife received a written petition not to try that dish from her friend Angela and family. Angela keeps guinea pigs as pets.

The People
There are both ingenious people and the pendatangs in these 2 countries. And there are many many tribes of the indigenous people and they live more on the highlands. Then we have the pendatangs, mostly whites, some Chinese and Japanese too in Peru. Inter-marriage is common as most of them are Christians, Catholics in fact. How they look like? The indigenous people are dark-skined people, like our Malays. Most of the women in the highlands are pear-shaped, taking too much carbohydrates I think. Dr Atkins was not there for advice. The women on the lowlands? They are more like Dolly Parton, short and well-endowed. And the men? What men? I didn't see any men!

Corn or Con
I wrote that the corns on the highlands were of multi-coloured but that could be a "con" statement. Well, no con job, the corns are really of many colours. I attach a photo of the corns sold at the Pisac market in Peru. You see for yourself the colours.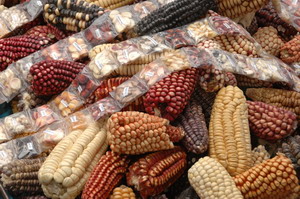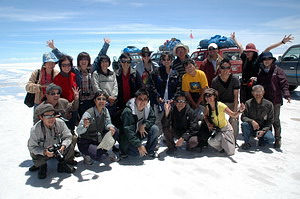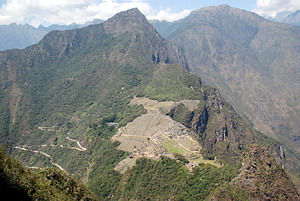 Corn or in Spanish Maiz / Group in World's biggest salt plain / View of Machu Picchu from the other side
| Home |