| Home | More Pictures |

24 Apr to 8 May 2004 15-days South Korea (Seoul, Soraksan, Andong, Gjeongju, Heinsa, Daegu and Suwon)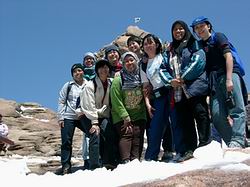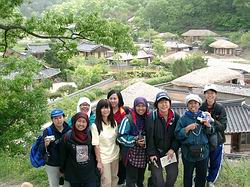 Soreaksan National Park / Yang Dong folk village
Day 1 Sat KLIA: Met at airport for night flight to Seoul.
Day 2 Seoul City: Arrived Seoul at 8am and proceeded to Motel, conveniently located near Jonggak subway station in downtown Seoul. We visited Jogyesa Buddhist Temple and Gyeongbokgung Palace, both within walking distance from the motel. After that the group were too tired to continue and we rested for a couple of hours. In the evening, we walked accross the street to Insadong Market, the premier place for antiques, arts and crafts. On Sunday Insadong becomes a hive of activities with plentiful local food stalls and sovenier shopping. At night we took our first of many subway rides to Itaewon and visited the only mosque in Seoul. We even met a Malaysian student from Shah Alam. ON Seoul.
Day 3 Sokcho: We took the first of many subway rides in Seoul to Dong Seoul bus station, where we caught the public bus to Sokcho 4 hours. This is a pleasant fishing town on the eastern coast popular among locals as a weekend retreat. The weather was cloudy and rainy in the afternoon, which was not very pleasant. We started to walk to the fish jetty but turned back because many of us were getting wet. Later, we opted for a bout of "lepaking" at a nearby cafe and cake shop. ON Sokcho.
Day 4 Seoraksan NP: The rain continued all night long until today. By now most had purchased umbrellas and we walked to the town jetty. Here we viewed the fresh seafood offered and we had a couple of raw seafood, served Korean-style, with fresh salads and spicy sauces. After lunch we bussed to Seoraksan National Park (1 hour). Fortunately in the evening, the rain stopped and we were able to walk to the nearby restaurant for our dinner. ON Seorak Dong.
Day 5 Gangneung: We started our day at 8am in good sunny weather. We trekked 3 hours to Heundelbawi (Tottering Rock) along a pretty river. This popular trail was shared with many early locals. We also took the cable car up to Gwongeumseong and we were rewarded by fresh snow from previous night, making it nice for photography. After lunch its back to Sokcho and a short 1 hr bus ride to Gangneung. We had an early dinner at the bus station before retiring early. ON Gangneung.
Day 6 Andong: We boarded the 7am train to Andong 4 hrs. Upon arrival we checked into our motel before going for the local Silla buffet, costing W5,000 (Rm16). After lunch, its 1hr by public bus to Haihe Village, a National treasure with its authentic folk village, which has not changed for hundreds of years. At night some of us walked the busy streets of Andong. Overnight Andong.
Day 7 Gjeongju: The train journey to Gjeongju took us 2 hrs and we got in early. We walked the town wet market and had lunch at the shopping area. Later we walked to Tumuli Park, which contains many tombs of the rulers of the Silla empire. We also visited the museum, said to contain the best collection of Silla artifacts. At night we took the local bus to Lake Bohmum, a very popular lakeside resort area for dinner and saw a free weekend cultural dance show. Ovenight Gjeongju.
Day 8 Gjeongju: We hired a van for the full day, starting with a morning stop at Yang Dong Village. This is a living working village with numerous centuries old houses. Fortunately it still retains its charms and has so far escaped the effects of mass tourism. Other sites visited included Unesco listed Bulguksa Temple, Sokuram Grotto or Cave and Namsan National Park with has hundreds of Buddhist temples and shrines. Overnight Gjeongju.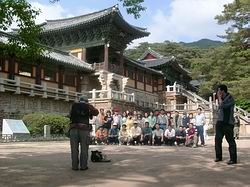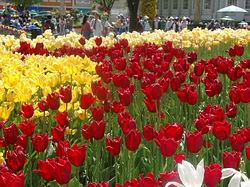 Unesco listed Bulguksa Temple / Tulips festival in Everland
Day 9 Heinsa & Daegu City: We opted to hired the van for a second day to take up to Haeinsa Temple, the site of the Tripitaka wooden tablets. These 80,000 printing blocks are the biggest collection of ancient Buddhist scriptures in the world and are well kept in two huge well ventilated halls. The van later took us to Daegu 3rd largest city in Korea. In the late afternoon we proceeded by local subway to the traditional medicine market which has been in existence for hundreds of years. It was a rainy evening and many of the shops and stalls were closed. Overnight Daegu.
Day 10 Suwon: In the morning we visited the local market and did a bit of clothing shopping. Our train for Suwon was at 1pm and the journey took us 3 hrs. Upon arrival we settled quickly into our motel before bussing to Carrefour Suwon. Here we had good sumptous dinner and spend the time shopping. Overnight Suwon.
Day 11 Everland: This is the premier theme park in Korea and is reputed to be 11th in the wold in terms of number of visitors per year. Today was a school holiday and there were huge crowds of school children. It was also tulips season in Everland and we viewed thousands of different coloured flowers. We had an early night because most of us were too tired. Overnight Suwon.
Day 12 Korean Folk Village: We started the day early and visited Hwasseong Palace. It was a public holiday, it being Children day. The locals had celebrations and prayers at various spots on the Suwon Fortress. At 1030am we went to the Korean Folk Village, which is a tastefully reconstruction of a traditional Korean village. Once again, there were big crowds but the daily shows were much more vibrant than usual. At night we visited another hypermart, know here as Samsung Homeplus Tesco. Overnight Suwon.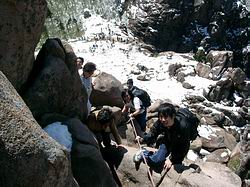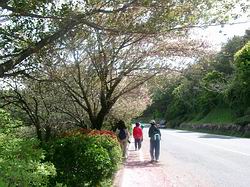 Steep climb Soraksan NP / Cherry Blossoms in Gjeongju
Day 13 Seoul: We taxied to Paldalmun Gate to begin our visit to this Unesco listed cultural site. The ancient walls of the fortress totaled 5.4 kilometers but we took the train trolley half-way round before walking back to Paldalmun. After a quick lunch in Suwon, we hopped on the convenient subway for the 1 hr ride to our motel in Seoul. We were quite tired having started the day early and rested at the motel for a couple of hours. At 6pm we took the subway to Lotte World. The group decided against going in. Later we went to Hard Rock Cafe Seoul for a short visit before proceeding to Dongdaemun market. After a few hours browsing we returned to the motel by taxi and it was past midnight. Overnight Seoul.
Day 14 Seoul: We spend our last day in Seoul visiting Jongmyo royal shrine and the Changdeokgung Palace. This is the 4th and last Unesco listed site we visited in Korea. The palance and its famed Huwon gardens are a conducted tour basis and we walked another 2 km. We adjourned to Namdaemun Market for lunch and more shopping at this popular tourist area. After an early dinner, we saw Nanta show, a made-in-Korea musical show involving percussion and drum music using kitchen and day-to-day implements. ON Seoul.
Day 15 Sat Go home: We had to leave at 530am to catch the local bus to the airport for our 9am flight home.