This trip is different from my other trips in that we will use public transport i.e. trains, subways, buses and taxis to move about. Cost of private transport is prohibitive and one also has to content with bad traffic jams. Therefore its essential that participants pack light and preferably use backpacks. This is most definitely not the "touch-n-go" Korea 4-8 days tours. Its for people who like to travel like locals, taking local transportations and stay in local accommodations. Tour leader is living in Korea for over 20 years. His in-depth knowledge of cities and country-side made this itinerary uncommon and travel experience unparalleled.

South Korea is the place to travel if one desires modern facilities and comfort while loving both nature and cultural experiences. This trip is thoughtfully tailored to cover in and around Seoul (4 days), the modern, vibrant city with futuristic touch and the latest trendsetting city in lifestyles and technology. Savouring East Coast fishing town of Sockho to famous Soreaksan National Park and "city of coffee" i.e. Gangneung. The hightlights include the SEA-TRAIN running along the coast facing Sea of Japan and a stay in UNESCO heritage site of Hahoe Folk Village.

Autumn in Korea, with its mild temperatures and gentle breezes, is a perfect time to travel. There are plenty of spots to enjoy the beauty of autumn with its surrounding foliage burst with magical colours of red, orange, yellow and more. This itinerary takes you in and around Seoul, then guides you to venture out into the countryside to taste the stunning beauty of South Korea's autumn.

Day 1 KLIA-2 Meet at KLIA2 at 8PM SUNDAY 29 OCT 2023 for AA flight to Seoul departing at 11PM.

Day 2 SEOUL GWANGWAMUN SQUARE Arrived incheon airport 630AM MONDAY, make our way to downtown Seoul and leave luggages. We do the rest of the day sightseeing on foot within the vicinity of 600-year history Gwanghwamun Square, including Cheongyecheon stream, Bukcheon Village and Insadong Street, the premier place for antiques, arts and crafts. And not to be missed Gwangjang Market, one of the oldest & largest in Korea, to taste some local most popular traditional foods. ON Seoul. ON (Overnight) Seoul
Day 3 SEOUL LANDMARKS We visit the UNESCO World Heritage site Gyeongbokgung Palace & Changing of Guards Ceremony and the National Folk Musuem. Then, we visit the renown Seoul Tower, aka Namsan Tower, it is a communication and observation tower located on Namsan Mountain in central Seoul. At 236m, it marks the highest point in Seoul. Then, we move to Namdaemun "Great Southern Gate", it has the large traditional market selling various affordable goods from personal items, indoors and outdoors items. Shopping continues to nearby trendy Myeongdong shopping district, and upmarket Hyundai Duty Free Departmental Store. ON Seoul.
Day 4 SEOUL GANGNAM STYLE Gangnam literally means 'South of the river', and this district in Seoul that lies along the south banks of the Han River (or Hangang in Korean). This is an upscale modern area home to gleaming skyscrappers, designer brands and stylish nighclubs and as popular depicted in PSY's hit song 'Gangnam Style'. It's also home to country's top plastic surgery clinics and K-Pop entertainment companies. We visit the COEX Mall (largest underground shopping mall in Asia) in Gangnam, to experience Gangnam-style neigbourhood. And follow by Lotte World Tower-Mall, with 123 floors and 555 meters in height, it's the tallest in Korea and world's 5th tallest building. On the way back to hotel, we visit Seoul's biggest seafood market - Noryangjin Fishery Market. ON Seoul.
Day 5 SUWON FORTRESS & KOREAN FOLK VILLAGE We have a full day-trip by Subway to Suwon, located 31km south of Seoul, to visit the UNESCO-listed 18th century Hwaseong Fortress and the Korean Folk Village. The Village is a 250 acres of tasteful reconstruction of 260 traditional houses from Joseon Dynasty (1392 to 1897). There are scheduled shows including a farmer's dance to the sound of gongs and drums, acrobatics and tight rope dance. There are also very good eateries served in traditional village environment. ON Seoul.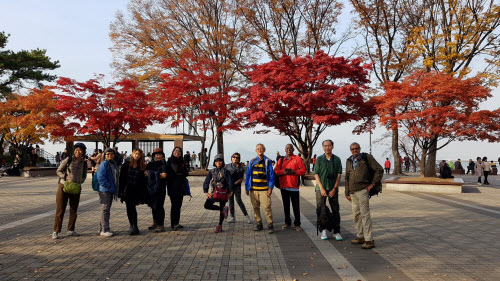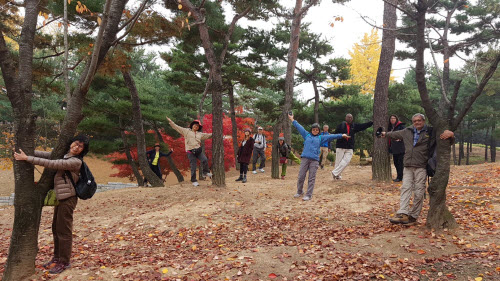 Yongoers at Seoul Namsan Tower / Hugging Autumn Trees
Day 6 SOKCHO (EAST COAST) Morning is Free & Easy, then we check-out and re-group before noon to bus 2.5 hours to Sokcho, which is a coastal town by the East Sea (or Sea of Japan). This pleasant fishing town is well known for its raw-fish eateries. We take leaisure walk to local market and rest early tonite. ON Sokcho.
Day 7 SOKCHO SOREAKSAN NATIONAL PARK Wedepart early morning by local bus to Soreaksan National Park, the most popular National Park in Korea. There are various ways to explore the place for half day. One can cable car up to Gwongeumseong for amazing views of the park. The Sinheungsa Temple and surrounding area just nice to wander for its nature. Others can trek to Heundelbawi (Tottering Rock) and for fitter ones, proceed on to Ulsanbawi, which are the huge stone mountains, accessible via long and steep metal stairways. After lunch, we re-group and bus 1.5 hour to the Gangneung City. Gangneung is well-recognized as the "city of coffee" with its popular Coffee Street along the coast. ON Gangneung.
Day 8 SEA-TRAIN & EAST SEA (Sea of Japan) Early morning 1hr SeaTrain ride for about 50km to Donghae. This SeaTrain running along the beautiful East Coast, every seat is tailored to face the ocean and windows are larger than those of regular trains for visitors to overlook the majestic waves, elegant beaches, and the emerald-blue ocean. In Donghae, after some refreshment, we catch an intercity train to Andong city. Andong is known as a centre of culture and folk traditions. West of the city, UNESCO World Heritage Site Hahoe Folk Village has tile-roffed centuries old buildings and homes, and been visited by late Queen Elizabeth and President George Bush. We will stay a nite in the traditional house (hanok) inside the UNESCO Village itself. ON Hahoe Folk Village, Andong.
Day 9 UNESCO ANDONG HAHOE FOLK VILLAGE Morning after breakfast, free & easy explore the village on foot. The living working village is surrounded by Nakdonggang River, and it preserves Joseon-style architecture (1392 to 1897). Nearby Buyongdae Cliff offers nice spot for taking pictures. After check-out, we bus to Andong city for a late lunch, and later to board another train heading further south to Gyeongju City. The journey takes about 2 hour. ON Gyeongju.