| Home | Past Trip May04 | Rachel Photo Album June08 | Wye Yim Photo Album June11 | PDF July 2019 trip |
6 - 20 July 2019 (15-days) India Bhapa Pass Trek & Manali
Trip Cost Rm5250 (per pax for 12 pax group), Rm5150 (14 pax), Rm4950 (16 pax & above)(Excluded Air ticket KL-Delhi-KL)
(Note : Based on USD1 = RM4.10. We will make final adjustment on the cost based on the USD exchange rate in May-Jun 2019)
Update 3 Jan 2019 - We will use MH or Malindo since Air Asia no daily flight. Will organize the trip as long as have min 4 pax. We had 14 pax in 2012 and all managed across Bhapa pass, weather was good! Hence we will start the travel date about the same in July to avoid heavy snow for long journey treks. Kindly email rachelheng123@gmail.com for registration.
MH or Malindo Flight Schedule (Will update flight schedule once trip confirmed to run)
IMPORTANT NOTICE
This is meant to be a "free and easy" adventure trip. Participants should be relatively fit (for Bhapa one must be fit), with a good sense of humour, and above all, have the right attitude for close travel with others through possibly some trying times. Most definitely, this is not a trip for prudes, whiners, fuss-pots, and other similiarly assorted types! We had a couple of those before and it wasn't pleasant for us or them. Although every effort will be made to stick to the given itinerary, ground conditions may change and cause some disruption and/or deviation from the norm. Otherwise, have un!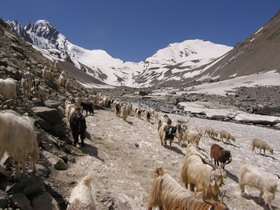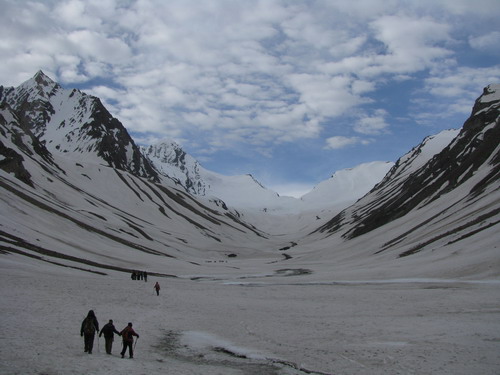 Bhapa Pass trek 2008 & 2011
Annually, travellers visiting this far-flung corner of the Indo-Tibetan frontier region of India, barely hits five figures, a major reason being access to Spiti is only for 6 months in a a year! Discover a face of India seldom seen; in age-old Gompas devoid of mass tourism a la Potala(!), ancient mountain hugging villages, and a ruggedly beautiful Himalayan landscape. Then after all that culture, its time to get high on mother nature on a tough but rewarding 5 day trek across the 4900m Bhapa Pass—a true voyage of self-discovery we assure you!
This is trekker trip and requires a higher standard of fitness. During trek days, luggages & equipment will be portage on pack-horses. Group members carry a day back. A camping crew comprising of guides, horsemen and a cooking crew will accompany and assist the group. This should make the trek more enjoyable and easier to cope.
The region had exceptional cold weather in Jun 2005, the coldest in 25 years. As a result they was heavy snowfalls and many parts of the road and tracks were covered in snow and ice. Our group encountered much difficulties and hardships. If there is a repeat of a similar cold front, expect the trip to be postphoned to perhaps between one to two weeks later. In Jun 2007 & 2008 our group has no such problems and trip proceeded smoothly.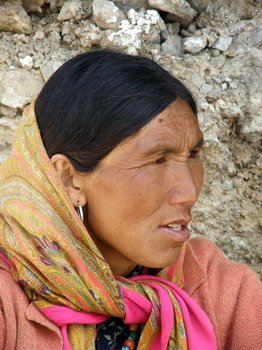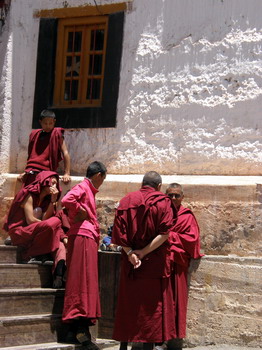 Local Women / Monks at Monastery
Day 1 KL-Delhi - Meet at KLIA take evening Flight MH190 at 1825PM to Delhi. Take 5 hrs + reach Delhi at 2115pm (local time). Check in Hotel. O/N Delhi.
Day 2 Chandigarh Manali - We will take early morning train from Delhi to Chandigarh at 0740, arriving at 1105am. We will have lunch at Chandigarh and continue our journey by road to Manali all the way which will take approximately 9-10 hours, expected reach Manali late evening. O/N Manali.
Day 3 Manali - Rest of day free to wander about Manali for shopping and visit to the Hidimba Devi Temple and Old Village. Manali is mainly Hindu with a sizeable Tibetan population. Manali is full of nice cafes and eateries, good for relaxing and acclimatize high elevation on coming days. O/N Manali.
Day 4 Manali - We drive to Solang Valley for paragliding. This recommended activity is optional and members will have fly tandem i.e. with an acommpanying pilot. We walk back to Manali through picturesque villages and orchards of apples, apricots and peaches. Manali is mainly Hindu with a sizeable Tibetan population. O/N Manali.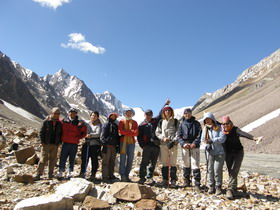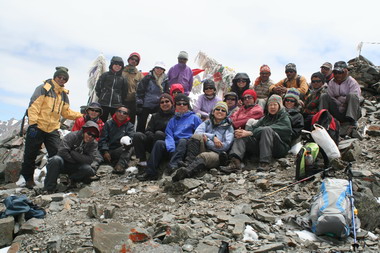 Group 2008 & 2011Climbing Bhapa Pass

Day 5 Kaza - Today will be long journey to Kaza Village, about 8-9 hours. We jeep over the Rohtang Pass 3978m to Dadar Pul 3960m with views of Chandra-Bhage mountain range with peaks above 5000m. O/N Kaza village
Day 6 Kaza-Lalung-Dankar-Tabo-Kaza - After breakfast drive to visit the 1000 years old La-Lun monastery with its hanging buddha statues and continue to Dankar Gompa. After lunch drive to Visit Tabo Monastery and evening return to Kaza. O/N Kaza.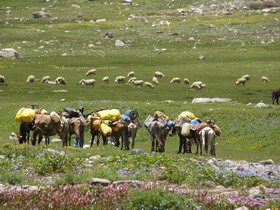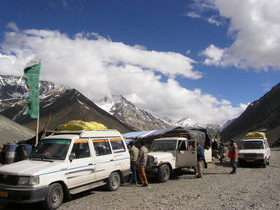 Packed horses for trek / Jeep
Day 7 Kaza-Ki Monastery-Kibber Village-Mud - Visit by jeeps the Ki Monastery located on a small hill followed by Kibber Village 4205m, reputed to be the 2nd highest inhabitable village in the world. After lunch we then enter the Pin Valley and to the the village of Mud. Here, we do a short 2 km trek to our campsite accross from Mud. O/N Camping.
Day 8 Bara Bolandar - We trekked along the Pin River to our next campsite at Bara Bolandar. The trail goes along green meadows and rather barren landscape. The trek is quite level and should take about 6 hours easy walk. O/N camping.

Day 9 Bhapa Pass to Fauti - Its a difficult climb up to Bhapa Pass 4890m where we can expect thick snow at the top. Then its down to Fauti campsite. The scenery change is very drastic, from barren snow-peaked mountains to the green valleys on the Fauti side. Expect a long day today with between 5-7 hours trek. O/N camping.
Day 10 Mooling - A very pleasant and easy walk along the Bhaba river. Trek will be an easy 5 hours in green meadows and sparkling streams and rivers. Wild flowers are also expected. O/N camping.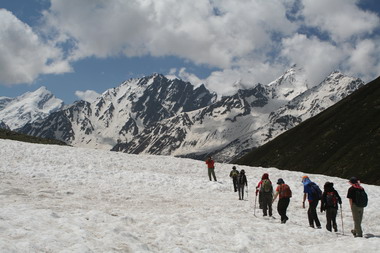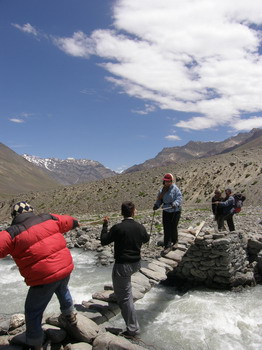 Trek the Bhapa Pass on snow / River crossing
Day 11 Mooling-Kafnu-Shimla - Another easy day with 5 hours level walk to the village of Kafnu. Trek is flanked by green meadows and thick pine forest. Expect to arrive by 1pm, group can have good lunch/rest after few days long trek. It take about 6 hours ride to Shimla. Evening free & easy. O/N Shimla.

Day 12 Shimla - Morning drive to Jakhu Temple and then easytrek™ 1.5 km, 45 minutes down to the Mall road of Shimla to enjoy shopping in pollution free Mall Road, where no vehicular traffic is allowed. Shimla was the Summer Capital of India during British rule and most of the buildings are constructed by Britain. After lunch at Mall road we continue easytrek to Indian Institute of Advanced Studies. This institute is located in the Viceregal Lodge, which was built in 1884-88 during the British times. It has spacious gardens and is ringed by beautiful pine trees. All is calm and serene just the right atmosphere for a student of literature or politics. Evening rest free and easy . O/N Shimla
Day 13 Shimla-Delhi - After breakfast,drive to Shimla Railway station to board on local steam train, which passes a hundred tunnels, down to Kalka ( Himalayan Queen Departure from Shimla at 1030 hrs and arriving Kalka 1610 Hrs). From Kalka , we'll go on another Kalka Shatbdi train to Delhi ( Departure from Kalka 1745 hrs and arriving Delhi 2155 hrs, dinner will be served in train. O/N Delhi
Day 14 Delhi-Fly Home - Group can visit Bahai House of Worship and local market or big mall for final shopping before heading to the airport for night flight back to KL by D7183 at 2315PM

Day 15 Home - Arriving KL at 0730am.
Trail Fauti to Mooling at 11am and at 3pm on the same day

TERMS AND CONDITIONS
Cost cover ground arrangement, guide, budgeted accommodation, meals during trekking days and transport.
Not covered are Visa fees Rm462, Flight fare & airport taxes/surcharges, entrances fees approximately Rm150, activities, in town-taxis and meals except for trekking days. Allocate about Rm300 for 10 days meals (excluded trekking days).
Guides/driver accompanying group do expect tips. Tips for guides/cooks/horsemen accompanying group. Yongo encourages group members to be generous but should commensurate with services rendered.
A deposit of

Rm1030

is payable to confirm your place.
Cost is subject to change if there's a significant changes in foreign exchange rates and/or airfares.
Email: yongo123@gmail.com or rachelheng123@gmail.com
Phone: Lee Min 016-220 9033 or 603-4031 6225S
Phone: Rachel 012 352 0868
Address: No 19 Lorong Air Bersih Tiga, Air Panas, 53200 Kuala Lumpur
| Home |